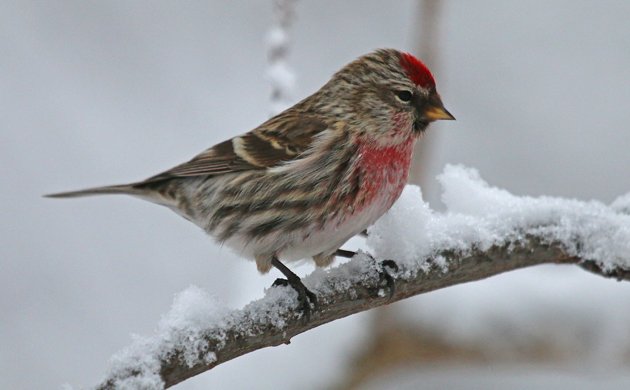 It sure looks like it! Gustave Axelson has a nice breakdown of a recent genetic analysis of redpolls on Cornell's All About Birds Blog:
Mason and Taylor looked beyond the plumage into strands of the birds' DNA in the most extensive look ever at the redpoll genome. Whereas previous genetic analyses of redpolls looked at just 11 regions of the genome (at most), Mason and Taylor examined 235,000 regions. (That impressive number is a testament to the exponential advances in DNA-sequencing technology, but the researchers are quick to note it's still less than 1% of the total genome.)

In all, the duo compared DNA from 77 redpolls, including specimens from museums around the world, from the Museum of Vertebrates at Cornell University to the Natural History Museum of Geneva in Switzerland. They found no DNA variation that distinguishes Hoary Redpolls from Common Redpolls. Furthermore, another redpoll species found in Europe—the Lesser Redpoll—also had extremely similar DNA sequences. This extreme similarity among all the redpolls stands in marked contrast to studies of other groups of birds—such as Black-capped and Carolina Chickadees—which show differences at many regions of the genome.

In nature, one of the key differentiators among distinct species is assortative mating, that is, members of a group breeding with each other more often than they breed with members of another group. According to Mason, when it comes to Hoary, Common, and Lesser Redpolls, "There are no clear-cut genetic differences, which is what we would expect to see if assortative mating had been occurring for a long time."
Should we be getting out the eraser for our checklists to reluctantly eliminate a hard-earned tick? Will the lumpers win out? We'll find out when the American Ornithologists Union's Nomenclature Committee reviews the eventual proposal from the study's authors. Stay tuned!