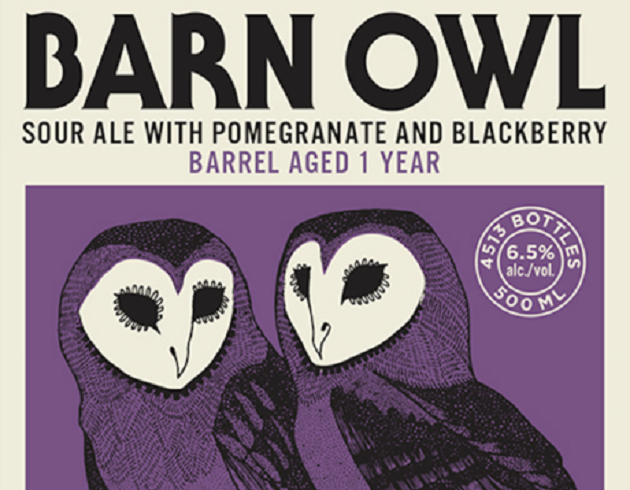 It's a sometimes-painful fact of life that some fruits are easier to cope with as food than others. This condition applies to making fermented beverages from fruit as well, no matter whether the fruit in question is to become wine, beer, cider, or mead. Grapes are perhaps the easiest of all: thin-skinned and easily trampled, and harboring only a single, negligible seed within, they offer little resistance to the winemaker in their journey to posterity through fermentation. Apples are somewhat more troublesome given their size and firmness, but generally nothing a sturdy cider-press can't handle. Even the fruits most commonly used in traditional brewing – cherries and blackberries – are crushed and pitched into barrels with very little trouble at all.
The pomegranate, on the other hand, is one of the more uncooperative fruits of the world, with a tricky name to match. Despite their delectable flavor, the fruit seldom finds its way into the winery or brewery, and with its hard rind and an obstinate labyrinth of stringy pulp guarding a mass of small, rubescent seeds (botanically known as arils), it poses certain challenges to those who would enjoy them as a table fruit as well.  The consumption of Punica granatum is a delicate and painstaking task, not to be undertaken as lightly as one might casually gnaw on a McIntosh, coolly spitting out the seeds as they come.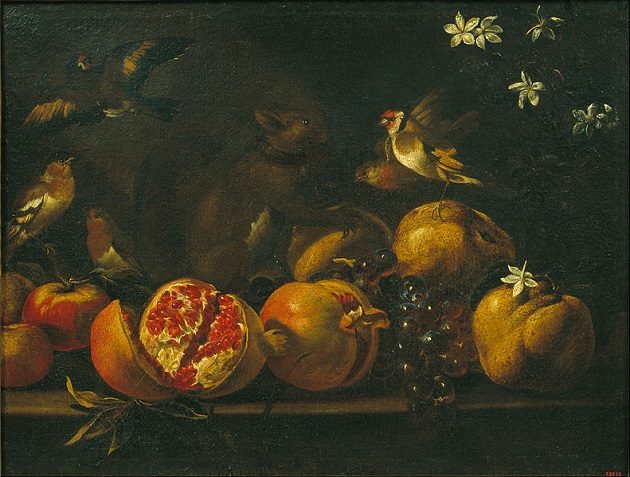 Why go to all the trouble of splitting a pomegranate, only to leave it out for a squirrel and some European songbirds to nibble? An 18th-century still life by Neapolitan painter Tommaso Realfonso.
So, it's rare to find a brewery that's gone to all the work of using this famously unyielding fruit in a beer, but when one does, it's a treat that merits drinking on a special occasion. Bellwoods Brewery of Toronto, Ontario didn't necessarily intend their Barn Owl No. 14 as a seasonal release, but this barrel-aged sour ale with pomegranate and blackberry is on the shelves now and it certainly offers a crisp and refreshing respite from the inevitably dark, heavy, and spiced Yuletide brews we usually find this time of year. And this beer isn't without holiday meaning of its own, either – pomegranates are traditionally enjoyed as they come into season around Rosh Hashanah, the Jewish New Year, and the season nears its peak as winter begins in the Northern Hemisphere, making them a favorite around Christmastime, as well. Of course, the pomegranate has been a popular motif in art and culture since antiquity, figuring prominently in countless ancient mythologies and religious texts, so there are many ways to find meaning in their enjoyment, no matter one's beliefs. And we birders can take heart in the fact that in the wild, the seeds of the pomegranate are distributed by the frugivorous birds that eat them.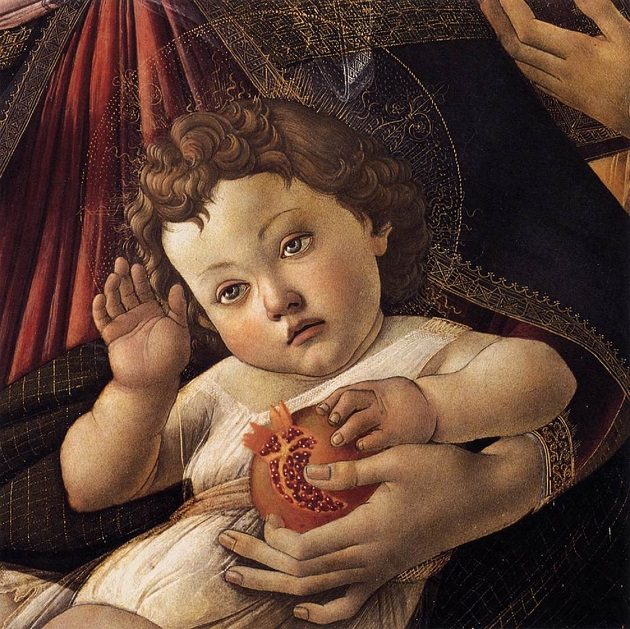 A reminder of the seasonal importance of the pomegranate – and of the divine patience required to negotiate this fruit. Turning water into wine is child's play by comparison. A detail from The Madonna of the Pomegranate, painted in 1487 by Sandro Botticelli.
Barn Owl No. 14 is the fourteenth release in a series of oak-aged sour beers released by Bellwood, each featuring various special additions of fruits, spices, and herbs. The series is named for Tyto alba, of course, even though the brewery's home country is one of the few mostly vacant spaces in the range of this most widespread of all owls. Never mind that though – I like to imagine that the pair of "death owls" on the attractive Bellwoods label are at the very northernmost edge of their range, keeping watch over a storehouse of malt in the breadbasket of the Canadian prairies. At the very least, for the time-being, this seems like a more geographically credible scenario than a Boreal Owl protecting a stash of pomegranates from marauding voles, even in this mixed-up age of global trade and climate change. But perhaps we should give it a few more years.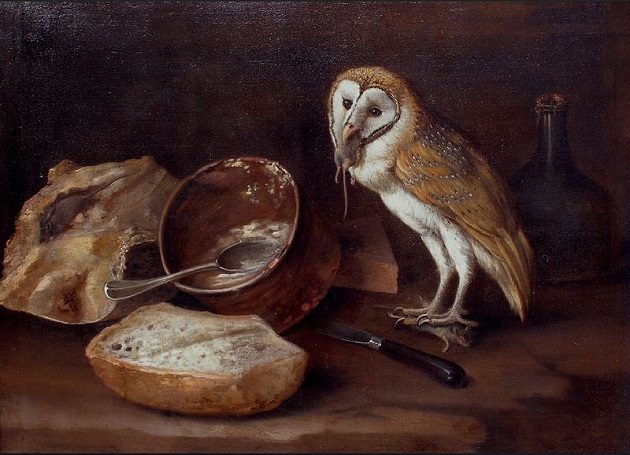 Barn Owls are pretty good at guarding bread and cheese, so I suspect they could easily add pomegranate protection to their list of services. An Owl's Lunch, attributed to 18th-century English painter George William Sartorius.
Barn Owl No. 14 began life at the Bellwoods Brewery as a golden sour ale, before being dosed with a generous measure of pomegranate and blackberries and aged in oak for a year, yielding a beautifully incarnadine beer crowned with a dense, rocky head of mauve foam. The nose is fruity, mingling lemony tartness, juicy berries, and floral notes of hibiscus and greanadine over an earthy sourness.  Barn Owl No. 14 is effervescent and sharply tangy on the tongue, with a winey fruit complexity that ends with a puckering finish and just a touch of malty sweetness. This is a beer that could happily stand in for your usual holiday brunch mimosa in the morning – just be sure to keep a second bottle around for the evening to sip while everyone else is enduring the fruitcake.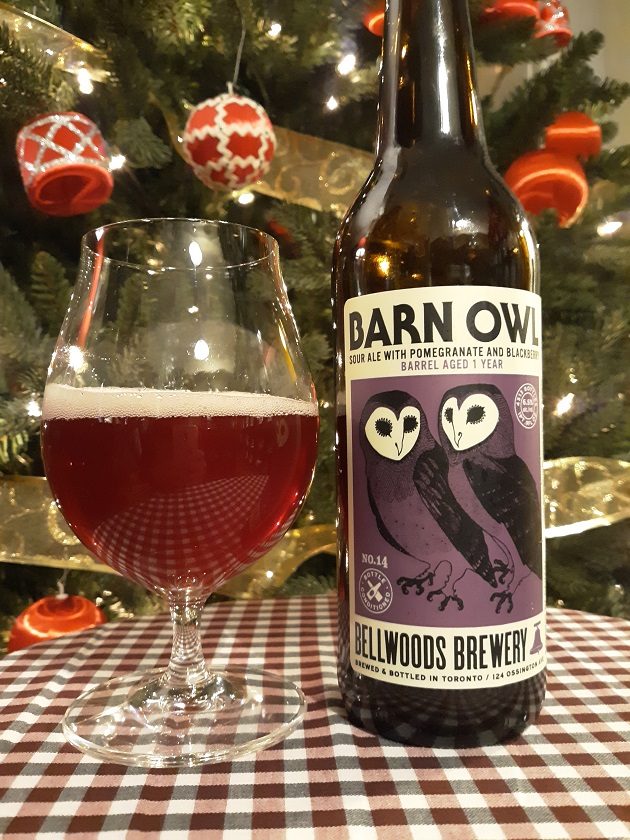 Good birding and happy holiday drinking!
---
Bellwoods Brewery: Barn Owl No. 14





Four out of five feathers (Excellent).