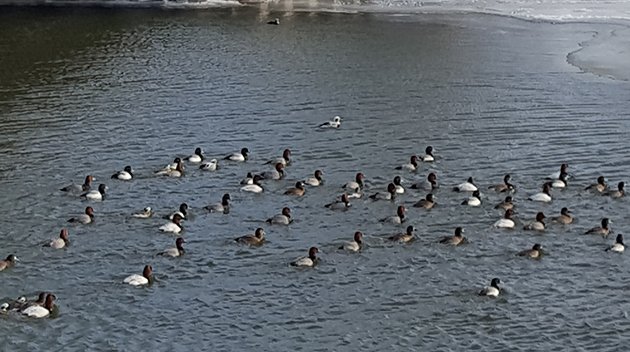 Remember way back to last year when a team named for a bird won the Super Bowl? With no avian-themed organizations representing, the Patriots won yet again. Maybe next year…
This weekend, I braved the soul-searing chill of the polar vortex to track down Canvasbacks palling around with other ducks in the open water of the Irondequoit Bay channel. I'm not saying we suffered like our friends in the Upper Midwest, but taking off my glove to quickly snap the photo above induced pain I felt for hours. Yet two days later, we're about 50 degrees warmer! Corey did not get much birding done this weekend but on his way home from visiting his folks he spotted his first Black Vultures of the year soaring over a rest stop on the Thruway. Lacking anything better, they are his Best Birds of the Weekend.
How about you? What was your best bird of the weekend? Tell us in the comments section about the rarest, loveliest, or most fascinating bird you observed. If you've blogged about your weekend experience, you should include a link in your comment.