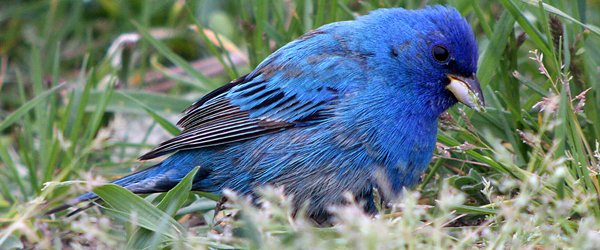 Quick show of hands… how many of you in the U.S. kept a special eye out for Bald Eagles?
My favorite sighting this weekend was not of the regal representative of my nation's pride but rather a single brilliant Indigo Bunting at Lake Skaneatles.  Corey's Best Bird of the Weekend was a bird that has frustrated him for quite some time now. There has been a Black-billed Cuckoo repeatedly reported from Jamaica Bay Wildlife Refuge since May and it had studiously avoided Corey until Sunday morning, when he heard it calling in the South Garden. Though it wasn't a life bird or a year bird it was the first Black-billed Cuckoo he had encountered in Queens since 2008 and only the second he has ever had in his home borough.
How about you? What was your best bird of the weekend? Tell us in the comments section about the rarest, loveliest, or most fascinating bird you observed. If you've blogged about your weekend experience, you should include a link in your comment.