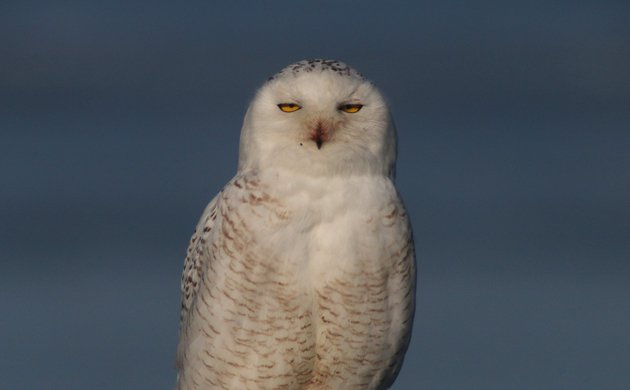 Some may consider talking about the weather banal, but I can't help complaining during a winter like this. While March earns a reputation for coming in like a lion, the season rarely seems as wild and cold as Winter Storm Titan threatens to be over the next few days in the American Northeast, Midwest, and Mid-Atlantic. Seriously, if this continues into migration, the birds are all going to fly back south.
An American Robin was hooting and hollering (probably complaining about the cold) from one of our bushes, which really captured my son's imagination. He wanted to tell me all about it, which earns the robin Best Bird of the Weekend honors. Corey had quite a few species from which to choose for his Best Bird of the Weekend but he couldn't resist deciding on the Snowy Owl he watched and digiscoped at Tiana Beach in Suffolk County on Saturday. It was his 22nd sighting of Snowy Owls this winter, which is kind of ridiculous, but the winter is nearly over and they will be returning north soon, so he decided to savor this sighting.
How about you? What was your best bird of the weekend? Tell us in the comments section about the rarest, loveliest, or most fascinating bird you observed. If you've blogged about your weekend experience, you should include a link in your comment.