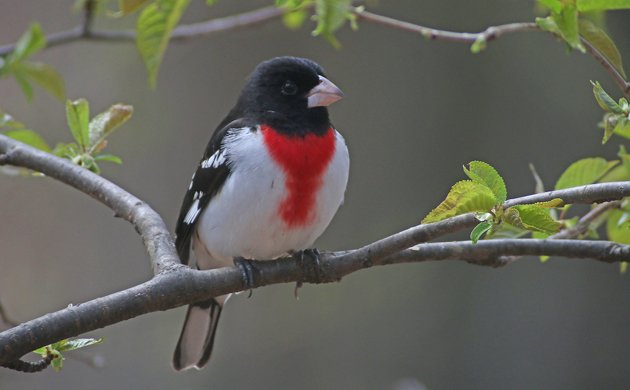 Another weekend, another example of how volatile weather patterns have become. For example, we in Rochester have been assured that Wednesday will reach 80 degrees or so. Yet, we had a bit of snow yesterday! How wild was your weekend weather?
These capricious conditions can't be good for birds either. I dipped grievously this weekend on attempts at woodcocks and owls, including the bitterly brief Boreal Owl at Owl Woods. On the other hand, at one point, I was surrounded by more Golden-crowned Kinglets than I've ever encountered in my life, so the birding wasn't all bad. Corey saw many great birds this weekend: his first Bobolink of the year, his first Yellow-throated Warbler of the year in Queens, a Wilson's Snipe, and lots of migrant wood-warblers. But his Best Bird of the Weekend was the amazingly cooperative Rose-breasted Grosbeak pictured above which posed nicely between visits to the feeders at Forest Park.
How about you? What was your best bird of the weekend? Tell us in the comments section about the rarest, loveliest, or most fascinating bird you observed. If you've blogged about your weekend experience, you should include a link in your comment.