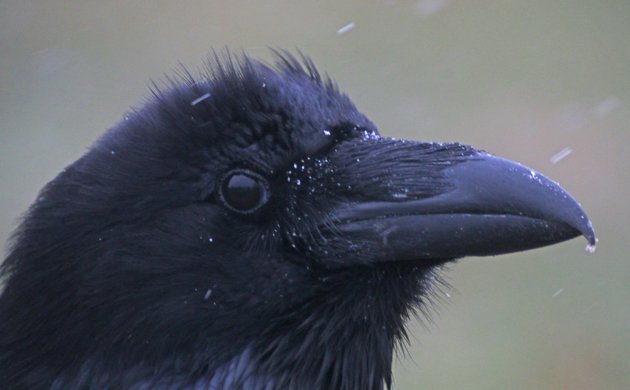 Happy New Year! Now that the odometer on year lists has rolled back to zero, you're probably eagerly looking forward to beginning the bird hunt anew. But take a moment first to appreciate your final sightings of the year gone by.
A confluence of injury, illness, and arctic air conspired to keep me indoors for most of the weekend, with little more than Black-capped Chickadees to observe. Corey did not see many birds this weekend but he saw a few good ones. His favorite, and therefore his Best Bird of the Weekend, was either of a pair of Common Ravens that he came across in Flushing Meadows-Corona Park. The birds were busy caching food in a snow squall and did not care that Corey pulled up in his car right next to them with his digiscoping rig.
How about you? What was your best bird of the weekend? Tell us in the comments section about the rarest, loveliest, or most fascinating bird you observed. If you've blogged about your weekend experience, you should include a link in your comment.