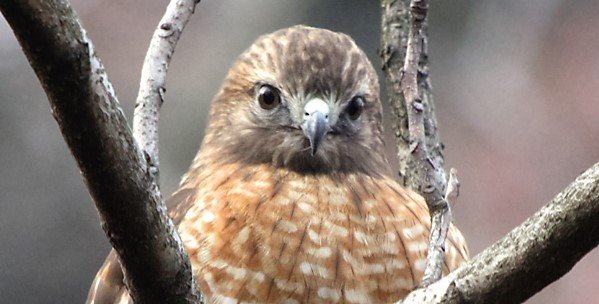 While so many spent the weekend obsessing over eggs, others cast their eyes to the feathered fruit of eggs… not necessarily Easter eggs, but different, non-chicken eggs. Maybe this whole comparison falls apart upon closer scrutiny, but these are still fine days to be looking at birds!
I enjoyed observing Wild Turkeys, clearly feeling bolder on Easter than Thanksgiving, foraging openly along the Palisades Parkway. Corey's Best Bird of the Weekend was a pair of Red-shouldered Hawks that have taken up residence in his parents' neighborhood in Saugerties, in upstate New York. It's tough to beat calling red-shoulders interrupting the kickball game with the kids!
How about you? What was your best bird of the weekend? Tell us in the comments section about the rarest, loveliest, or most fascinating bird you observed. If you've blogged about your weekend experience, you should include a link in your comment.