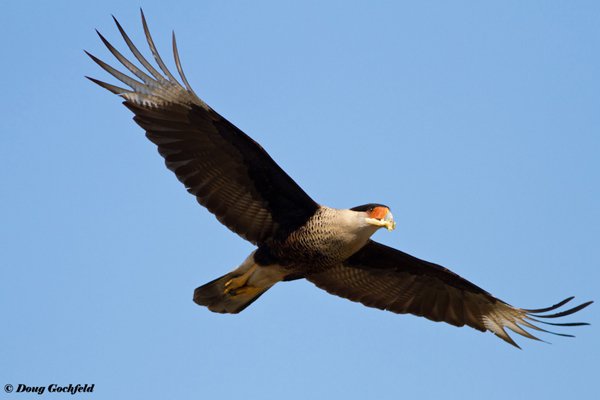 We've entered that portion of the year where one season loosens its grip enough for the next to begin to peek through. In many parts of the world this weekend, spring felt like spring and fall felt like fall, or at least a recognizable harbinger of days to come. Did you see what I mean?
I appreciated the muscular grace of a Sharp-shinned Hawk filtering effortlessly through tall trees, no doubt practicing for all those tiny migratory morsels on their way to the great boreal forest. Corey's Best Bird of the Weekend was a new bird in New York State for him, a difficult feat when approaching 400 species checked off the checklist. But New York's first chaseable Crested Caracara was well worth the effort, even though it took two visits to Orange County to see it! (Note: this bird wasn't the handsome one above photographed by Doug Gochfeld in central Florida.)
How about you? What was your best bird of the weekend? Tell us in the comments section about the rarest, loveliest, or most fascinating bird you observed. If you've blogged about your weekend experience, you should include a link in your comment.