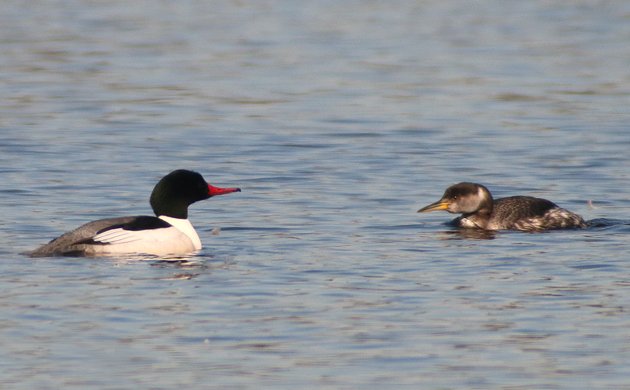 Now that Winter Olympic fever has gripped the global imagination, I can't help but wonder why we don't have more international birding competitions like the International Birding Rally in Peru. You've got to imagine that the only thing better than winning a gold medal would be getting the gold AND a bunch of lifers. Who can make this happen?
A Cooper's Hawk almost killed me this weekend. Well, "almost killed" may be modest exaggeration, but I happened to look out my window at the exact time the hawk was hurtling toward it. This magnificent raptor pulled up short, giving me an incredibly close full-frontal view, before winging to a distant perch. I'm just glad the hawk didn't crash into the window and wreck both of us!   Corey's Best Bird of the Weekend was either of the two Red-necked Grebes spending their time at Connetquot State Park on Long Island. As the Great Lakes and other freshwater further north have frozen off there has been quite the exodus of waterbirds to the south. The bird in the picture above, with a Common Merganser, is surely part of that exodus.
How about you? What was your best bird of the weekend? Tell us in the comments section about the rarest, loveliest, or most fascinating bird you observed. If you've blogged about your weekend experience, you should include a link in your comment.