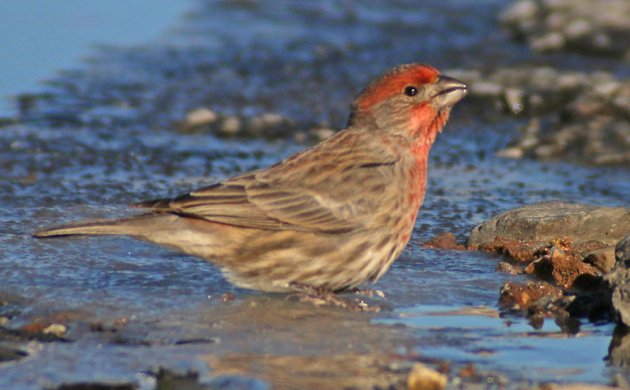 Remember not that long ago when I suggested those of you dealing with the first real blast of winter chill should ignore the numbness of your extremities to go birding? Well, color me hypocritical. Most of you probably braved the cold without a second thought to pursue your birding bliss. I, on the other hand, could barely bring myself to look out the window at the season's first snowfall. This is going to be a long winter for some of us…
Despite my best intentions, I was forced from my warm home over and over this weekend. Every time, Red-tailed Hawks were waiting, not for me (I hope) but rather for some smaller, tastier morsels. The sparseness of the trees this time of year really highlight how ubiquitous they are. Despite having a distant Black-legged Kittiwake, a flyover Eastern Meadowlark, and a couple of American Pipits, Corey chose a much more commonly seen species as his Best Bird of the Weekend. He had a nice flock of House Finches pose for him in early morning light and he couldn't really choose any other bird.
How about you? What was your best bird of the weekend? Tell us in the comments section about the rarest, loveliest, or most fascinating bird you observed. If you've blogged about your weekend experience, you should include a link in your comment.