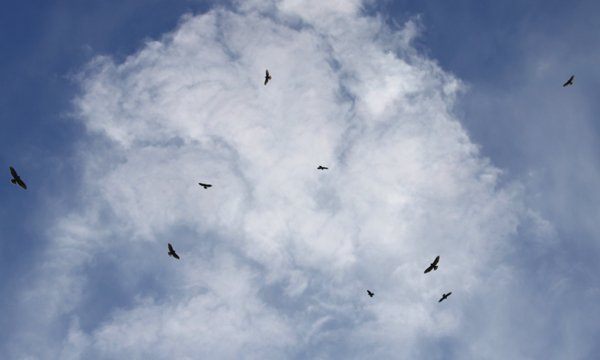 September migration is a fine time to appreciate birds on the wing, so fine that many of you may have missed many of our Extinction Week posts. Fortunately, Monday morning is a fine time to catch up on what you missed over the weekend!
My Best Bird of the Weekend was a turkey, actually several Wild Turkeys. While I see turkeys intermittently all year long, these birds really look best in autumn sunlight. Corey was in position to appreciate a kettle of migrating Broad-Winged Hawks over Lancaster, PA.
How about you? What was your best bird of the weekend? Tell us in the comments section about the rarest, loveliest, or most fascinating bird you observed. If you've blogged about your weekend experience, you should include a link in your comment.