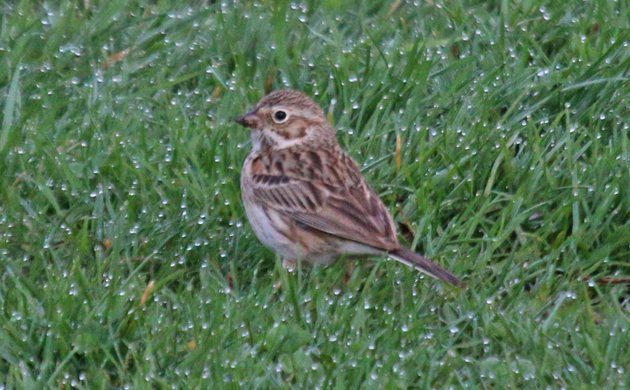 The third weekend in April, when we birders in the northeastern United States start to go stir crazy, convinced that the wood-warblers should all be back by now and lamenting the species that we have not yet seen. Fortunately, we New Yorkers were blessed with a marvelously warm wind out of the southwest from Saturday through Sunday, leading to some seriously warm weather and nice pulse of neotropical migrants.
Of those migrating birds my best was actually one that doesn't generally winter in the neotropics. Nonetheless, a spring Vesper Sparrow in Queens is a wonderful bird, and I really liked the one that I came across in Cunningham Park, so it is my Best Bird of the Weekend. (Especially because I once again dipped on a twitch for Scissor-tailed Flycatcher.) Of course, many focus on mammals, particularly bunnies, on Easter weekend, but Mike was more interested in another mammal he saw. He would like to nominate his first Jaguarundi as the Best Bird of his Weekend, but since that won't fly (pun intended) how about Plain-breasted Ground Dove, his only lifer so far after a half day in Panama.
How about you? What was your best bird of the weekend? Tell us in the comments section about the rarest, loveliest, or most fascinating bird you observed. If you've blogged about your weekend experience, you should include a link in your comment.