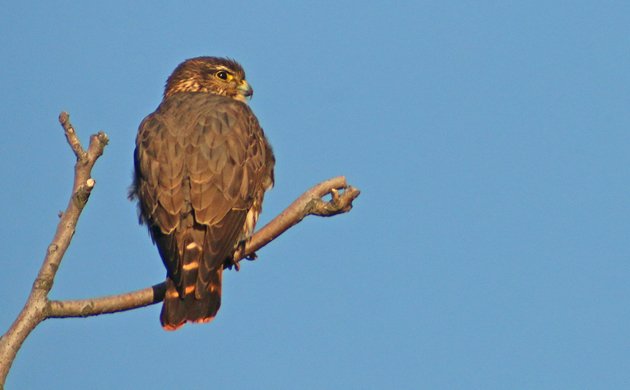 Don't freak out, but even the most frost-rimed regions in the Northern Hemisphere have noticed subtle signs of spring. Such seasonal signifiers include but are not limited to incipient blossoms, modest budding, children in shorts, and possibly even some new birds.
I dropped in at Montezuma NWR before the errant American White Pelican could pull itself away from the carp-filled canal. Only the awesome rarity and pelican pulchritude of this vagrant could top the other amazing birds at Montezuma right now. Corey enjoyed a weekend that actually felt like spring by birding across Queens on both Saturday and Sunday morning, adding a bunch of year birds to his slowly-growing list. But no bird was quite as compelling as a Merlin that menaced the merely mortal birds in the dune scrub out in the Rockaways. Such a tough guy deserves to be Best Bird of the Weekend.
How about you? What was your best bird of the weekend? Tell us in the comments section about the rarest, loveliest, or most fascinating bird you observed. If you've blogged about your weekend experience, you should include a link in your comment.