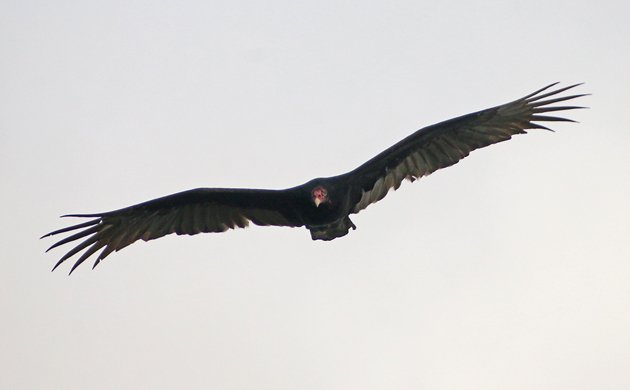 Autumn in New York blazes with abundant charms, but the flaming foliage and delicious fall harvest comes with some downsides, at least for those with evil seasonal allergies. How is a person supposed to enjoy fall migration when every trip outside triggers paroxysms of sneezing? Asking for a friend…
Though I was unable to mount any sustained outdoor activity this weekend, I couldn't help but notice a few Turkey Vultures tipping and teetering about. Their presence this time of year assures me that snow is still at least a few weeks away! If you're tracking at home, this marks the second week in a row the humble TV earned BBOTW honors. Corey's Best Bird of the Weekend would have been the Yellow-billed Cuckoo that popped up in front of him at Kissena Corridor Park on Saturday morning but a rarity in Brooklyn takes the cake instead. A young Purple Gallinule that was found late in the day on Friday lingered through the weekend and Corey took Desi to see it on Saturday afternoon. It was an incredibly easy twitch with the only downer being the bird's tendency to stay deep in the reeds. So, great looks but no photos. Still, a state bird is always awesome!
How about you? What was your best bird of the weekend? Tell us in the comments section about the rarest, loveliest, or most fascinating bird you observed. If you've blogged about your weekend experience, you should include a link in your comment.