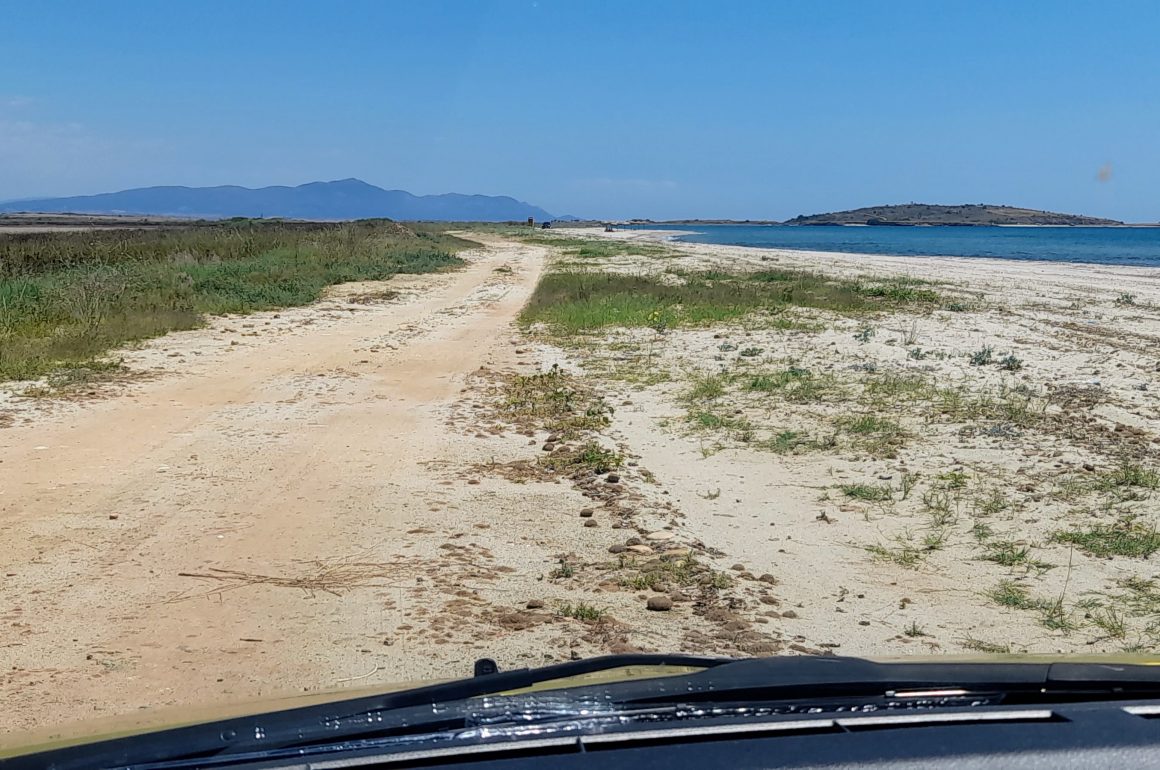 Visit to our next national park in Greece started with an excellent fish dinner in the Porto Lagos harbour, overlooking the pine forest with a heronry, and we had Black-crowned Night-Herons, Little Egrets and Grey Herons coming and going, a lone White Stork, a Common Tern, and numerous Yellow-legged Gulls in the harbour, together with half a dozen cats around our table.

Basically, Porto Lagos is a hamlet built, you got it, around a harbour, on an isthmus separating Lake Vistonida (more about it later) from the Aegean Sea. On its eastern side lies a small archipelago of tamarisk-overgrown islands and reedbeds (known among the foreign birders as the Church Marshes) and with a chain of half a dozen large coastal lagoons farther east. To the west, there are a few more lagoons and the saltworks.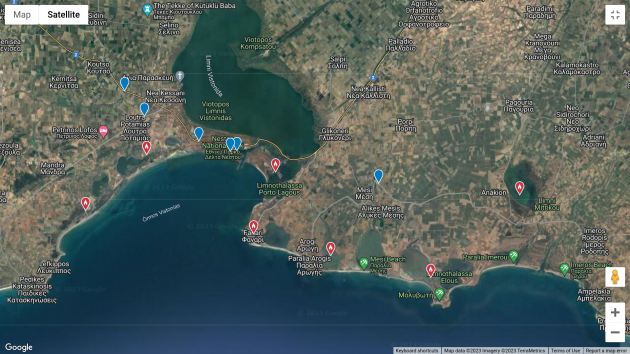 All around Porto Lagos (220 km / 140 mi east of Thessaloniki) lies the largest national park of Greece, Nestos Delta and the Vistonida-Ismarida lakes and lagoons complex, founded in 2008. Its coastline has a total length of 100 km and is basically sandy with smooth, low-relief coasts. Farther on, extensive areas of sand dunes, salt marshes, coastal lagoons, aquatic lake-vegetation, wet meadows, reedbeds and riparian forests appear. The area is one of the most important in Greece for birds, comprising more than 270 species. Finally, of the at least 20 species of mammals present here, the otter, the jackal, and the wildcat certainly deserve a mention.

The best birding season here is the winter when waterbirds come to overwinter in those lagoons, followed by migratory seasons and, to a lesser extent, breeding season. And we were here in the very last days of June, just after that "to a lesser extent" good season. Alright, there are also beaches, swimming, sun-bathing? As we all know by now, sun-bathing is a life-threatening activity, and for swimming, one needs to discover a beach where the sea would be more than knee-deep. Fortunately, late June is the right season for the locally brewed snake-cold Vergina lager in the deepest shade by some gull-filled beach.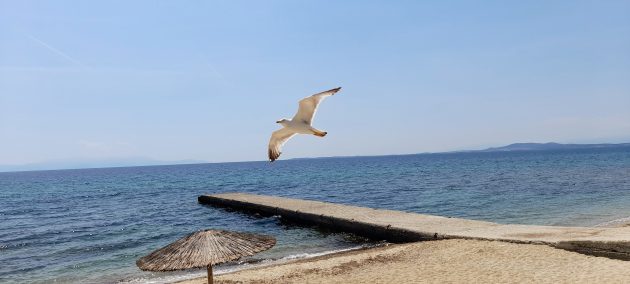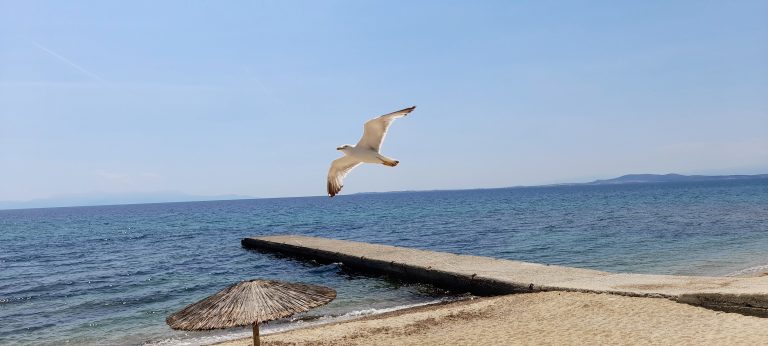 We were based at the end of Porto Lagos, overlooking the sea and constantly having a salty sea breeze. I do not remember such salt-scented air anywhere else in Greece. Dalmatian Pelicans and Eurasian Spoonbills were flying above the beach, sometimes above the hotel garden, while Golden Oriole and Scops Owl could be heard.

West of Porto Lagos lies Mandra Beach, several kilometers long, consisting of one beach bar, one camp, one tavern, a line of summer cottages, and several temporary wetlands in the hinterland, usually flooded in winter and spring. In late June, only smaller lakes and a few ponds remained. There were several Collared Pratincoles (very common and widespread in the area) and one Levant Sparrowhawk even before the beach turn-off. Soon after it, singing Black-headed Bunting awaited me on a wire at the right, with two Woodchat Shrikes in the bush at the left-hand side of the road. I hadn't reached the sea yet when one Eurasian Oystercatcher flew by the edge of a mostly dry marsh.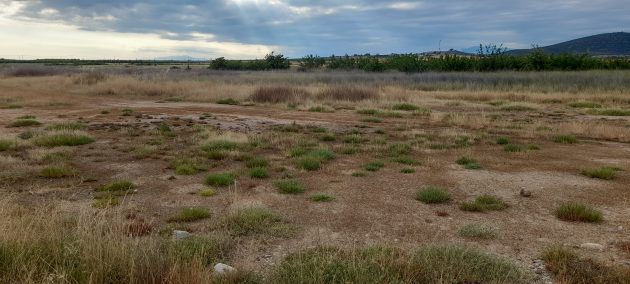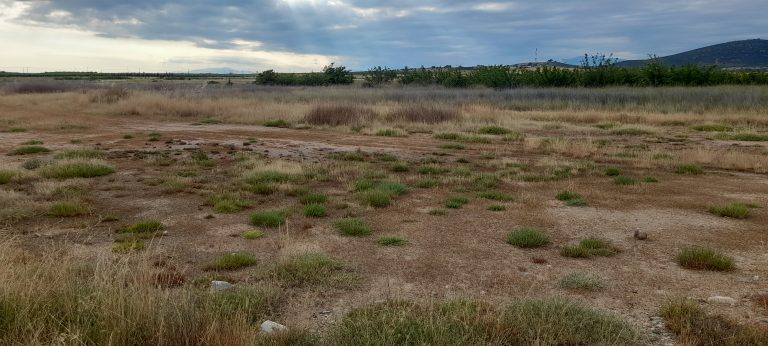 In the marshland behind the summer cottages there were Black-winged Stilt and Black-tailed Godwit, three dozen Collared Pratincoles, Western Marsh Harrier, Eurasian Hoopoe, a few European Bee-eaters, Common Kestrel, Eurasian Penduline Tit, numerous Crested Larks, Common Reed Warbler, Great Reed Warbler, Cetti's Warbler (it is heard in any wetland, but seeing them is an entirely different thing – one was less than a metre from me, but at the other side of a very dense oleander bush), as well as two Calandra Larks (this time I had my binoculars ready in time).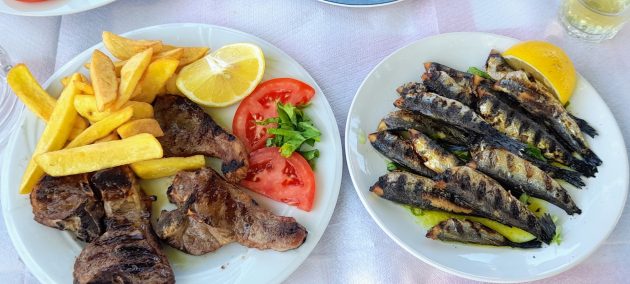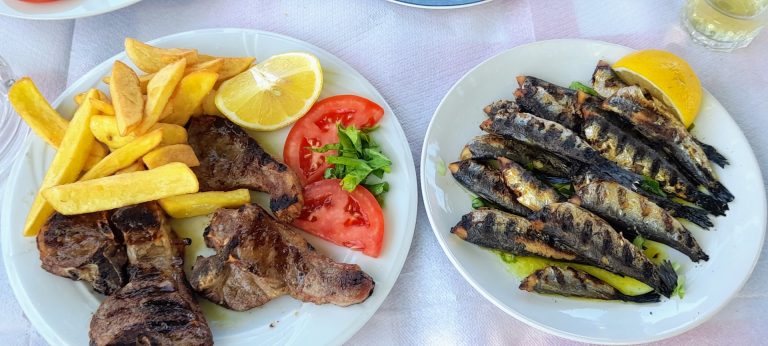 Lunch at the tavern brought a European Serin, and the drive back added a Little Owl on a sign post by the road, and a few soaring birds: White Stork, Great White Pelican and a Short-toed Eagle. A bit later on, saltworks contained more than a hundred Greater Flamingos, plus one of several roadside European Rollers.

Immediately north of Porto Lagos lies huge Lake Vistonida – the lake at the heart of a scandal that brought down the Greek government 15 years ago! Built in the 10th century, Vatopaidi is one of 20 monasteries at Greece's self-governing monastic community of Mount Athos. Among their Byzantine manuscripts, the Vatopaidi monks found a title, bestowed in the 14th century by Emperor John V Palaiologos, to the Lake Vistonida (now a national park) and somehow convinced government officials that the land around the lake was worth far more than the 55 million euros an independent appraiser later assessed its value. Then, they used that higher valuation to ask for one billion euros' worth of government property. In the end, the monks exchanged their lake, which generated no rents, for prime, state-owned real estate that did. In the exchange they received 73 different government properties, estimated between 1 billion and 2 billion euros. The new Minister of Finance filed a lawsuit against the Vatopaidi Monastery, and the case went on for years, until all those involved, both monks and ministers, were acquitted. How the monks did this remained unclear.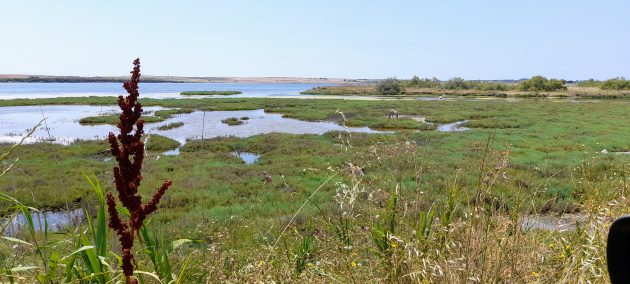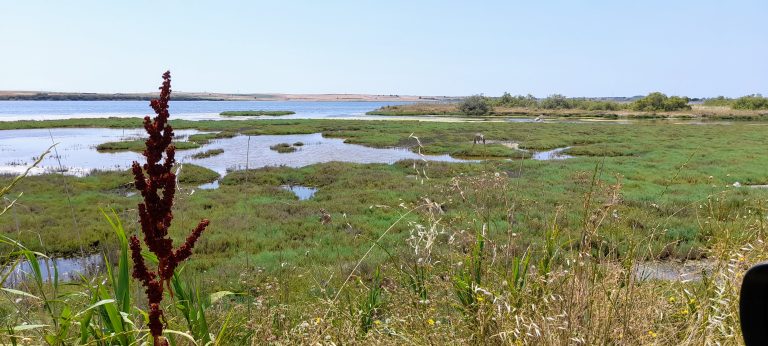 East of Porto Lagos lies the Porto Lagos Lagoon, a.k.a. Daliani Lagoon, a.k.a. Church Marshes. The turn-off is not marked by any sign, giving the visitors the impression that it must be a wrong turn. The road, mostly tarmac, but also a decent macadam, leads through the archipelago of tamarisk-overgrown islands. The eastern side of this area is also visible from the road to the Fanari Village. There were several Common Shelducks and a hundred more Greater Flamingos (below), Black-winged Stilt, Pied Avocet, Eurasian Curlew, Black-tailed Godwit, Great White and Dalmatian Pelicans, Spoonbills, European Honey-buzzard, Short-toed Eagle, Marsh Harrier, Bee-eaters, Lesser Grey and Woodchat Shrikes, Penduline Tit, Crested Lark, Red-rumped Swallow, etc.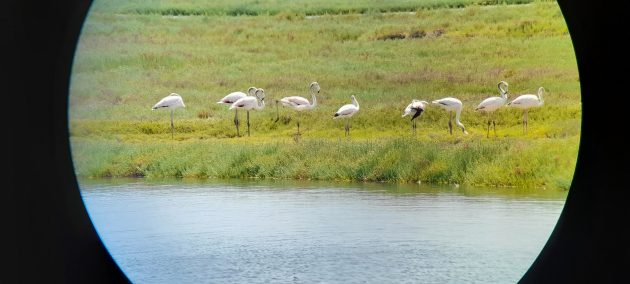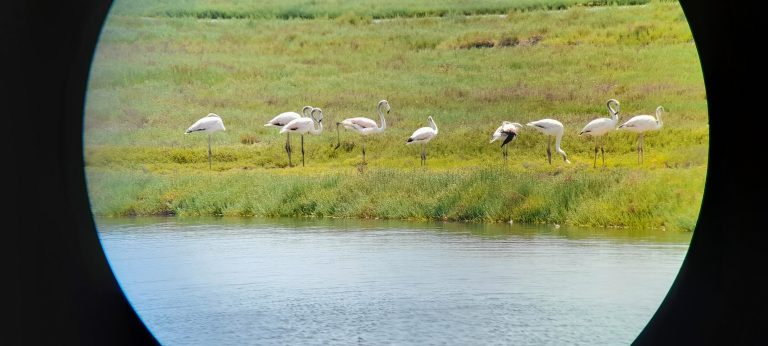 Large lagoons farther east are at their best in winter, but I should mention one more bird. I was heading to Lake Ismarida, as it is known among birders under its new name, but I got lost and asked some farmers for Ismarida – they clearly have never heard of it (ask for the old name, Limni Mitrikou). Whatever, they pointed me to the nearest lagoon and that is how I found myself at the isthmus between the sea and Ptelea Lagoon (cover photo). There is a deserted beach on the isthmus, with only 7 sun-umbrellas and no people! Deep inside the lagoon, there were numerous pinkish-white blobs shimmering in the heat: some 500 Greater Flamingos. Yet, much closer to me, on a bare salty ground, a little brown bird took flight singing her heart out. I recorded the song, which Merlin app identified as a Skylark's, but I had enough experience to know better: it turned out to be a Greater Short-toed Lark.

Now, I am done. Back to Fanari for some well-deserved snake-cold Vergina Lager.
Previous stage: Birding Lake Kerkini