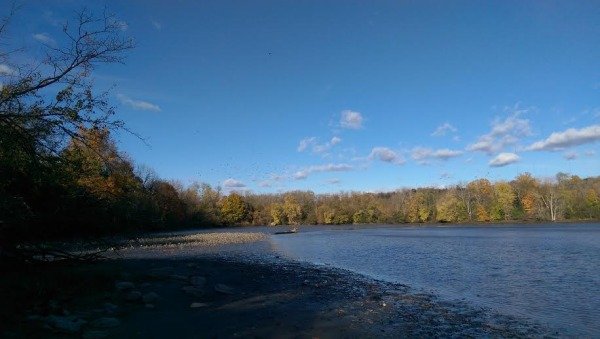 Look in the middle, just over the trees: there's a big flock of birds up there. Same thing with the photo below.
So: on a beautiful fall afternoon, my friend Ardal and I decided to go to for a bike ride.
Bike rides with Ardal are not for the faint of heart; certainly not for those who haven't ridden a bicycle since they were 12. The first time we rode together, with me on another friend's mountain bike, the "short ride" turned out to be ten miles.
Plus there were hills.
Five rides later, I've wised up. "Seriously – how long as this ride?" I asked suspiciously, knowing his iPhone Bike Route app plays fast and loose with things like mileage and elevation.
"Very short," he said, holding up his iPhone. "Look. Four miles."
It turned out to be six. Ardal and his iPhone are partners in crime, although he is not a malicious accomplice. It's just that an extra two or three miles, or maybe it's ten or twelve, just don't matter to him; and obviously the iPhone doesn't care, either.
In any case off we went, into the brilliant sunshine and the unexpectedly chilly air, and headed for a bike trail along the Hudson River. The trail wound through the woods, over a footbridge hugging a creek, and along a marsh where cattails swayed in the gusty wind. I heard the sound of crows.
"Listen!" I cried, slamming on my brakes and looking wildly upward. Above my own little piece of the wooded Hudson Valley, you don't see enormous flocks of crows; but here, not far from the river, the sky was filled with them. They rocketed past us, letting out that clamoring alarm call which made me pray they hadn't found a young, hapless Red-tailed Hawk or a sleeping Barred Owl.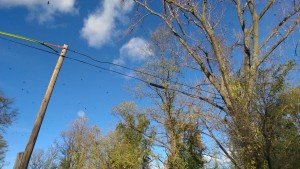 They landed in a group of trees at the edge of the river, the raucous calls of adults mixed with the still-plaintive cries of fledglings. "Maybe one of them is hurt!" I said, abandoning my bike and bushwhacking toward them. Such is the sad truth of die-hard wildlife rehabilitators, who can't even go on a simple bike ride without feeling compelled to rescue birds who either don't exist or turn out to be perfectly healthy.
And perfectly healthy they were: we reached the river's edge and they lifted into the air and careened away, noisily riding the blustery wind. We returned to the path, our attention momentarily diverted to the tree roots which lurked, like partially submerged water snakes, beneath the shimmering leaves. But just as we reached the road the crows reappeared, swirling in circles above our heads, sparring and surfing, tumbling and rolling, climbing into the sky then folding their wings and diving like peregrines, leaving invisible trails of braids and spirals and double helixes. Their words were clear: the heat is gone, the wind is up, and it's a fine day to be a crow.