When winter settles down birding can occasionally seem a little repetitive, even the Internet forums and blogs can dry up with little new material. Birding in Britain this winter however has been anything but repetitive with some great birds offering not only a refreshing blast of newness amidst the snow, mist and drizzle but fuelling some hugely educational and often entertaining on-line material over the past few months.
We have to go to Ireland for the first of this winter's big talking points. Now those of you with photographic memory may be thinking "Woah, there Ireland isn't part of his beat". Well in best Brit tradition and in the absence of an Irish beat writer I've acquired it, annexed it albeit temporarily, into my beat. I'm conscious that there's a risk this could prompt some fund raising amongst those of you with Irish roots and a campaign of Tawny Owl kidnap and messing up the RSPB visitor centre toilets could follow, so I'll state now I'm willing to negotiate.
A stowaway House Crow in Cobh, County Cork is at the root of the trouble. Whilst not unexpected as a result of this species habit of hitching a lift from passing ships, the UK has so far resisted it's charms. So when one of Britain's keen twitchers turns up in Ireland proudly sporting a canary yellow t-shirt proclaiming "Just seen 500 in Britain!" to celebrate seeing the House Crow the birding Internet forums were ablaze with outraged Irish birders offering geography and political history lessons.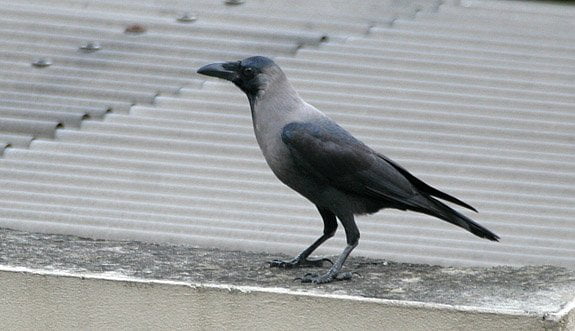 House Crow courtesy Charlie Moores
Could we tick it? Should we have a combined British & Irish list? Was it acceptable anyway given that it was almost certainly ship assisted? The debate rumbled on and deepened when a putative juvenile  Northern Harrier was found at Tacumshin in Wexford. Whilst not currently a separate species this North American form (hudsonicus) of the more familiar British (and Irish!) Hen Harrier is considered by some as a candidate for a potential future split into full species.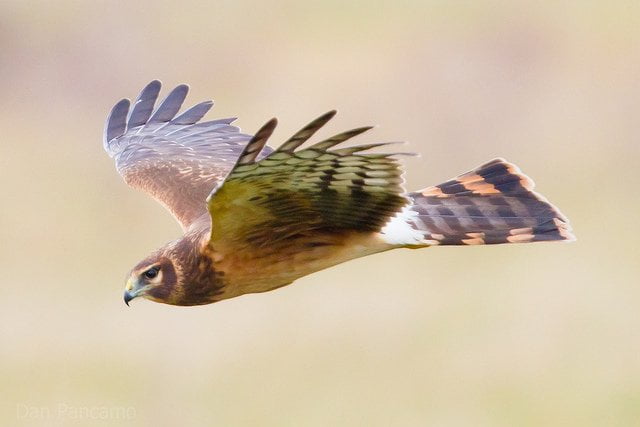 Northern Harrier copyright & courtesy Dan Pancamo(via Flickr)
Luckily the Brits didn't have to fret about whether to 'do' Ireland again for very long when another 'possible' bird was discovered in Norfolk. Never straightforward the identification and separation of juveniles of the two forms became the hot discussion topic of early winter. This particular juvenile did it's best to fuel the debate by successfully eluding most  photographers for several days ensuring a series of 'not quite enough to clinch the identification' images were endlessly cropped, sharpened and dissected. The debate went global with significant contributions from US based birders and even a Brit in Brazil!
With the arrival of some snow late November and the Northern Harrier identification almost put to bed, we could have been forgiven if our thoughts turned to Christmas but with the snow came redpolls.  As most of you will know redpolls are one of the few birds to have more forms than a US visa application. In Britain & Ireland we have our resident and breeding Lesser Redpoll C.f cabaret and we also get small numbers of Common or Mealy Redpoll C flammea annually, then there's birds from Greenland and oh, don't forget Iceland as well. As December progressed it became apparent that numbers of Mealy Redpoll were much higher than normal and with them were small numbers of Arctic Redpoll of the race exilipes just to throw another curve-ball into the redpoll ID conundrum.
To date anything up to 15 individuals have been found, mostly in the northern half of the country, providing the best opportunity to connect with this species on British turf since 1996. Sorting out the ID of some of these redpolls, especially the 1st-winter Arctics has provided a welcome distraction on the darkest winter nights. I was lucky enough to stumble upon one after many hours watching one local redpoll flock that contained impressive numbers of Mealies. Difficult to count, constantly mobile and flighty I resorted to taking group pictures of some of the flock as they landed in treetops in order to try and count the number of Mealies more accurately at home. I was stunned on opening the first of three frames to see what to my eyes was clearly a Coues' Arctic Redpoll centre screen.
With mid-winter past and the snow just a bad memory, reports of the first singing Song Thrushes have already had the thoughts of some turning to spring. There is one kind of birder though for whom winter has a special attraction, the laridophile. Gull lovers across Britain descended upon a landfill tip in London on Saturday as a potential first for Britain had been found and photographed in the two days previous.
Of course with 1000 pairs of eyes waiting and watching for it the putative Slaty-backed Gull got stage fright and whilst reported as being present was missed by the vast majority of birders on site.  With this individual, an adult (not the bird pictured below), showing a paler than expected mantle and underwing questions have emerged about its identification and purity. To date it appears not to have been re-found though the finder and many of the small number of observers who saw it on the second day appear happy that it is indeed a Slaty-backed rather than the less desired 'hybrid' that has also been suggested.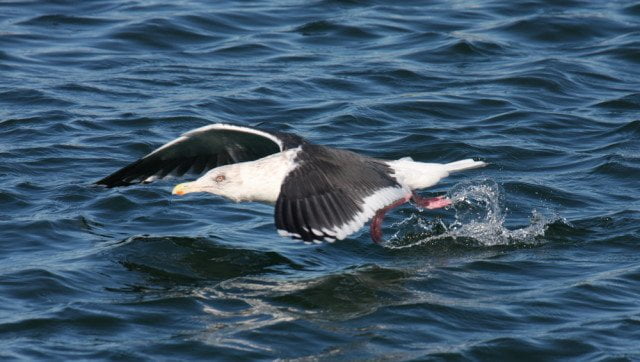 Slaty-backed Gull courtesy Charlie Moores
That the finder of the bird, Dominic Mitchell, also happens to be the Editor of one of Britain's top Birding magazines 'Birdwatch' means we can expect a full blow by blow analysis in a few weeks time when they finally get it into print. In the meantime the debate rages on. Whilst I've never seen Slaty-backed, it looks good to me, even if it is at the pale end of the colour range.
What this weekend's gull  has done, along with the Northern Harrier and some of our difficult redpolls is demonstrated once again that no matter how much we think we know, there are always birds out there that stretch our knowledge and challenge us and if all else fails we can fight over who gets to tick them!