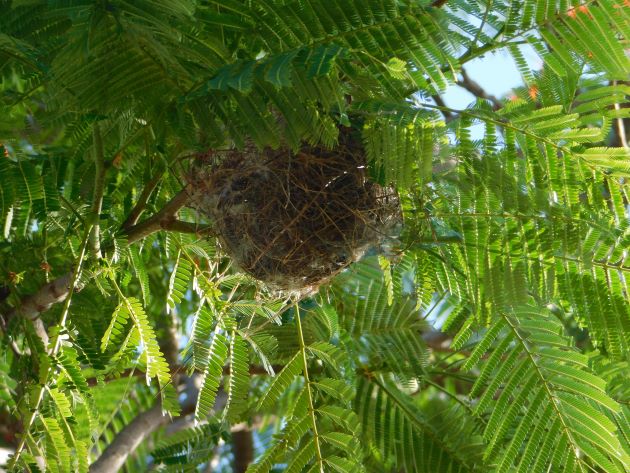 Poinciana trees are not native to Australia, but they grow very well in the north and are often found in local parks. Most people are familiar with their bright red colours and their long seed pods, but what is worth noting is that birds like them too! There are several Poinciana trees in Cygnet Park in Broome and the nearby roundabouts and street verges. We are still waiting for rain and the Poinciana trees offer substantial shade. They also offer an excellent opportunity for birds to nest. The nest in the header photo in a Poinciana tree belongs to a Little Friarbird and they have been breeding recently and there are many juvenile birds about.
The Magpie-larks have also been breeding recently and also using the Poinciana trees for nesting. They build their nests out of mud. There's not mud normally unless it rains, but these nests are also resilient to wet weather and last for some time in the Poinciana trees. Magpie-larks collect "mud" from our garden where the water we provide for the birds overflows.
Magpie-lark nest
They have not been able to water the grass and plants at Cygnet Park in recent weeks due to the water tank being replaced. This has sent some of the native trees into stress and they are flowering, which is also attracting birds. The Hakea macrocarpa is flowering again and so is the pink flowering gum.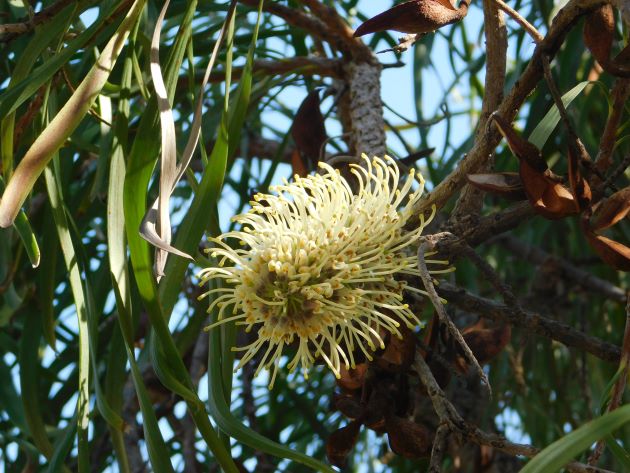 Hakea macrocarpa flower
Pink flowering gum
As the Poinciana trees lost their leaves we suddenly "lost" our family of Tawny Frogmouths. However, we knew they were not far away and we believe we may have found their nest in a nearby Poinciana tree now it has also lost its leaves. They had been there at night, because we found feathers in the morning.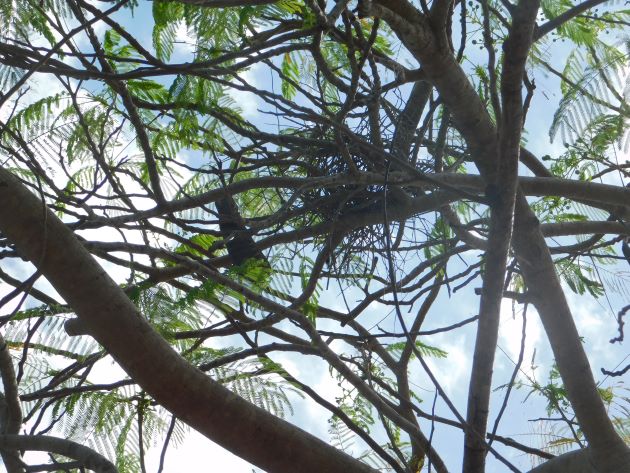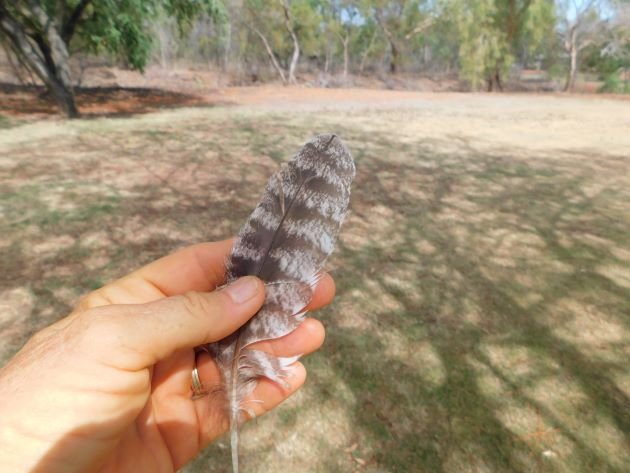 Tawny Frogmouth nest and feather
As you can see, the grass is getting very dry and crispy whilst we wait for rain or the water tank to be replaced, so the reticulation can start up again. The small roundabouts in the streets around Cygnet Park are on a different watering system, so we went to check the Poinciana tree in the middle of a nearby roundabout. No surprise really, but we found the Tawny Frogmouths! They had found another Poinciana tree that still had leaves and they were still close to the streetlights that offer insects at night! We were very pleased to find the Tawny Frogmouth family had not relocated too far!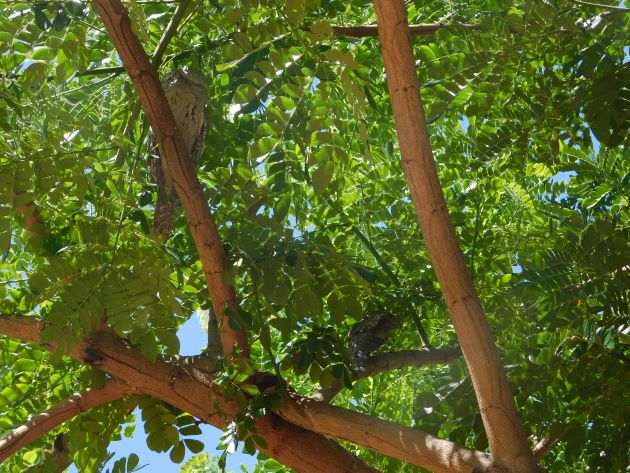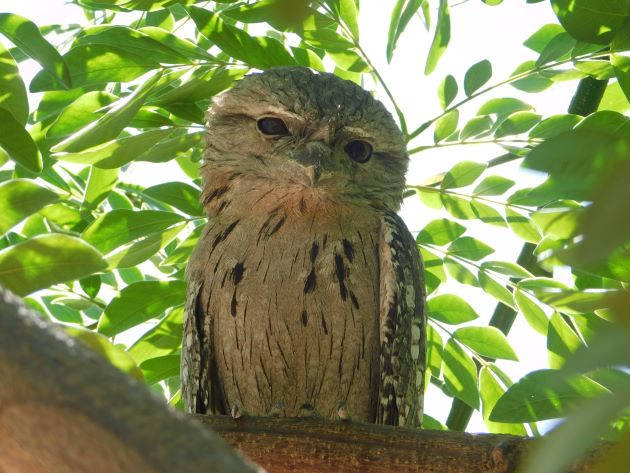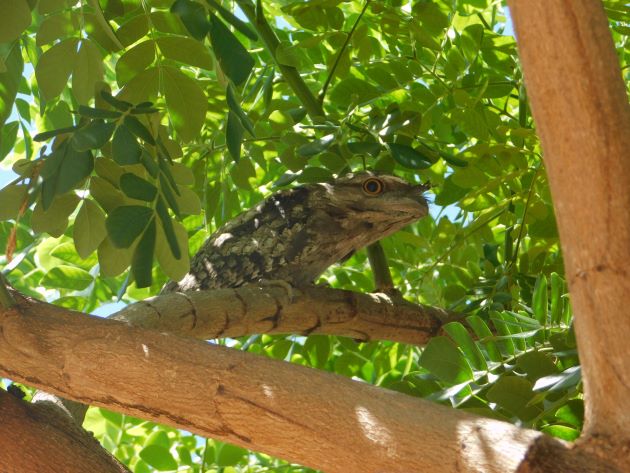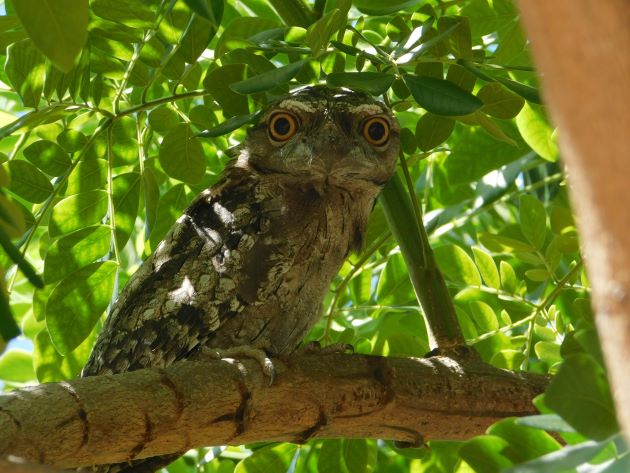 Tawny Frogmouths in the middle of a roundabout
We have also discovered this week that the Tawny Frogmouth breeding season is far from over with another nest in another Poinciana tree close to Brolga Park. This Tawny Frogmouth nest is even higher, but also close to streetlights that attract insects to feed on at night.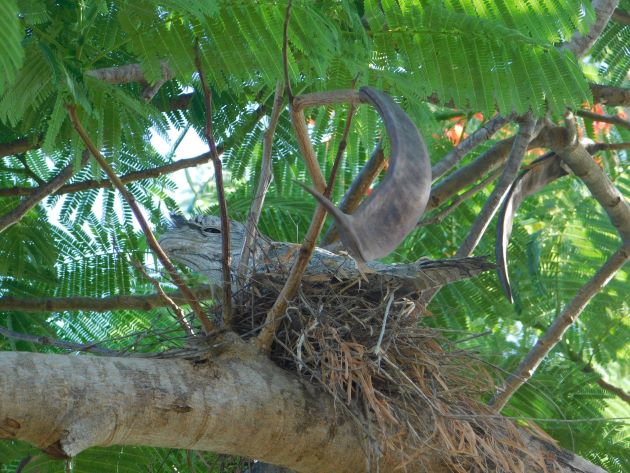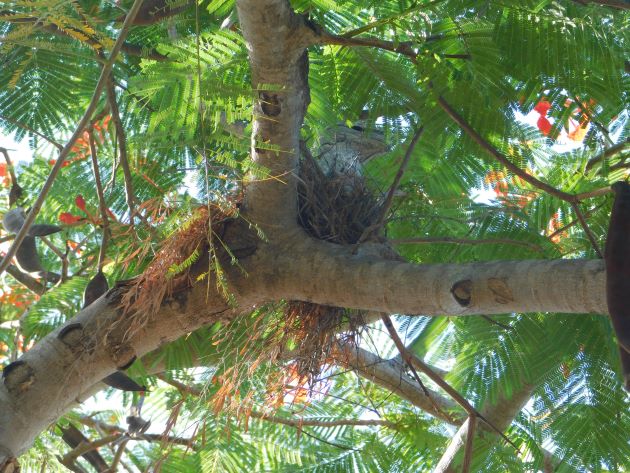 Tawny Frogmouth nest
One other very large Poinciana tree in Cygnet Park has offered a surprise this week. There are currently three very hungry and very vocal juvenile Brown Goshawks that roost in it. It seems their calls for food are relentless! Their parents really do have plenty of hunting to do, but having got them to this stage of development they must be doing something right! They are always together in the same tree, but never too close to each other. Here are a few of the poses from the three birds over the last couple of days.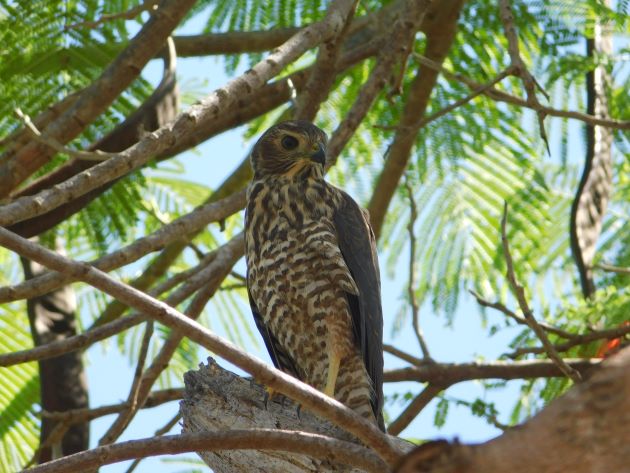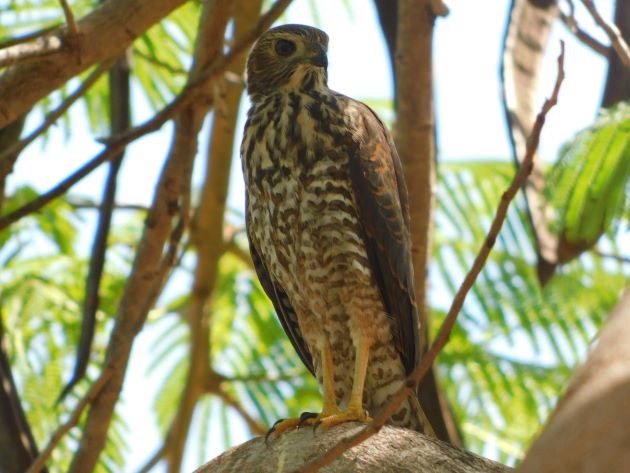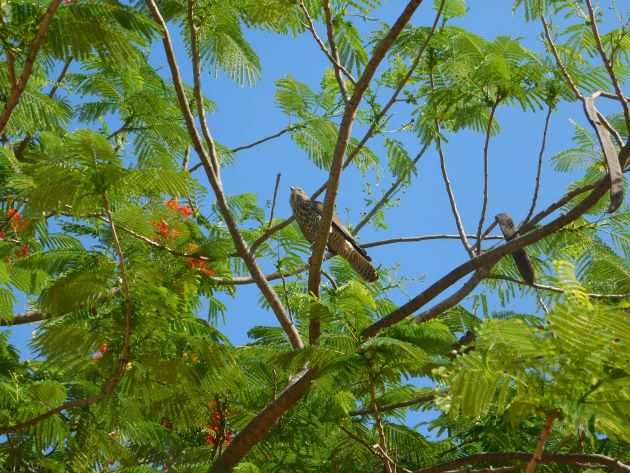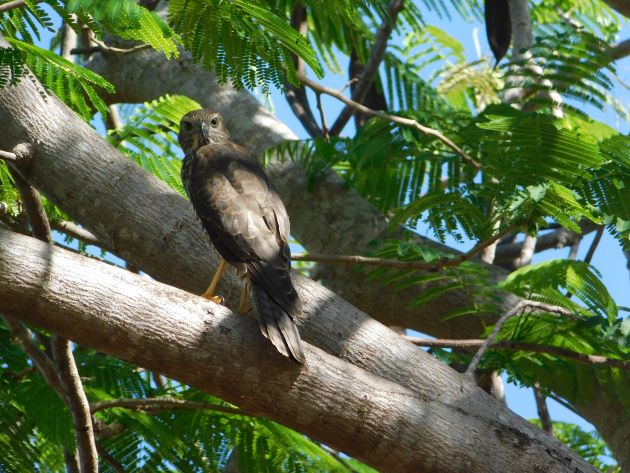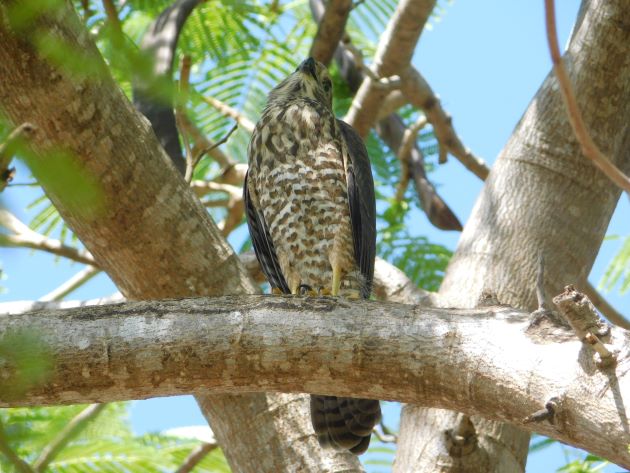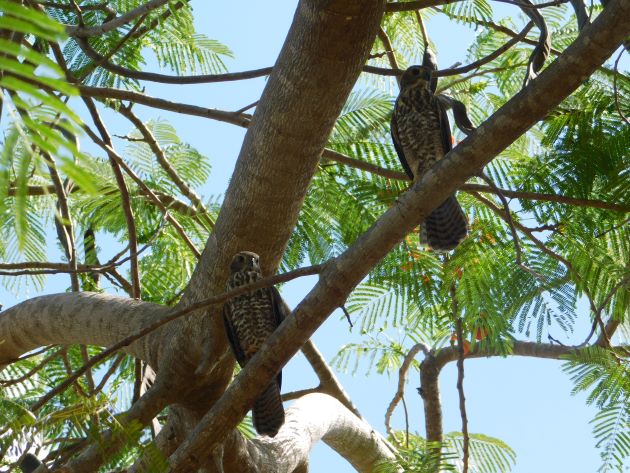 Juvenile Brown Goshawks
It is very clear that despite the Poinciana tree not being a native tree in Broome it has benefits to our local birdlife. Of course it is always nice to stand under a shady tree at this time of year when the heat and humidity are challenging! Maybe we will get rain for a Christmas gift from nature!