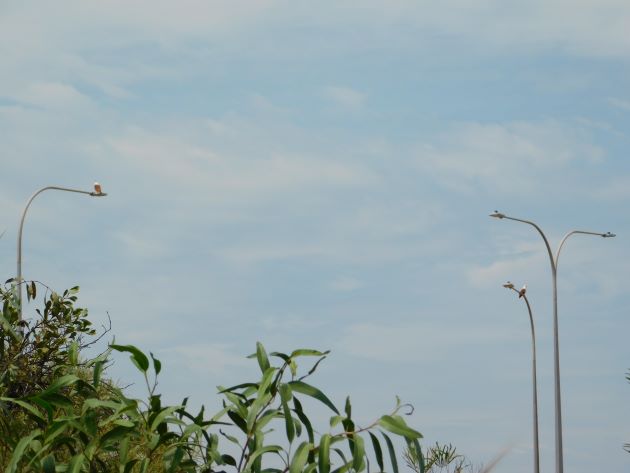 After last Sunday's post featuring a few of the birds that use the streetlights around Broome I thought I really should show you a few more! We had a surprise early morning storm on Good Friday, so that brought some clouds for a change and a welcome 10mm of rain. We had thought we had possibly seen the last of the rain for about six or seven months, so any extra is a bonus.
The header photo is of a pair of Brahminy Kites that are often perched on the streetlights at one of the many roundabouts in Broome. Often they have landed on the streetlight to feed and the first Brahminy Kite we observed Friday morning was busy eating some unknown prey. You'll note the sky was still pretty dull, but of course it was still around 30c.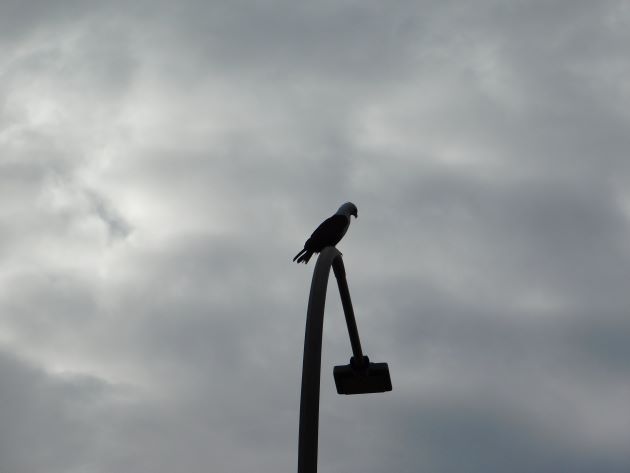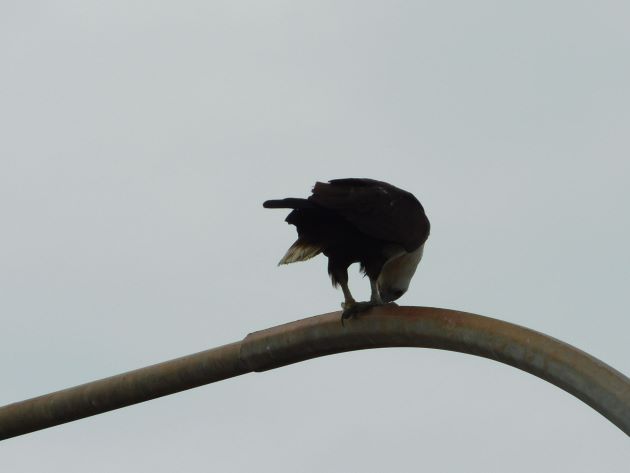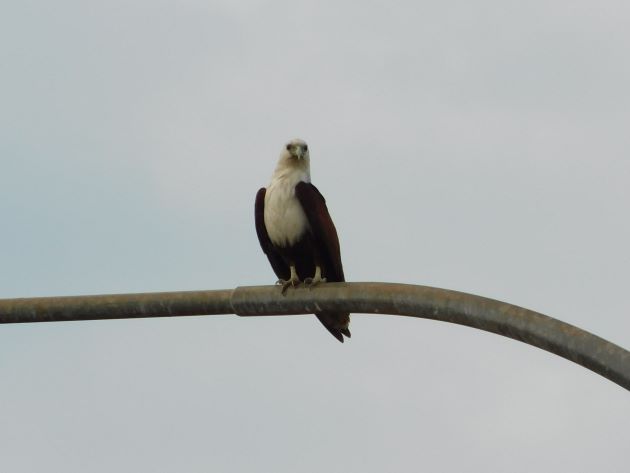 Brahminy Kite on streetlight
The pair of Brahminy Kite in the header photo were photographed a couple of hours later close by. One may have been the same bird that I photographed earlier and it is not far to the coast in any direction.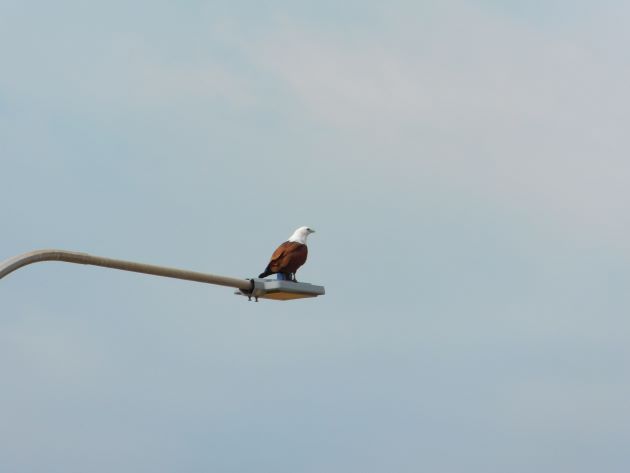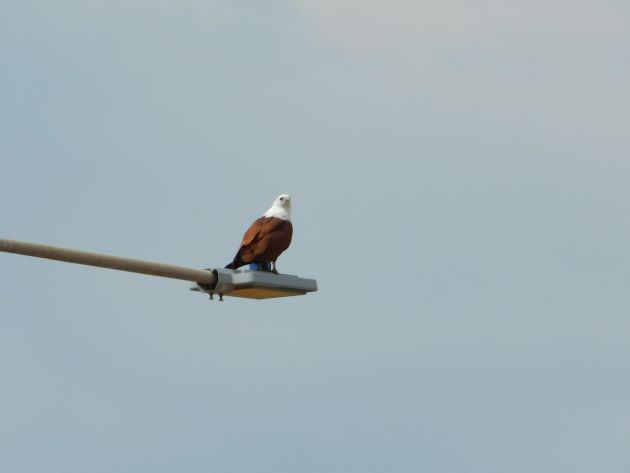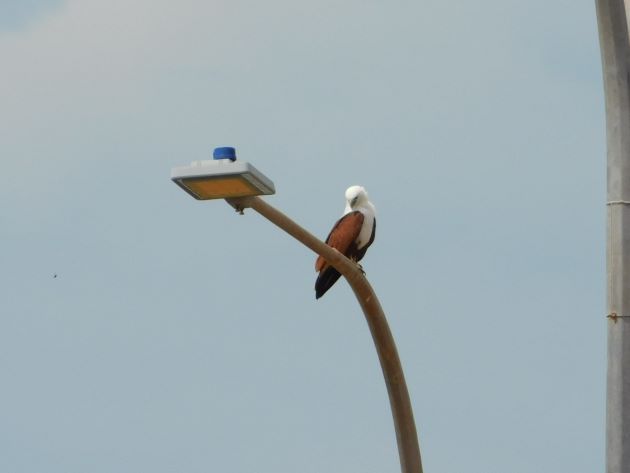 Brahminy Kites on streetlights
Early in the day there was an Osprey drying out on a streetlight too. They are often seen on streetlights and their evidence is on the ground below. If you are not sure which streetlights that they prefer then you can just look at the evidence below and wait. Sure enough an Osprey will soon show up. The sky was not completely dull in all directions, so I was able to get a couple of photos with a blue background!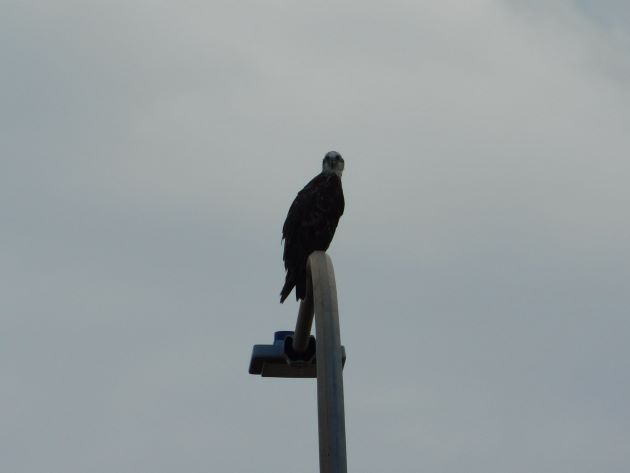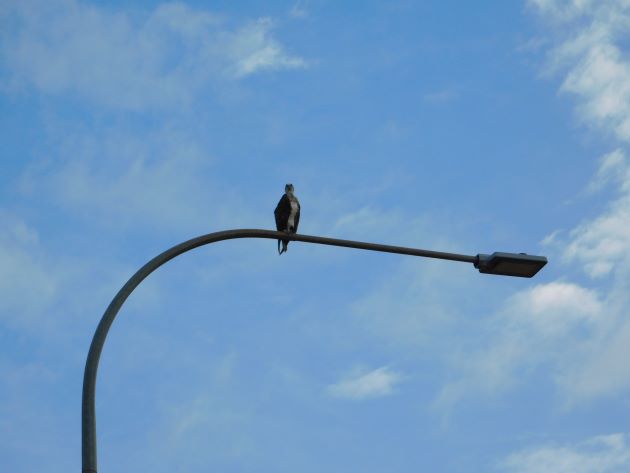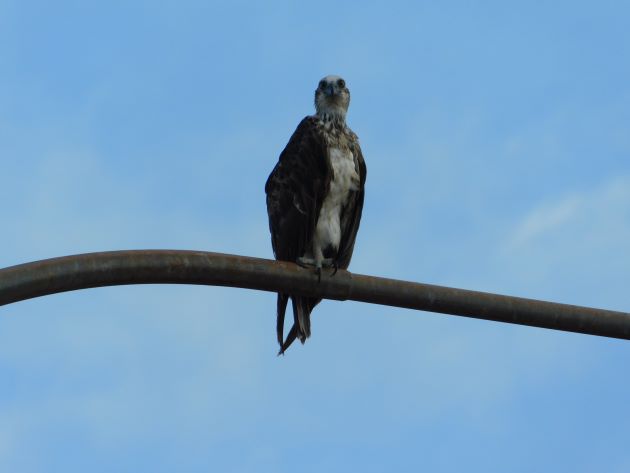 Osprey on a streetlight
Due to the dull weather some of the streetlights appeared to be confused and had not turned off. A Brown Goshawk appeared to be equally confused about why the streetlight was still on.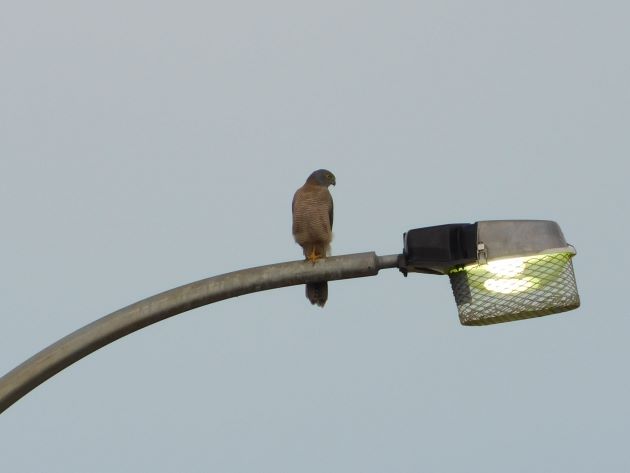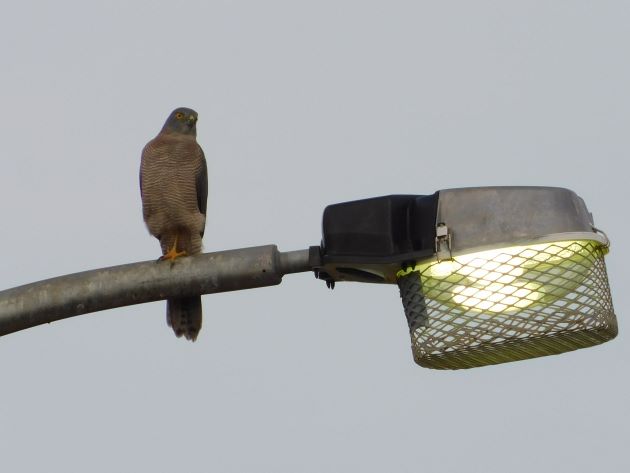 Brown Goshawk on a streetlight
The next bird species I photographed on a different type of streetlight that looks like it could do with a splash of paint was the Black-faced Cuckoo-shrike. As is typical of this bird species there was a bit of wing shuffling when it landed.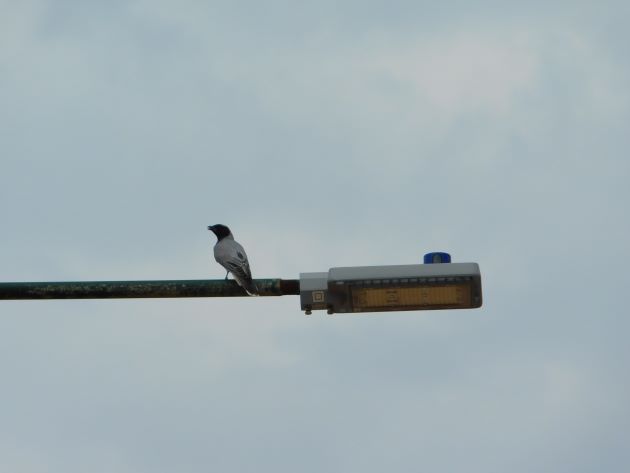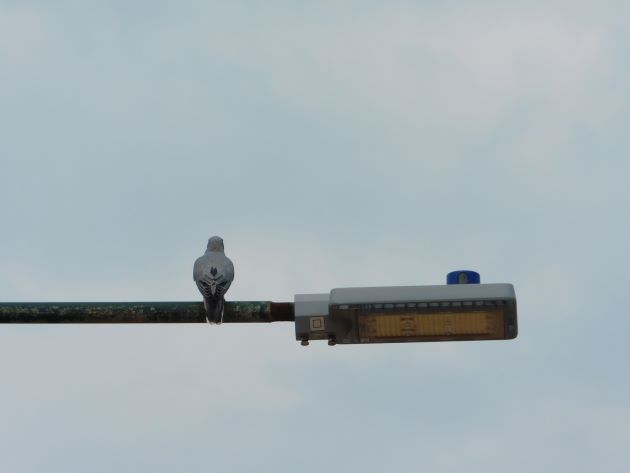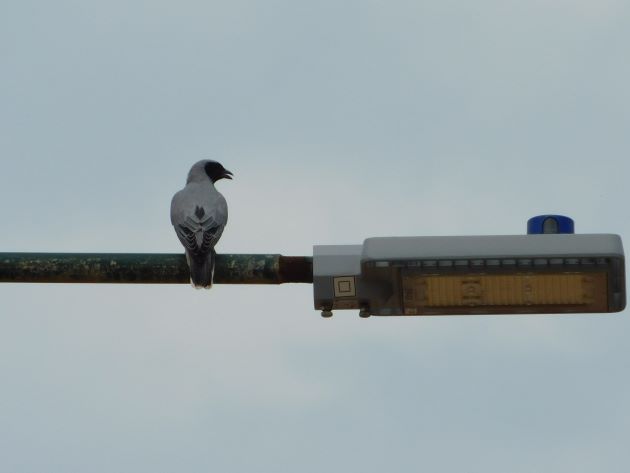 Black-faced Cuckoo-shrike on a streetlight
Little Friarbirds have worked out that the streetlights with a cage around the light are a good place to find insects. It's not unusual to see several Little Friarbirds hanging off the cage. The photo above of the Brown Goshawk shows several Little Friarbirds on the power line behind and one in flight. They would have been on that light if it were not for the Brown Goshawk!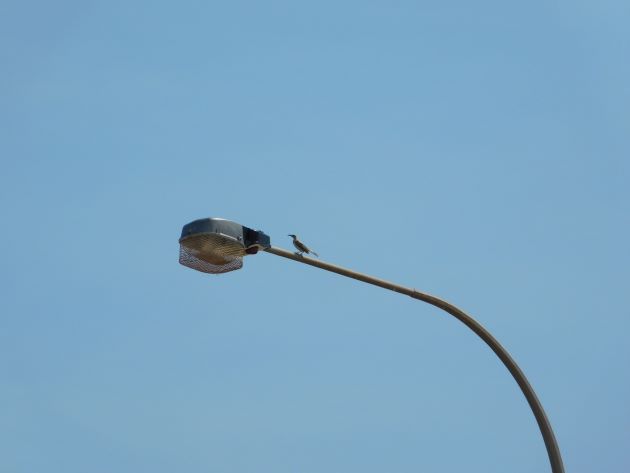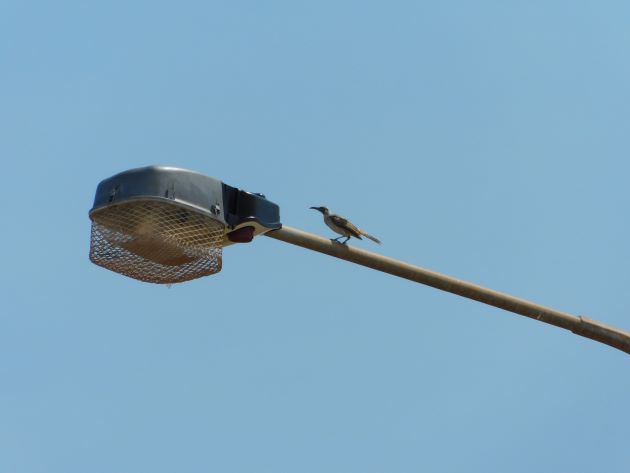 Little Friarbird on a streetlight
A juvenile Pied Butcherbird decided it also wanted to be on the streetlight, so the Little Friarbird had to shift along a bit!
Juvenile Pied Butcherbird and Little Friarbird on a streetlight
Pied Butcherbirds are often observed singing from streetlights around Broome. I pulled up on my bicycle in between two Pied Butcherbirds on Friday. They were both perched high up on the streetlights singing away. You'll note another colour of streetlight pole!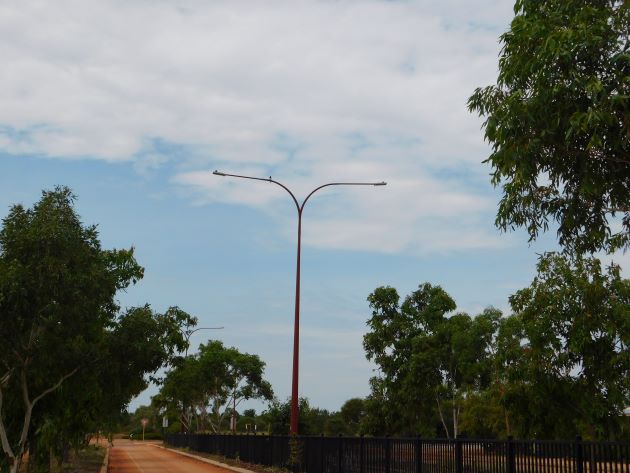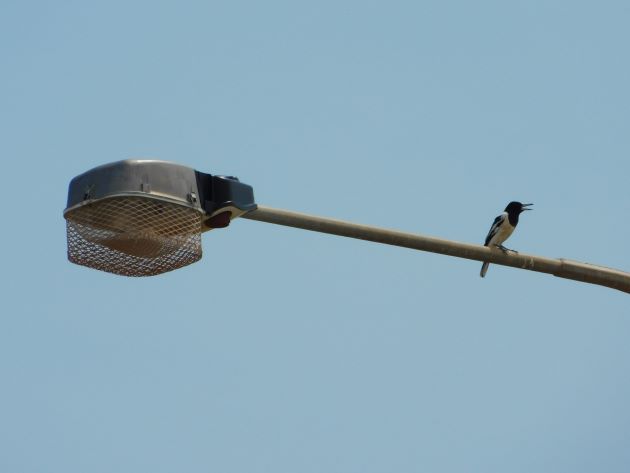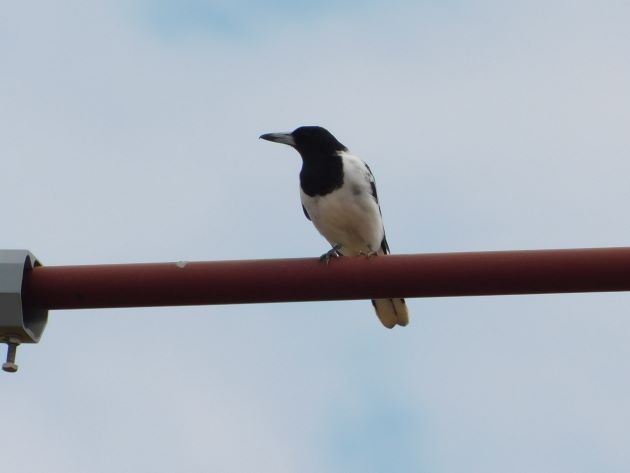 Pied Butcherbird on a streetlight
So, there you go. A few more bird species and a few more different streetlights!
Whilst we go about our daily lives and we are able to leave our property it is always in my mind that one of our beatwriters, Kai Pflug, is not lucky enough to have the freedom that we all do. Of course he continues to put up excellent photos of birds despite being in lockdown and for that we are all grateful. He is updating his situation on this blog.