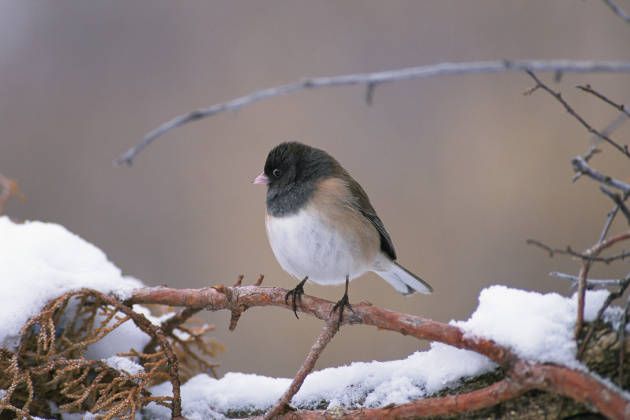 As I've mentioned before, year lists are odd creatures: arbitrary but compelling, personal but competitive, commonplace but unique enough to be worthy, in some instances, of scientific interest. Up until now, though, I've never put my year list on 10,000 Birds. This year, I'm taking the plunge.
As I've discussed, I'm hoping to add a Rosy-Finch or two to the old life-list this year. Other Rocky Mountain species I'd like to round up, in a perfect world, include Boreal Chickadee, Spruce Grouse, and Varied Thrush. On a larger scale, I have no particular plans to get outside the ABA area in 2014, but I would like to time a trip back east with the spring migration this time around, and it's been far, far too long since the west coast has seen hide or hair of me. Or maybe I'll take another trip to Texas. It's hard to go wrong with a trip to south Texas.
In the mountains, I have been brutally deprived of pelagics, and that's something to fix, though perhaps not until fall. And it's shameful to say that I still haven't seen the wonders of Glacier National Park. There's a big country out there, and I need to get more proactive about birding it.
One more thing – I don't know whether 2014 will bring any new bird tattoos, but if it does, you guys will be the first to know.
Anyway, here we go: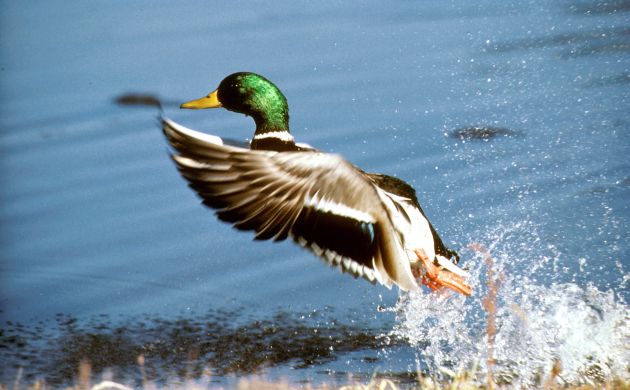 1. Rock Pigeon Jan 1 – Las Vegas, Nevada
2. Dark-eyed Junco Jan 3 – Missoula, MT
3. American Crow Jan 3 – Missoula, MT
4. Black-capped Chickadee Jan 3 – Missoula, MT
5. Mallard Jan 4 – Missoula, MT
6. Northern Flicker Jan 5 – Missoula, MT
7. Bohemian Waxwing Jan 5 – Missoula, MT
8. Common Merganser Jan 6 – Missoula, MT
9. Song Sparrow Jan 6 – Missoula, MT
10. Red-tailed Hawk Jan 7 – Dunrovin Ranch, MT
11. House Sparrow Jan 7 – Dunrovin Ranch, MT
12. Downy Woodpecker Jan 7 – Dunrovin Ranch, MT
13. Pileated Woodpecker Jan 7 – Dunrovin Ranch, MT
14. House Finch Jan 7 – Dunrovin Ranch, MT
15. White-breasted Nuthatch Jan 7 – Dunrovin Ranch, MT
16. Common Raven Jan 7 – Dunrovin Ranch, MT
17. Black-billed Magpie Jan 7 – Dunrovin Ranch, MT
18. Bald Eagle Jan 7 – Dunrovin Ranch, MT
19. Great Blue Heron Jan 9 – Missoula, MT
20. European Starling Jan 10 – Missoula, MT
21. Belted Kingfisher Jan 10 – Missoula, MT
22. Canada Goose Jan 10 – Missoula, MT
23. Common Goldeneye Jan 12 – Missoula, MT
24. Cedar Waxwing Jan 12 – Missoula, MT
25. American Dipper Jan 13 – Missoula, MT
26. Eurasian Collared-dove Jan 14 – Dunrovin Ranch, MT
27. Great Gray Owl Jan 18 – Maclay Flat, MT – Life Bird
28. Red-breasted Nuthatch Feb 2 – Missoula, MT
29. Hairy Woodpecker Feb 7 – Dunrovin Ranch, MT
30. Northern Shrike Feb 7 – Missoula, MT New Yard Bird
31. Sharp-shinned Hawk Feb 9 — Missoula, MT
32. Ring-necked Pheasant Feb 15 – Mission Valley, MT
33. Rough-legged Hawk Feb 15 – Mission Valley, MT
34. American Kestrel Feb 15 – Mission Valley, MT
35. Ferruginous Hawk Feb 15 – Polson, MT
36. Red-winged Blackbird Feb 15 – Ninepipes, MT
37. Northern Harrier Feb 15 – Ninepipes, MT
38. American Tree Sparrow Feb 15 – Ninepipes, MT
39. Merlin Feb 15 – Charlo, MT
40. Townsend's Solitaire Feb 15 – Crow Creek, MT
41. Gray/Hungarian Partridge Feb 15 – Mission Valley, MT
42. Prairie Falcon Feb 15 – Mission Valley, MT Life Bird
43. Lesser Scaup Feb 15 – Polson, MT
44. Barrow's Goldeneye Feb. 15 – Polson, MT
45. Mourning Dove March 1 – Queens, NY
46. Ring-billed Gull March 9 – Queens, NY
47. Snow Goose March 10 – Missoula, MT
48. American Robin March 12 – Missoula, MT
49. Killdeer March 21 – Missoula, MT
50. Sandhill Crane April 5 – Garrison, MT
51. Turkey Vulture April 6 – Helena, MT
52. Mountain Bluebird April 6 – Helena, MT
53. Western Meadowlark April 6 – Helena, MT
54. Northern Shoveler April 6 – Freezeout Lake, MT
55. Gadwall April 6 – Freezeout Lake, MT
56. Canvasback April 6 – Freezeout Lake, MT
57. Redhead April 6 – Freezeout Lake, MT
58. Bufflehead April 6 – Freezeout Lake, MT
59. American Coot April 6 – Freezeout Lake, MT
60. Northern Pintail April 6 – Freezeout Lake, MT
61. Herring Gull April 6 – Freezeout Lake, MT
62. Golden Eagle April 6 – Freezeout Lake, MT
63. Lesser Scaup April 6 – Freezeout Lake, MT
64. Osprey April 8 – Missoula MT
65. Violet-green Swallow April 8 – Missoula MT
66. American Goldfinch April 29 – Lolo MT
67. Lewis's Woodpecker April 29 – Lolo MT
68. Cliff Swallow May 1 – Missoula MT
69. Gray Catbird May 7 – Union Square, Manhattan, NY
70. Great Egret May 10 – Jamaica Bay, Queens, NY
71. Brant May 10 – Jamaica Bay, Queens, NY
72. Mute Swan May 10 – Jamaica Bay, Queens, NY
73. American Black Duck May 10 – Jamaica Bay, Queens, NY
74. Double-crested Cormorant May 10 – Jamaica Bay, Queens, NY
75. Snowy Egret May 10 – Jamaica Bay, Queens, NY
76. Tricolored Heron May 10 – Jamaica Bay, Queens, NY
77. Black-crowned Night-heron May 10 – Jamaica Bay, Queens, NY
78. Glossy Ibis May 10 – Jamaica Bay, Queens, NY
79. American Oystercatcher May 10 – Jamaica Bay, Queens, NY
80. Willet May 10 – Jamaica Bay, Queens, NY
81. Least Sandpiper May 10 – Jamaica Bay, Queens, NY
82. Short-billed Dowitcher May 10 – Jamaica Bay, Queens, NY
83. Semipalmated Plover May 10 – Jamaica Bay, Queens, NY
84. Laughing Gull May 10 – Jamaica Bay, Queens, NY
85. Great Black-backed Gull May 10 – Jamaica Bay, Queens, NY
86. Gull-billed Tern May 10 – Jamaica Bay, Queens, NY
87. Common Tern May 10 – Jamaica Bay, Queens, NY
88. Forster's Tern May 10 – Jamaica Bay, Queens, NY
89. Chimney Swift May 10 – Jamaica Bay, Queens, NY
90. Eastern Kingbird May 10 – Jamaica Bay, Queens, NY
91. White-eyed Vireo May 10 – Jamaica Bay, Queens, NY
92. Blue-headed Vireo May 10 – Jamaica Bay, Queens, NY
93. Warbling Vireo May 10 – Jamaica Bay, Queens, NY
94. Fish Crow May 10 – Jamaica Bay, Queens, NY
95. Tree Swallow May 10 – Jamaica Bay, Queens, NY
96. House Wren May 10 – Jamaica Bay, Queens, NY
97. Swainson's Thrush May 10 – Jamaica Bay, Queens, NY
98. Brown Thrasher May 10 – Jamaica Bay, Queens, NY
99. Northern Waterthrush May 10 – Jamaica Bay, Queens, NY
100. Blue-winged Warbler May 10 – Jamaica Bay, Queens, NY
101. Black-and-white Warbler May 10 – Jamaica Bay, Queens, NY
102. Nashville Warbler May 10 – Jamaica Bay, Queens, NY
103. Common Yellowthroat May 10 – Jamaica Bay, Queens, NY
104. American Redstart May 10 – Jamaica Bay, Queens, NY
105. Northern Parula May 10 – Jamaica Bay, Queens, NY
106. Magnolia Warbler May 10 – Jamaica Bay, Queens, NY
107. Blackburnian Warbler May 10 – Jamaica Bay, Queens, NY
108. Yellow Warbler May 10 – Jamaica Bay, Queens, NY
109. Black-throated Blue Warbler May 10 – Jamaica Bay, Queens, NY
110. Yellow-rumped Warbler May 10 – Jamaica Bay, Queens, NY
111. Black-throated Green Warbler May 10 – Jamaica Bay, Queens, NY
112. Eastern Towhee May 10 – Jamaica Bay, Queens, NY
113. Swamp Sparrow May 10 – Jamaica Bay, Queens, NY
114. White-throated Sparrow May 10 – Jamaica Bay, Queens, NY
115. Scarlet Tanager May 10 – Jamaica Bay, Queens, NY
116. Rose-breasted Grosbeak May 10 – Jamaica Bay, Queens, NY
117. Indigo Bunting May 10 – Jamaica Bay, Queens, NY
118. Boat-tailed Grackle May 10 – Jamaica Bay, Queens, NY
119. Brown-headed Cowbird May 10 – Jamaica Bay, Queens, NY
120. Baltimore Oriole May 10 – Jamaica Bay, Queens, NY
121. Red-bellied Woodpecker May 10 – Forest Park, Queens, NY
122. Least Flycatcher May 10 – Forest Park, Queens, NY
123. Red-eyed Vireo May 10 – Forest Park, Queens, NY
124. Blue Jay May 10 – Forest Park, Queens, NY
125. Blue-gray Gnatcatcher May 10 – Forest Park, Queens, NY
126. Ruby-crowned Kinglet May 10 – Forest Park, Queens, NY
127. Hermit Thrush May 10 – Forest Park, Queens, NY
128. Ovenbird May 10 – Forest Park, Queens, NY
129. Worm-eating Warbler May 10 – Forest Park, Queens, NY
130. Hooded Warbler May 10 – Foresy Park, Queens, NY
131. Bay-breasted Warbler May 10 – Forest Park, Queens, NY
132. Chestnut-sided Warbler May 10 – Forest Park, Queens, NY
133. Prairie Warbler May 10 – Forest Park, Queens, NY
134. Canada Warbler May 10 – Forest Park, Queens, NY
135. Wilson's Warbler May 10 – Forest Park, Queens, NY
136. Lincoln's Sparrow May 10 – Forest Park, Queens, NY
137. Summer Tanager May 10 – Forest Park, Queens, NY
138. Northern Cardinal May 10 – Forest Park, Queens, NY
139. Northern Mockingbird May 12 – Astoria, Queens, NY
140. Common Grackle May 17 – Newfield, NY
141. Wild Turkey May 18 – Owego, NY
142. Cordilleran Flycatcher June 21 – Missoula, MT
143. Willow Flycatcher June 22 – Missoula, MT
144. Brewer's Blackbird June 22 – Missoula, MT
145. Western Tanager June 22 – Missoula, MT
146. Northern Rough-winged Swallow June 22 – Missoula, MT
147. Rufous Hummingbird June 22 – Missoula, MT
148. Bullock's Oriole June 22 – Missoula, MT