Milpe Bird Sanctuary, the second of the Mindo Cloudforest Foundation's preserves that we visited during our eight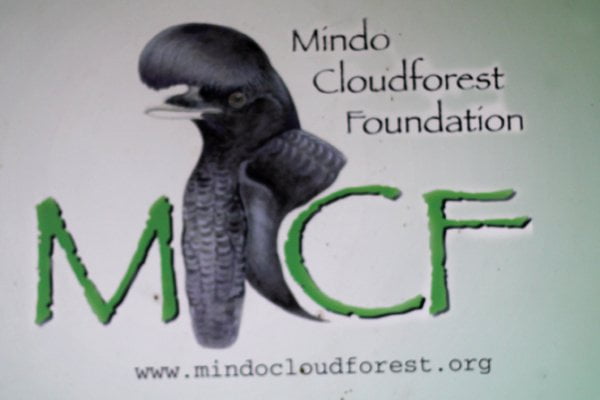 days of birding in Ecuador, is known as a pretty good spot to see some of the much-sought-after Chocó endemics.  Our afternoon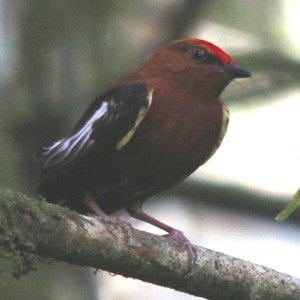 visit was relatively brief, partly because of time constraints and partly because we were dragging on our fifth straight day of dawn-to-dusk birding and were looking forward to getting back to Pululahua Hostal and getting to bed.  Despite our brief visit we still saw some good birds, including the primary target of visiting birders at Milpe Bird Sanctuary, the Chocó endemic Club-winged Manakin Machaeropterus deliciosus.  On our visit it seemed like we would hardly be able to help seeing a Club-winged Manakin, considering that we heard them calling from several directions, but it took awhile before one showed itself.
Why were so interested in seeing a Club-winged Manakin?  Well, besides the fact that none of us had ever seen one, and Danny had never seen any manakin before, the Club-winged Manakin, like most (all?) species of manakin, has a pretty inventive way of getting the attention of female manakins.  Rather than try to explain I'll just share this video that I found of Club-winged Manakins displaying, conveniently enough, at Milpe Bird Sanctuary.
You can imagine our delight at watching a Club-winged Manakin doing just what the ones in the video are doing!  Of course, watching and hearing the display made me wonder how the manakin makes that amazing sound, and, fortunately, there is another video that explains just that.
Though we saw quite a few other species of bird in Milpe Bird Sanctuary after the manakin, they were rather anticlimactic, and blogging about them would be even more of a letdown, so I'll skip it.  Just promise that you will go to Milpe someday yourself and see the funny little manakin flash you while making an absurd noise.  I guarantee you that you will smile when you do.