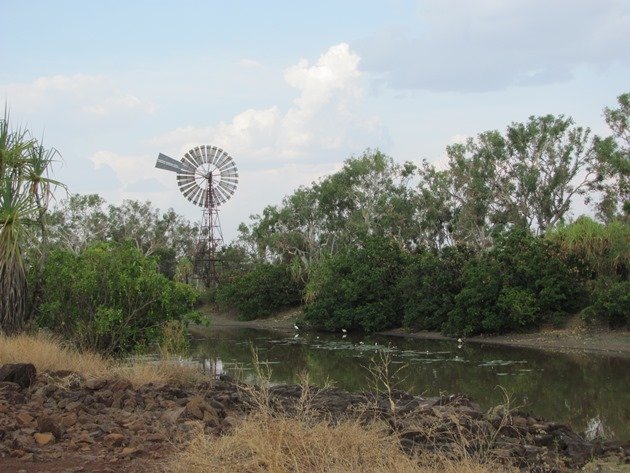 This week we have returned home to Broome and the trip was not leisurely due to the transfer of work. We were required to travel home over two days for Grant to return to work here after working in Darwin over the past few weeks. The easiest way to divide the 1873 kilometres (1164 miles) is to travel to Kununurra the first day and then back to Broome the next day, which is how we travelled when we went north. With the large distances between towns in the remote north of Australia you are limited to where you can stay if you are not camping, which we normally do. Our drive south out of Palmerston needed some variety beyond the Stuart Highway, so we took the scenic route from Adelaide River to Hayes Creek. It is a windy road and does take a bit longer to travel, but we had not travelled it for over 15 years and we may not get a chance again for some time. We had observed 40 bird species by the time we reached Katherine and then Grant had some work calls and emails to deal with. The delay at Katherine was productive, because we observed Apostlebirds for the first time this year. There is an isolated population of this species in the Katherine area and they were bouncing around a park in town.
From Katherine we headed west towards Kununurra and we would be covering 829 kilometres (515 miles) in the one day and really could not make too many stops for birding. The decision was made to continue with the trip list and then just before we reached Western Australia we would make a detour. We have always enjoyed visiting Keep River National Park, but we only had the time to visit the lagoon close to the entrance. We had no idea if there would be water in Cockatoo Lagoon so late in the year, because the tropical rain has not set in yet.  We were pleasantly surprised to find that at 5pm the waterhole was extremely busy and it had become pleasantly overcast.
We walked slowly towards the waterhole to discover a Brown Goshawk bathing and a huge variety of birds around the area.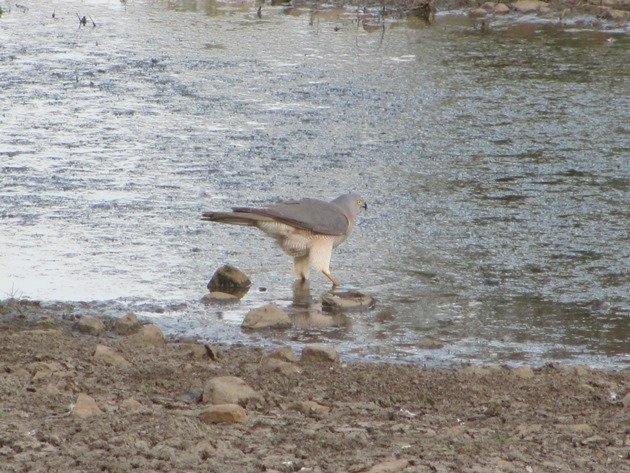 Brown Goshawk
Plumed Whistling-Ducks, Pacific Black Ducks and Magpie Geese stood in the shade on the bank and Black-winged Stilt stood in the shallow water. Black-fronted Dotterels and a Common Sandpiper ran along the muddy edges and Banded Honeyeaters and Rufous-throated Honeyeaters dipped down off the lily flowers that were just above the surface of the water. White-gaped Honeyeaters and Restless Flycatchers called incessantly and there was the raucous sound of Galahs flying down to drink in the late afternoon. There were at least four Dollarbirds swooping down across the water and numerous Rainbow Bee-eaters.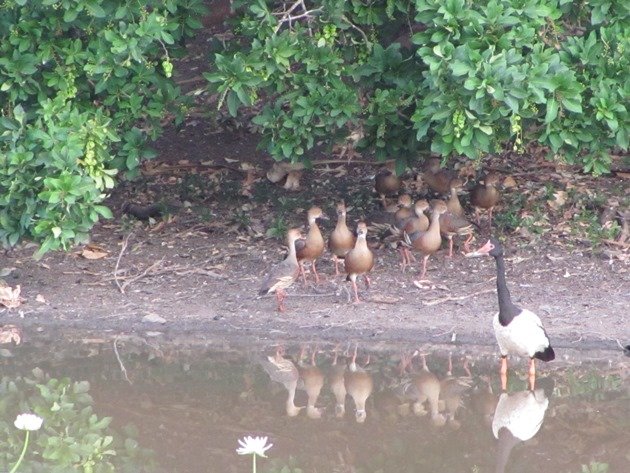 Plumed Whistling-Ducks and Magpie Geese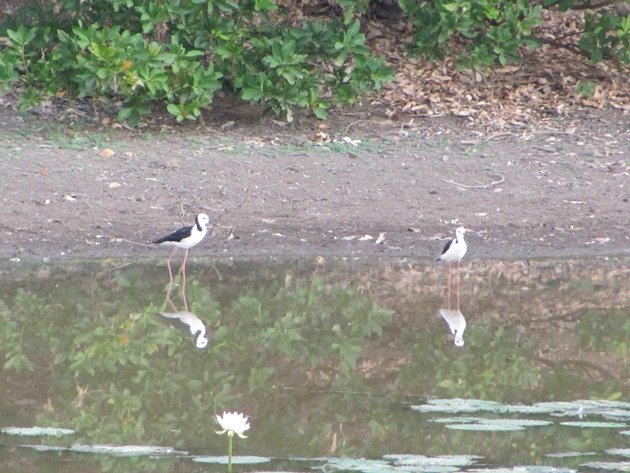 Black-winged stilt
White-necked Herons and White-faced Herons were present and there was also a family of Black-necked Storks.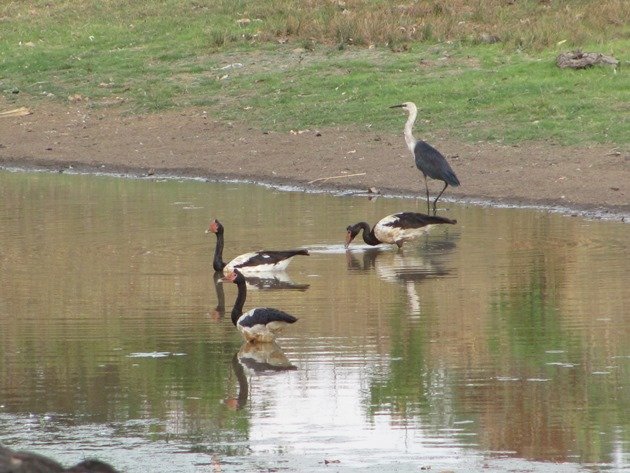 White-necked Heron and Magpie Geese
We have seen Nankeen Night-Herons here in the past, so our eyes soon turned to the trees and sure enough there were at least two Nankeen Night-Herons, Little Black Cormorants and Little Pied Cormorants.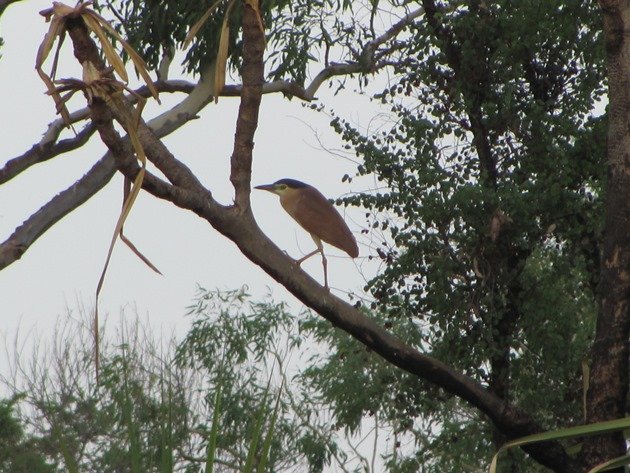 Nankeen Night-Heron
Little Friarbirds were flying down in large flocks to drink from the muddy edges and Peaceful Doves and Bar-shouldered Doves walked in silently.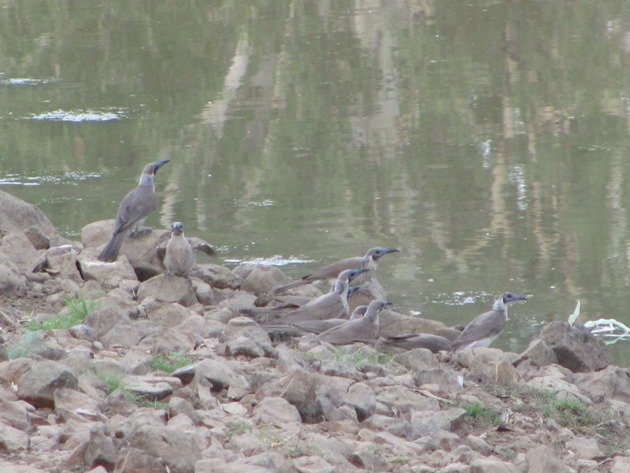 Little Friarbirds
At the end of the waterhole a huge variety of birds were gathered and it included White Ibis, Royal Spoonbills, Glossy Ibis, Straw-necked ibis and the brightly coloured Red-winged Parrots.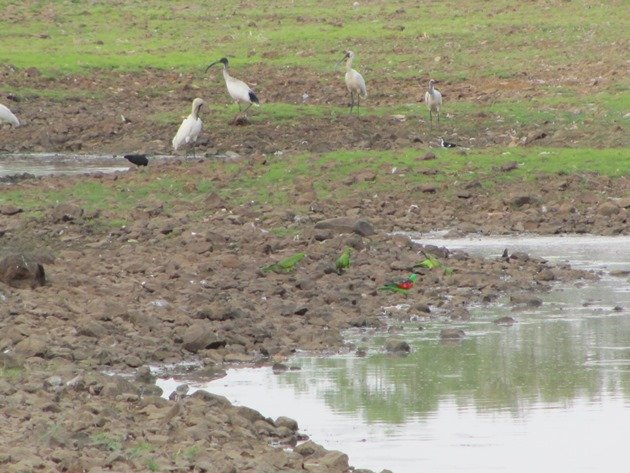 Red-winged Parrots, Royal Spoonbill, White Ibis, Glossy Ibis and Magpie-lark
Sadly the only species of finch that we observed on this visit was the Double-barred Finch, because we have seen Gouldian Finch here in the past. We finally found a Spinifex Pigeon, which had managed to escape our view on the way north and we subsequently saw them continuously for the rest of the day! We had only had 30 minutes at Cockatoo Lagoon, but we had observed 52 bird species and there were plenty of Green Tree Frogs in the toilet facilities!
We had to get ourselves over the border in the failing light and entered Kununurra, where there is excellent birding. We had to decide where we should go birding in the last of the daylight and because we had been to the Poo Ponds going north we went to Hidden Valley National Park instead. We got caught in a brief tropical downpour, but found our White-quilled Rock-Pigeons and we soon dried off.
The following morning we were on the road by 04:20am, because we had 1044 kilometres (649 miles) to cover to get home. The advantage of early starts is that you raise the odds of seeing Australian Bustards and Brown Quail! On two occasions Brown Quail ran out and across the road in front of us. Our one stop on the long journey (apart from fuel!) was to visit the Poo Ponds at Halls Creek and add Red-necked Avocet to our year list. We could not allocate enough time for everything on such a long drive, so Geikie Gorge  could not be visited as we passed through Fitzroy Crossing. We were soon back in Boab country and they are all just getting bright new green leaves and look spectacular. Our road list each day was over 60 species and there were a lot of Black Kites, Whistling Kites, Black-breasted Buzzards and Wedge-tailed Eagles feasting on roadkill and soaring overhead. Of course you would ideally spend a lot more than two days travelling this sort of distance and if you fly over the area you just don't get a very good bird list and you are definitely not going to top up your year list!