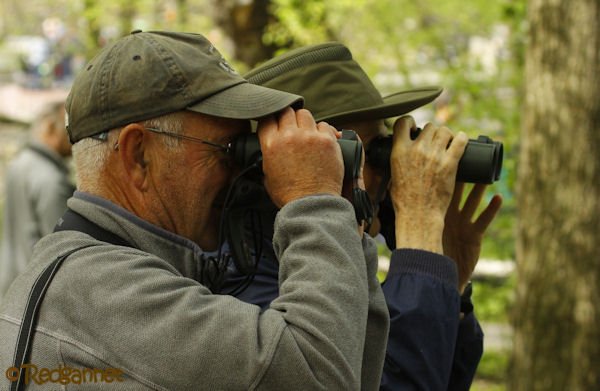 So, just as our heroes head back out into the woods, the woods go quiet. After their incarceration, a bit of birdsong would be just what was needed to lift the beats back to their normal ebullient selves but, alack and alas, summer approaches.
But in bigger news, could this be the month that UK outbirds Costa Rica? At time of writing (usually a couple of days early to avoid the deadline panic), UK is fielding 63 species. Costa Rica has also submitted 63.
OK, so USA has put forward 123, but there are 5 contributors (including UK) towards this month's US figure. Costa Rica v UK is bino a bino and UK has never before beaten The Man.
Update; as at June 30, UK 68 – Costa Rica 63. UK El Campeón!
8 beats contributed 70 checklists from 7 countries (UK, USA, Costa Rica, China, Serbia, Australia and Singapore). Between them, they account for 315 birds.
The year list stands at 1514 with the life list standing still at 4009.
1 Black-bellied Whistling-Duck – Dendrocygna autumnalis
2 Graylag Goose – Anser anser
3 Brant – Branta bernicla
4 Canada Goose – Branta canadensis
5 Mute Swan – Cygnus olor
6 Common Shelduck – Tadorna tadorna
7 Green Pygmy-Goose – Nettapus pulchellus
8 Wood Duck – Aix sponsa
9 Garganey – Spatula querquedula
10 Cinnamon Teal – Spatula cyanoptera
11 Northern Shoveler – Spatula clypeata
12 Gadwall – Mareca strepera
13 Mallard – Anas platyrhynchos
14 American Black Duck – Anas rubripes
15 Green-winged Teal – Anas crecca
16 Common Pochard – Aythya ferina
17 Tufted Duck – Aythya fuligula
18 Long-tailed Duck – Clangula hyemalis
19 Red-breasted Merganser – Mergus serrator
20 Ruddy Duck – Oxyura jamaicensis
21 Crested Bobwhite – Colinus cristatus
22 Ring-necked Pheasant – Phasianus colchicus
23 Little Grebe – Tachybaptus ruficollis
24 Pied-billed Grebe – Podilymbus podiceps
25 Great Crested Grebe – Podiceps cristatus
26 Rock Pigeon – Columba livia
27 Stock Dove – Columba oenas
28 Common Wood-Pigeon – Columba palumbus
29 Red-billed Pigeon – Patagioenas flavirostris
30 Eurasian Collared-Dove – Streptopelia decaocto
31 Spotted Dove – Streptopelia chinensis
32 Spinifex Pigeon – Geophaps plumifera
33 Ruddy Ground Dove – Columbina talpacoti
34 Mourning Dove – Zenaida macroura
35 Lesser Coucal – Centropus bengalensis
36 Yellow-billed Cuckoo – Coccyzus americanus
37 Pallid Cuckoo – Cacomantis pallidus
38 Brush Cuckoo – Cacomantis variolosus
39 Common Cuckoo – Cuculus canorus
40 Australian Owlet-nightjar – Aegotheles cristatus
41 Black Swift – Cypseloides niger
42 Spot-fronted Swift – Cypseloides cherriei
43 Chestnut-collared Swift – Streptoprocne rutila
44 White-collared Swift – Streptoprocne zonaris
45 Chimney Swift – Chaetura pelagica
46 Common Swift – Apus apus
47 Ruby-throated Hummingbird – Archilochus colubris
48 Scaly-breasted Hummingbird – Phaeochroa cuvierii
49 Rufous-tailed Hummingbird – Amazilia tzacatl
50 Clapper Rail – Rallus crepitans
51 Eurasian Moorhen – Gallinula chloropus
52 Eurasian Coot – Fulica atra
53 American Coot – Fulica americana
54 White-breasted Waterhen – Amaurornis phoenicurus
55 Black-winged Stilt – Himantopus himantopus
56 Pied Avocet – Recurvirostra avosetta
57 Eurasian Oystercatcher – Haematopus ostralegus
58 American Oystercatcher – Haematopus palliatus
59 Black-bellied Plover – Pluvialis squatarola
60 Northern Lapwing – Vanellus vanellus
61 Gray-headed Lapwing – Vanellus cinereus
62 Southern Lapwing – Vanellus chilensis
63 Common Ringed Plover – Charadrius hiaticula
64 Piping Plover – Charadrius melodus
65 Little Ringed Plover – Charadrius dubius
66 Killdeer – Charadrius vociferus
67 Pheasant-tailed Jacana – Hydrophasianus chirurgus
68 Northern Jacana – Jacana spinosa
69 Black-tailed Godwit – Limosa limosa
70 Ruddy Turnstone – Arenaria interpres
71 Sanderling – Calidris alba
72 Semipalmated Sandpiper – Calidris pusilla
73 American Woodcock – Scolopax minor
74 Wilson's Snipe – Gallinago delicata
75 Willet – Tringa semipalmata
76 Common Redshank – Tringa totanus
77 Black-headed Gull – Chroicocephalus ridibundus
78 Laughing Gull – Leucophaeus atricilla
79 Mediterranean Gull – Ichthyaetus melanocephalus
80 Ring-billed Gull – Larus delawarensis
81 Herring Gull – Larus argentatus
82 Great Black-backed Gull – Larus marinus
83 Least Tern – Sternula antillarum
84 Whiskered Tern – Chlidonias hybrida
85 Common Tern – Sterna hirundo
86 Forster's Tern – Sterna forsteri
87 Black Skimmer – Rynchops niger
88 Common Loon – Gavia immer
89 Australasian Darter – Anhinga novaehollandiae
90 Great Cormorant – Phalacrocorax carbo
91 Double-crested Cormorant – Phalacrocorax auritus
92 Great Bittern – Botaurus stellaris
93 Yellow Bittern – Ixobrychus sinensis
94 Cinnamon Bittern – Ixobrychus cinnamomeus
95 Least Bittern – Ixobrychus exilis
96 Great Blue Heron – Ardea herodias
97 Gray Heron – Ardea cinerea
98 Great Egret – Ardea alba
99 Little Egret – Egretta garzetta
100 Snowy Egret – Egretta thula
101 Little Blue Heron – Egretta caerulea
102 Cattle Egret – Bubulcus ibis
103 Chinese Pond-Heron – Ardeola bacchus
104 Green Heron – Butorides virescens
105 Black-crowned Night-Heron – Nycticorax nycticorax
106 Rufous Night-Heron – Nycticorax caledonicus
107 Yellow-crowned Night-Heron – Nyctanassa violacea
108 Glossy Ibis – Plegadis falcinellus
109 Black-faced Spoonbill – Platalea minor
110 Black Vulture – Coragyps atratus
111 Turkey Vulture – Cathartes aura
112 Osprey – Pandion haliaetus
113 Swallow-tailed Kite – Elanoides forficatus
114 Eurasian Marsh-Harrier – Circus aeruginosus
115 Collared Sparrowhawk – Accipiter cirrocephalus
116 Red Kite – Milvus milvus
117 Black Kite – Milvus migrans
118 Bald Eagle – Haliaeetus leucocephalus
119 White Hawk – Pseudastur albicollis
120 Common Buzzard – Buteo buteo
121 Barn Owl – Tyto alba
122 Barred Owl – Strix varia
123 Eurasian Hoopoe – Upupa epops
124 Common Kingfisher – Alcedo atthis
125 Ringed Kingfisher – Megaceryle torquata
126 European Bee-eater – Merops apiaster
127 Dollarbird – Eurystomus orientalis
128 Yellow-throated Toucan – Ramphastos ambiguus
129 Black-cheeked Woodpecker – Melanerpes pucherani
130 Red-bellied Woodpecker – Melanerpes carolinus
131 Sunda Woodpecker – Yungipicus moluccensis
132 Great Spotted Woodpecker – Dendrocopos major
133 Downy Woodpecker – Dryobates pubescens
134 Hairy Woodpecker – Dryobates villosus
135 Gray-headed Woodpecker – Picus canus
136 Northern Flicker – Colaptes auratus
137 Laughing Falcon – Herpetotheres cachinnans
138 Eurasian Kestrel – Falco tinnunculus
139 Merlin – Falco columbarius
140 Eurasian Hobby – Falco subbuteo
141 Bat Falcon – Falco rufigularis
142 Peregrine Falcon – Falco peregrinus
143 Sulphur-crested Cockatoo – Cacatua galerita
144 Budgerigar – Melopsittacus undulatus
145 Orange-chinned Parakeet – Brotogeris jugularis
146 White-crowned Parrot – Pionus senilis
147 Great Green Macaw – Ara ambiguus
148 Crimson-fronted Parakeet – Psittacara finschi
149 Barred Antshrike – Thamnophilus doliatus
150 Common Tody-Flycatcher – Todirostrum cinereum
151 Yellow Tyrannulet – Capsiempis flaveola
152 Yellow-bellied Elaenia – Elaenia flavogaster
153 Lesser Elaenia – Elaenia chiriquensis
154 Western Wood-Pewee – Contopus sordidulus
155 Eastern Wood-Pewee – Contopus virens
156 Acadian Flycatcher – Empidonax virescens
157 Willow Flycatcher – Empidonax traillii
158 Black Phoebe – Sayornis nigricans
159 Eastern Phoebe – Sayornis phoebe
160 Great Crested Flycatcher – Myiarchus crinitus
161 Great Kiskadee – Pitangus sulphuratus
162 Social Flycatcher – Myiozetetes similis
163 Piratic Flycatcher – Legatus leucophaius
164 Tropical Kingbird – Tyrannus melancholicus
165 Gray-fronted Honeyeater – Ptilotula plumula
166 Black-chinned Honeyeater – Melithreptus gularis
167 Red-browed Pardalote – Pardalotus rubricatus
168 Green-backed Gerygone – Gerygone chloronota
169 White-bellied Cuckooshrike – Coracina papuensis
170 White-eyed Vireo – Vireo griseus
171 Yellow-throated Vireo – Vireo flavifrons
172 Warbling Vireo – Vireo gilvus
173 Red-eyed Vireo – Vireo olivaceus
174 Sandstone Shrikethrush – Colluricincla woodwardi
175 White-breasted Whistler – Pachycephala lanioides
176 Black-naped Oriole – Oriolus chinensis
177 Northern Fantail – Rhipidura rufiventris
178 Mangrove Fantail – Rhipidura phasiana
179 Black Drongo – Dicrurus macrocercus
180 Amur Paradise-Flycatcher – Terpsiphone incei
181 Leaden Flycatcher – Myiagra rubecula
182 Red-backed Shrike – Lanius collurio
183 Long-tailed Shrike – Lanius schach
184 Brown Jay – Psilorhinus morio
185 Blue Jay – Cyanocitta cristata
186 California Scrub-Jay – Aphelocoma californica
187 Eurasian Jay – Garrulus glandarius
188 Azure-winged Magpie – Cyanopica cyanus
189 Oriental Magpie – Pica serica
190 Eurasian Magpie – Pica pica
191 Eurasian Jackdaw – Corvus monedula
192 House Crow – Corvus splendens
193 Rook – Corvus frugilegus
194 American Crow – Corvus brachyrhynchos
195 Fish Crow – Corvus ossifragus
196 Carrion Crow – Corvus corone
197 Common Raven – Corvus corax
198 Coal Tit – Periparus ater
199 Black-capped Chickadee – Poecile atricapillus
200 Eurasian Blue Tit – Cyanistes caeruleus
201 Tufted Titmouse – Baeolophus bicolor
202 Great Tit – Parus major
203 Japanese Tit – Parus minor
204 Eurasian Skylark – Alauda arvensis
205 Oriental Skylark – Alauda gulgula
206 Plain Prinia – Prinia inornata
207 Zitting Cisticola – Cisticola juncidis
208 Marsh Warbler – Acrocephalus palustris
209 Great Reed Warbler – Acrocephalus arundinaceus
210 Oriental Reed Warbler – Acrocephalus orientalis
211 Blue-and-white Swallow – Pygochelidon cyanoleuca
212 Northern Rough-winged Swallow – Stelgidopteryx serripennis
213 Purple Martin – Progne subis
214 Gray-breasted Martin – Progne chalybea
215 Tree Swallow – Tachycineta bicolor
216 Violet-green Swallow – Tachycineta thalassina
217 Bank Swallow – Riparia riparia
218 Barn Swallow – Hirundo rustica
219 Light-vented Bulbul – Pycnonotus sinensis
220 Yellow-vented Bulbul – Pycnonotus goiavier
221 Common Chiffchaff – Phylloscopus collybita
222 Cetti's Warbler – Cettia cetti
223 Manchurian Bush Warbler – Horornis canturians
224 Long-tailed Tit – Aegithalos caudatus
225 Eurasian Blackcap – Sylvia atricapilla
226 Greater Whitethroat – Sylvia communis
227 Reed Parrotbill – Paradoxornis heudei
228 Vinous-throated Parrotbill – Sinosuthora webbiana
229 Eurasian Nuthatch – Sitta europaea
230 White-breasted Nuthatch – Sitta carolinensis
231 Eurasian Treecreeper – Certhia familiaris
232 Blue-gray Gnatcatcher – Polioptila caerulea
233 Nightingale Wren – Microcerculus philomela
234 House Wren – Troglodytes aedon
235 Eurasian Wren – Troglodytes troglodytes
236 Marsh Wren – Cistothorus palustris
237 Carolina Wren – Thryothorus ludovicianus
238 Cabanis's Wren – Cantorchilus modestus
239 Bay Wren – Cantorchilus nigricapillus
240 White-throated Dipper – Cinclus cinclus
241 European Starling – Sturnus vulgaris
242 White-cheeked Starling – Spodiopsar cineraceus
243 Crested Myna – Acridotheres cristatellus
244 Gray Catbird – Dumetella carolinensis
245 Brown Thrasher – Toxostoma rufum
246 Northern Mockingbird – Mimus polyglottos
247 Slaty-backed Nightingale-Thrush – Catharus fuscater
248 Veery – Catharus fuscescens
249 Wood Thrush – Hylocichla mustelina
250 Song Thrush – Turdus philomelos
251 Eurasian Blackbird – Turdus merula
252 Clay-colored Thrush – Turdus grayi
253 Chinese Blackbird – Turdus mandarinus
254 American Robin – Turdus migratorius
255 Oriental Magpie-Robin – Copsychus saularis
256 European Robin – Erithacus rubecula
257 Cedar Waxwing – Bombycilla cedrorum
258 Pictorella Munia – Heteromunia pectoralis
259 Dunnock – Prunella modularis
260 House Sparrow – Passer domesticus
261 Eurasian Tree Sparrow – Passer montanus
262 Gray Wagtail – Motacilla cinerea
263 White Wagtail – Motacilla alba
264 Common Chaffinch – Fringilla coelebs
265 Yellow-throated Euphonia – Euphonia hirundinacea
266 Yellow-billed Grosbeak – Eophona migratoria
267 Eurasian Bullfinch – Pyrrhula pyrrhula
268 House Finch – Haemorhous mexicanus
269 European Greenfinch – Chloris chloris
270 Eurasian Linnet – Linaria cannabina
271 European Goldfinch – Carduelis carduelis
272 American Goldfinch – Spinus tristis
273 Yellowhammer – Emberiza citrinella
274 Chipping Sparrow – Spizella passerina
275 Field Sparrow – Spizella pusilla
276 Savannah Sparrow – Passerculus sandwichensis
277 Song Sparrow – Melospiza melodia
278 Swamp Sparrow – Melospiza georgiana
279 White-eared Ground-Sparrow – Melozone leucotis
280 Eastern Towhee – Pipilo erythrophthalmus
281 Yellow-headed Blackbird – Xanthocephalus xanthocephalus
282 Eastern Meadowlark – Sturnella magna
283 Baltimore Oriole – Icterus galbula
284 Red-winged Blackbird – Agelaius phoeniceus
285 Brown-headed Cowbird – Molothrus ater
286 Melodious Blackbird – Dives dives
287 Common Grackle – Quiscalus quiscula
288 Boat-tailed Grackle – Quiscalus major
289 Great-tailed Grackle – Quiscalus mexicanus
290 Ovenbird – Seiurus aurocapilla
291 Worm-eating Warbler – Helmitheros vermivorum
292 Blue-winged Warbler – Vermivora cyanoptera
293 Black-and-white Warbler – Mniotilta varia
294 Gray-crowned Yellowthroat – Geothlypis poliocephala
295 Common Yellowthroat – Geothlypis trichas
296 Hooded Warbler – Setophaga citrina
297 American Redstart – Setophaga ruticilla
298 Yellow Warbler – Setophaga petechia
299 Chestnut-sided Warbler – Setophaga pensylvanica
300 Blackpoll Warbler – Setophaga striata
301 Prairie Warbler – Setophaga discolor
302 Scarlet Tanager – Piranga olivacea
303 Northern Cardinal – Cardinalis cardinalis
304 Black-headed Grosbeak – Pheucticus melanocephalus
305 Indigo Bunting – Passerina cyanea
306 Crimson-collared Tanager – Ramphocelus sanguinolentus
307 Scarlet-rumped Tanager – Ramphocelus passerinii
308 Blue-gray Tanager – Thraupis episcopus
309 Blue-black Grassquit – Volatinia jacarina
310 Variable Seedeater – Sporophila corvina
311 Morelet's Seedeater – Sporophila morelleti
312 Bananaquit – Coereba flaveola
313 Yellow-faced Grassquit – Tiaris olivaceus
314 Buff-throated Saltator – Saltator maximus
315 Grayish Saltator – Saltator coerulescens