It is not every day that you get a phone call alerting you to a bird in your state that has never been in your state before. But today just that happened when I received a phone call from Jean, a fellow Queens birder, about a Common Ground-Dove being seen well at Captree State Park in Suffolk County on Long Island. She was about to head out there from Queens, and, seeing as Daisy had Desi at a Halloween party for her job which I had already begged off from, it looked like I could make it out to Captree and back without being a bad father. In about fifteen minutes Jean picked me up and we were on our way east racing against traffic and against the thought that Columbina passerina might decide to fly the coop and disappear to wherever it came from to begin with.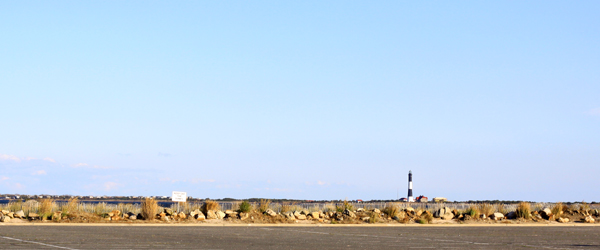 Fortunately we managed to make it to the easternmost parking lot at Captree State Park while the bird was still present and parked right next to the motley crew that is the New York City metropolitan area's twitching community. Everyone there had smiles on their faces and room was made at scopes for Jean and I to get looks just in case the bird took off before we could get an unassisted look.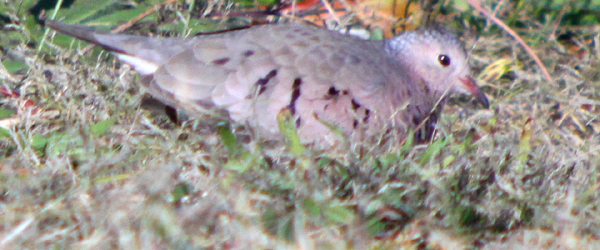 Of course, we stayed and watched the bird for awhile so I could get lousy pictures and we gasped in fear with everyone else when a feral cat came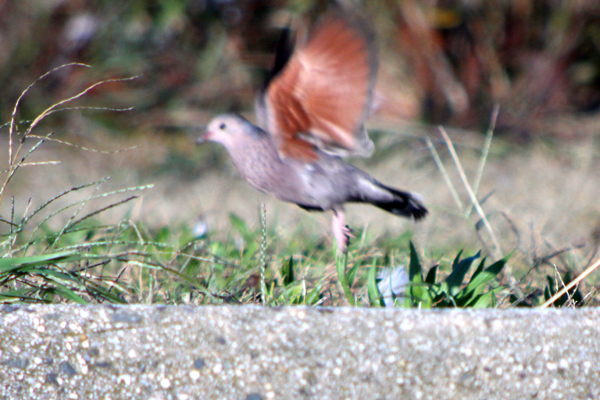 close to the bird. The ground-dove, though it had a slightly droopy left wing, proved itself more than able to dodge the cat, and continued to spend its time foraging in the grassy edge between a thick hedgerow and the parking lot. It was great to see a bird that normally lives no closer to New York than South Carolina, and that I had only seen before in California and Honduras.
It was also great to see a bunch of birders that I rarely get to see anymore what with my lack of twitching time and to just feel like a part of a community of similarly crazy people. It is the first time, I think, that I have seen a first state record of a bird, and it feels pretty good to have now seen 355 birds in New York State.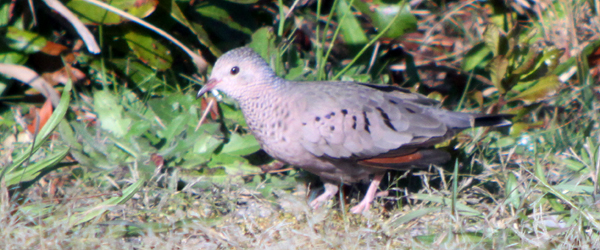 Here's hoping that the Common Ground-Dove manages to continue dodging the feral cat and manages to fatten up enough to journey back its home range. I bet there are quite a few New York birders, however, who hope that the bird sticks around for a least a day or two more!
Many thanks to Shai and Pat for finding the bird and getting the word out and to Jean for being kind enough to pick me up and get me to the bird and home faster than I could write this blog post.