Bird races, as anyone who's competed in one knows, can be big fun. The addition of a competitive component adds a thrilling edge of urgency to the normally relaxed act of chasing birds. Even sitting around watching birds can be charged with adrenaline when team pride is on the line. Of course, the fun of a bird race increases exponentially by the quality and quantity of the species that might be seen. Imagine then, if you dare, a series of Big Sits, Big Days, and Big Weeks set in some of the most specialized and biodiverse ecosystems in the birdiest of all the United States. Now you should have a sense of the excitement elicited by the Great Texas Birding Classic!
The Great Texas Birding Classic covers the extent of what else but the Great Texas Coastal Birding Trail, 500 miles of phenomenal habitat covering the Gulf Coast from the east Texas Piney Woods to the lower Rio Grande Valley. Can you get your head around a bird race that gives you free run of National Wildlife Refuges like Aransas, Brazoria, Attwater, Anahuac, Santa Ana, and Laguna Atascosa as well as jewels such as Big Thicket, Bentsen-Rio Grande, Bolivar Flats, High Island, South Padre Island, and Zapata at the height of spring migration? The species list for this rich expanse of avifauna represents nearly 75% of the Lone Star state's 600 birds, with some teams spotting over 300 in a very intense 5 days!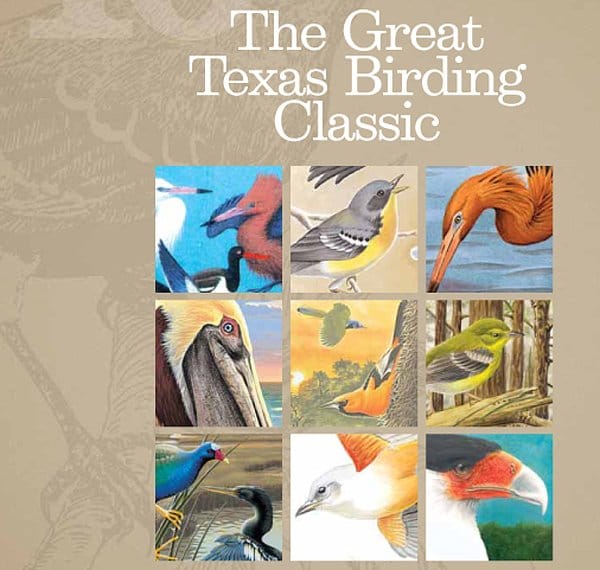 Competitions like these can also be powerful drivers of habitat and species conservation, which raises the stakes for a Big Day or Big Sit even more. The Great Texas Birding Classic, which is sponsored by the Gulf Coast Bird Observatory and Texas Parks and Wildlife Department, is no exception in this area, having raised more than $736,000 over the last 14 years to support habitat work along the Texas coast. What separates the GTBC from other events, apart from a suite of special birds found nowhere else in the United States, is how funds are acquired and disbursed.
Most bird races I'm familiar with depend on teams directly raising money from supporters, usually on a dollar per bird species basis. Teams competing in the GTBC pay into the conservation fund, as do direct donors and those who participate in auctions of donated goods and services. Then the adult teams that win in each event are awarded the privilege of choosing the projects that will be awarded Conservation Grants. Each team reviews a stack of proposals of varying scale addressing habitat acquisition, enhancement, restoration, or monitoring and direct funding to the ones they support. Finally, we have a bird race where winning may be more fun than competing!
Speaking of fun, have I mentioned that I'll be attending the 2011 Great Texas Birding Classic? In fact, I'll be part of it as the driver for the Swarovski Optik Roadside Hawks. Yee-haw! Clearly, Swarovski is in it to win it this year. Combining those cracking new EL50 Swarovisions with my road wisdom and lead foot (you didn't think I was invited for my birding skills, did you?) will make for birding bloodbath of which the bards will sing… or maybe just blog. Actually, I'll do a bit of that myself from the road of course, but the best way to follow our whirlwind tour of the Texas Gulf Coast will be through our brand new Twitter account (10000birds). Hardcore tweeters will appreciate the designated hashtag for this year's Classic: #gtbc11.
How can you become part of the GTBC fun, short of hopping on a plane for Harlingen or Houston? You may not be able to compete, but you can definitely donate. Visit the donation page to give directly to the cause while supporting the Swarovski Optik team (be sure to send us your messages of well wishes and rare birds!) If you don't support us but still believe in the cause, there is a check box under Team Information that says 'For General GTBC donations click here' to funnel money to the the Conservation Frant fund without crediting a specific team.  Also consider participating in the GTBC Online Auction, the proceeds of which go entirely to Conservation Grants.
One last point about supporting the Swarovski team… if 10,000 Birds readers offer enough support, maybe Clay will let us help determine which Conservation Grants to award once we win! Wish us luck!