Saturday was the 76th Long Branch Christmas Bird Count, a count I've compiled since 2008. It's a fun, diverse count with coastal lakes, ocean views, a landfill, wetlands, and a lots of landbirding. Unfortunately, most of those birding opportunities are thwarted when Mother Nature drops 2 feet of snow on NJ, as she did last Monday. By Saturday, the snow was still very much present. Lanes were closed, some roads were barely plowed, still water was 90-100% frozen, any woodland trails required snow shoes or skis, and roadside parking was non-existent. Here is a snapshot of the area that John from A DC Birding Blog, my friend Mike, and I covered on Saturday.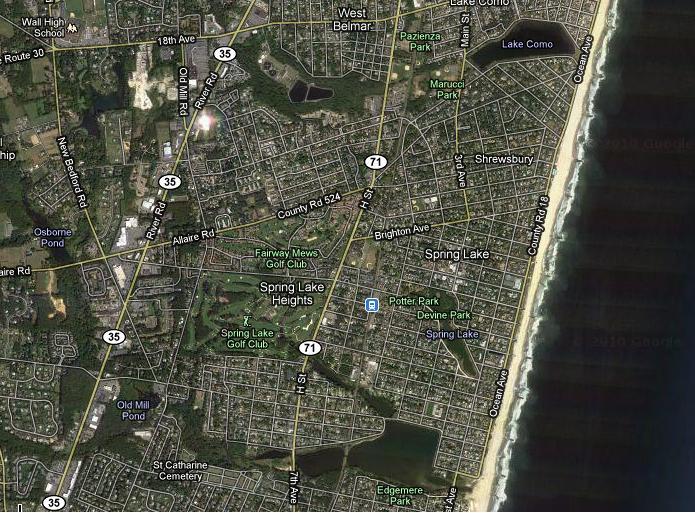 Ooh, look at all that beautiful open water. Paint the image white and that would be more like what it looked like. Our one blessing was that the temperature was predicted to climb into the high 40s. Of course, the ocean was wide open too.
The past two years I've covered a more inland count area, but I inherited this area from another leader and we were excited about its potential. The morning didn't start out so well. I almost ran over a guy riding a bike the wrong way on the highway. Our 3 owling spots were all duds and we couldn't even begin to do any landbirding at a local cemetery. At the cemetery, we actually had to back our cars out about 200 feet because the narrow road just sort of ended in a pile of snow.
Some early morning seawatching was more promising. Common Loons and Red-throated Loons were present. Mixed in were Horned Grebes and Red-breasted Mergansers. A group of Sanderlings hung out on a drain pipe and 2 Great Cormorants were on a tower. The first sunrise of the year was a pretty one. See John's photo.
Now it was time to hit some of the coastal ponds that make this area a favorite spot for NJ birders in winter. Our first stop was Wreck Pond, which was about 90% frozen. We did manage to find 2 Snow Geese, more than a dozen Hooded Mergansers (one of my favorite birds), a few Gadwall, lots of gulls and Canada Geese on the ice, and some large American Robin flocks.
We scrambled to find open water on the next several ponds, but were mostly unsuccessful.  A small patch of open water on Lake Como held more Hooded Mergs and some American Coots.
We took a short, unsuccessful detour for a Dovekie that had been reported just south of our territory. A treacherous jaunt on the rock jetty only yielded some close loons and Purple Sandpipers. Oh well.
Back to the counting, we set up for a seawatch lunch in Spring Lake. The temperature had gotten a bit warmer and we scanned the ocean while eating. I was lucky enough to spot a lone Eared Grebe. It was distant, but we were able to see the key field marks like the darker face and neck and the peaked forehead. An Eared Grebe had been seen recently about 3/4 mile north of this spot. This was the 5th ever for the count.
In the afternoon, we hit a few more very frozen ponds, but did manage to find 2 Northern Shovelers. Any attempts at finding land birds were met with LOTS of snow and, let's just say, I wasn't about to traipse through 2 feet of snow. Sorry, please don't take away my hardcore birder membership card.
The brief warm weather had now left and it got pretty darn cold. Apparently, it stayed warm inland according to my wife. The brief warm weather did open up more of Wreck Pond. We found 2 adult Lesser Black-backed Gulls there and a Peregrine Falcon put on a nice show. We finished the day with some more seawatching where we found all three species of Scoter.
The overall count finished with 104 species, lower than average but great considering the conditions. Participants who have been doing the count for 30+ years told me this was the worst conditions they've seen. Rarities included Harlequin Duck, Black-headed Gull, our Eared Grebe, and a Western Grebe. If we hadn't missed Red-necked Grebe, we would have had an incredible, and possibly unprecedented, sweep of the grebes that have been seen in NJ. Be sure to check out John's report of the day. Apologies for the lack of photos. I was nervous to bring out my camera with all the snow and ice around.