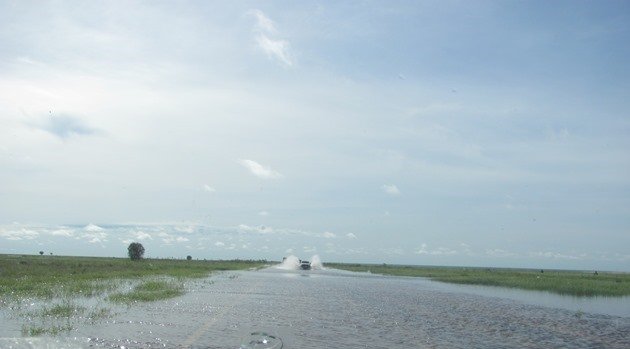 Late last year we decided to meet up with my sister and her family in Western Australia and we reached an agreement that they would fly to Perth from Sydney during the school holidays in January. We agreed that they would drive north approximately 570kms/354 miles to Kalbarri and we would drive south 1900kms/1180 miles to meet them. We had said we would be in Kalbarri on 20th January unless a tropical cyclone stopped us! Famous last words! First came Tropical Cyclone Hilda and then came Tropical Cyclone Joyce and our plans were being adjusted daily as more and more rain fell and the main highway (the only highway out!) was flooded just beyond Broome and closed to traffic. Tropical Cyclone Joyce dumped 100mm of rain in Perth as it travelled south as a rain-bearing depression and the whole family had the experience of torrential rain in Western Australia.
The header photo shows the day we made a run for it, on January 16th, after cleaning up the garden after the two tropical cyclones and we headed south around the coast towards Kalbarri. We were busy adding birds to the Year List as we travelled and had left home with 155 species and the number was soon increasing. The sky was full of Oriental Pratincoles feeding on insects and many of the birds that had previously been on the open plains had moved due to the excessive amount of water now present. There really was water as far as you could see and we stuck to the middle of the flooded highway due to the fact that that section is slightly less deep. We finally made it through the flooded highway and progressed well the first day driving over 700kms/435 miles. There is only one town in this distance and that is Port Hedland 610kms/380 miles from Broome, where we refuelled and kept going. New birds for the year included Black Swans, Yellow-throated Miners, Star Finch, Masked Woodswallows, Welcome Swallows and Cockatiels where we chose to camp.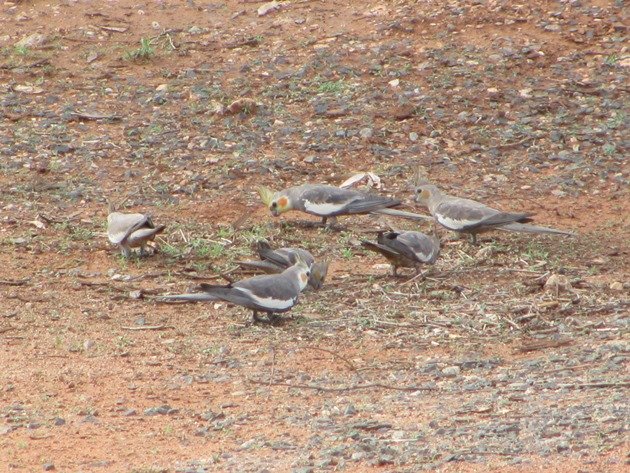 Cockatiels
There were lots of storms about, but the rain was thankfully mostly falling inland and we were able to keep our tent dry. There was very little traffic on the highway other than trucks moving goods around Western Australia and in the north these trucks are up to 53 metres long. Occasionally you do have to move right to the edge of the highway or even off the highway if the ground is not too soft to let "wide loads" go by.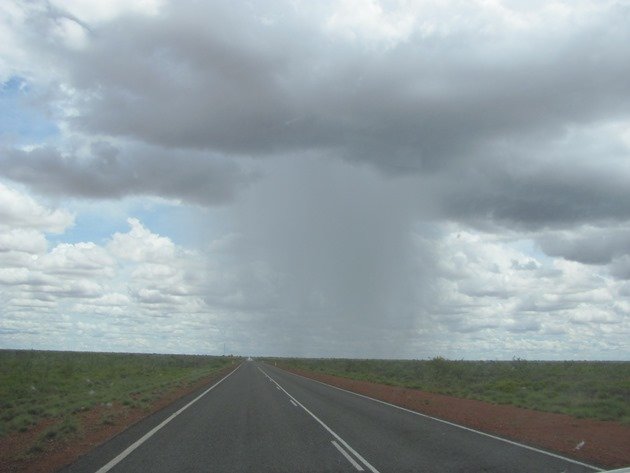 Stormy skies ahead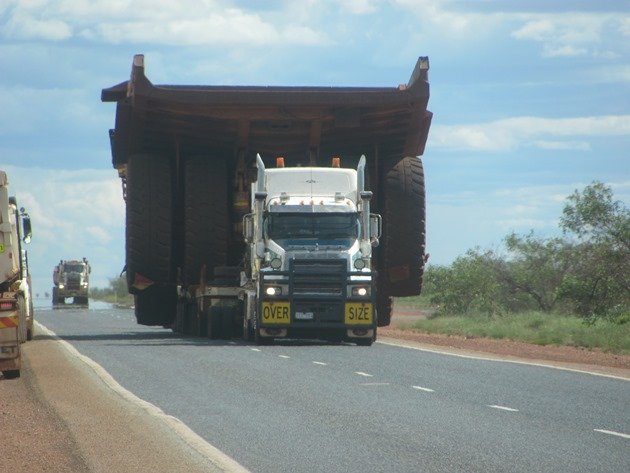 Getting off the road for a "wide load"
The following day we had to cover a long distance once again to reach our destination by the chosen date and the road was once again flooded south of Karratha and only open to trucks and high clearance four wheel drives. Thankfully the water was not as deep or as fast flowing as the first day of driving. We had been awake early with the birds, though, so we were able to spend some time at Cossack birding and added Painted Finch and Spinifex Pigeons to the year list.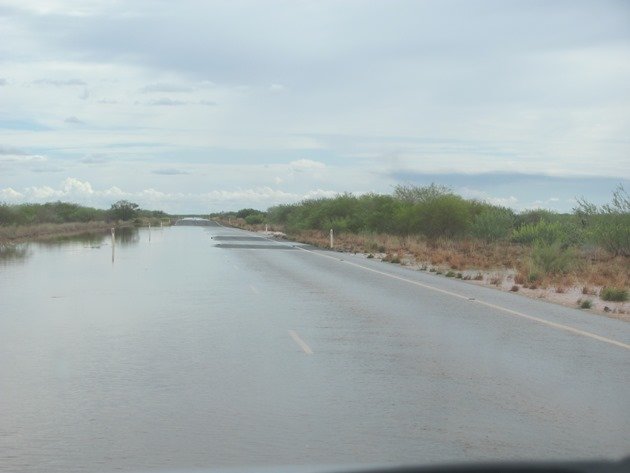 Flooded highway south of Karratha
Once again we had spectacular stormy skies, but hoped the rain would stay inland. It was very hot and it is not easy to sleep in hot and wet conditions especially if it involves thunder and lightning. Thankfully we made it far enough south the next day to get beyond the storms. Not only were the skies incredible, but there had been huge hatching events and there were flying ants/termites everywhere!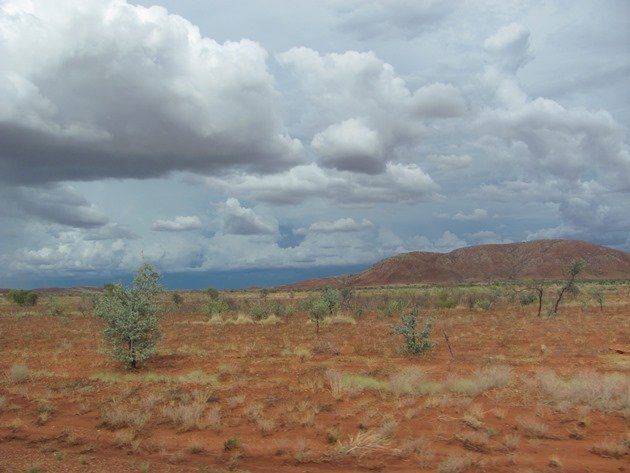 Stormy skies south of Karratha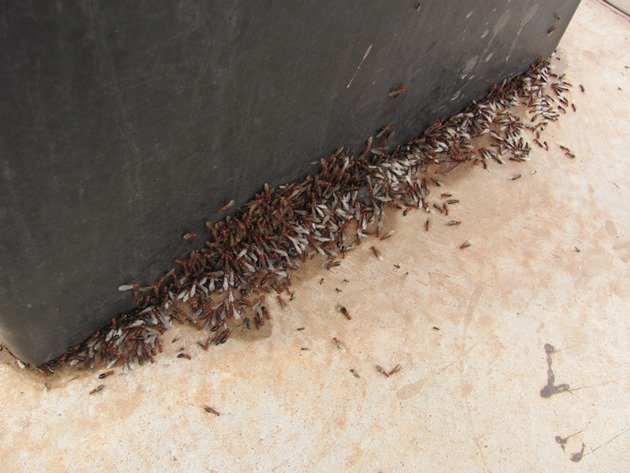 Flying ants at a fuel stop
Arriving in Carnarvon after 1461kms/908 miles on January 18th we had finally gone beyond the rain and flooded highways and the Gascoyne River was flowing. The rain need not have fallen anywhere near Carnarvon, but the river supplies water to the horticultural industry and was more than welcome. We were on schedule to arrive in Kalbarri on the arranged date and spent the night about an hour from Carnarvon where we had our first ever encounter with Chiming Wedgebills. I wrote the post about the Chiming Wedgebills in the south of Western Australia when we realised we would not be getting home any time soon! When we go travelling we do not generally have access to the internet and so I write posts in advance, but suddenly I had to find a way to upload photos and write a post due to the fact that we could not get home. Tropical Cyclone Kelvin crossed the coast near Broome and caused further serious flooding of the highway and it was subsequently closed to all traffic for several days and we had to continue birding and camping further south.
We decided to spend a few days in Exmouth snorkelling on Ningaloo Reef and birding and then when the highway was "open to all traffic with caution" make a run for it! The distance from Exmouth to Broome is 1370kms/851 miles and on the morning of February 28th we set off heading for home. The bad news was hearing at 10am that there had been a heavy downpour overnight near Broome and the water level on the highway was rising and the road may be closed again. We had already covered several hundred kilometres by 10am and thankfully by midday the water level was going down slowly and we continued on. We travelled over 850kms/528 miles that day, so we only had 530kms/329 miles to go to get home knowing that some of it would be on a flooded highway. We hadn't gone far on the morning of March 1st to discover the road was flooded for as far as you could see just beyond the Sandfire Roadhouse and cautiously watched the trucks travel through the water in the middle of the road. Whiskered Terns and Glossy Ibis flew across the highway and Black-winged Stilt stood on the road. We headed into the water and drove slowly and carefully and thankfully made it through without any problems in our four wheel drive.
Flooded highway near Sandfire roadhouse
On the edge of the highway there were numerous creatures that had obviously had enough of all the water and were resting on any dry areas that they could find. A family of Buff-banded Rails escaped into the vegetation ahead of us and they must have arrived with the first of the rains to breed.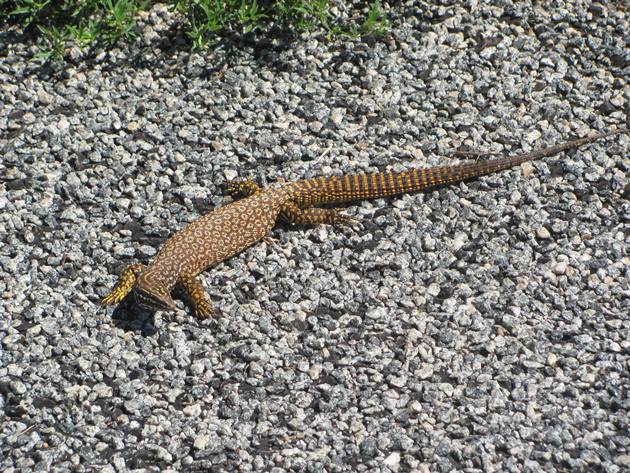 Sand Monitor resting on the highway
View through the windscreen near Sandfire Roadhouse
We had a couple of hours of driving through a lush landscape as a result of the rains that fell during the tropical cyclones and you could see the damage caused to the vegetation by the strong winds. We then drove down onto the area of Roebuck Plains not far from home to discover once again the expected sea of water. It was too flooded for many of the birds that arrived last year, but they will return when the water level drops. Before we made it through the water there were two Pied Herons feeding close to the highway, which is a species that only arrives in Broome during very wet years. It was great to add one more bird to the year list making it to 301 for Western Australia by March 1st.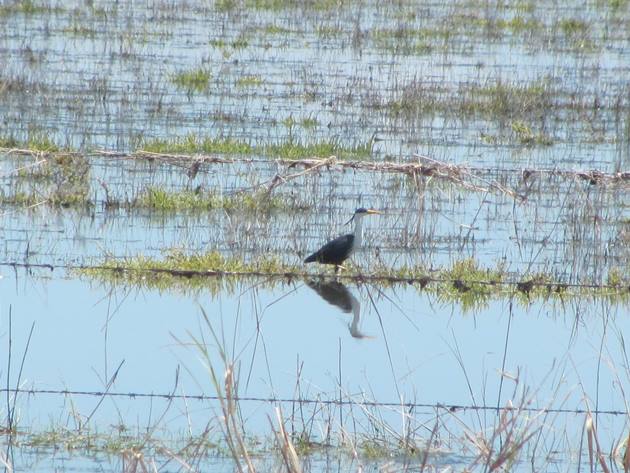 Pied Heron-bird 301 for 2018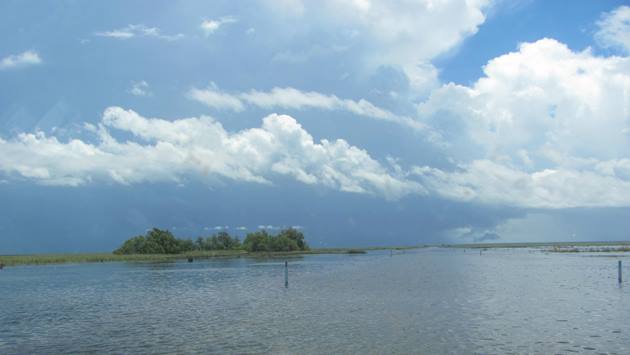 Crossing Roebuck Plains on the underwater highway
There was a lot of lightning and thunder in the storm ahead, but thankfully by the time we turned left at the Roebuck Roadhouse (where a Hoopoe showed up in 2011!) it was just torrential rain!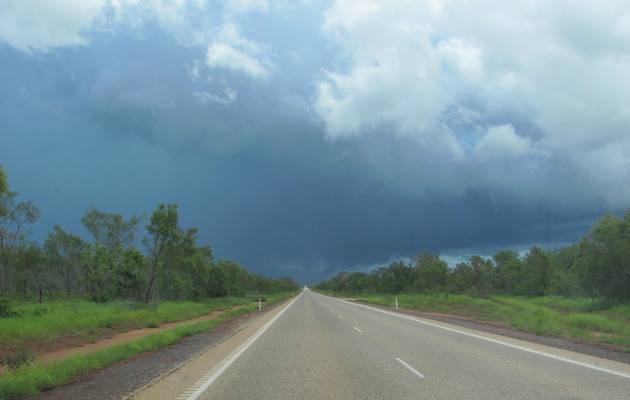 Almost home!
So, our family get together and our camping and birding holiday saw us leaving home along a flooded highway on January 16th and returning on an even more flooded highway on March 1st! We had an extremely good time away and covered over 11,000kms/6835 miles in Western Australia. There are huge areas of the state south of Broome that we didn't even visit, but we had beautiful summer weather for the majority of the trip. There is a lot of Western Australia to visit during 2018 to the north of Broome where we will undoubtedly add more birds to the 2018 year list, but for now we have a lot of cleaning up to do in the garden after Tropical Cyclone Kelvin. Broome has had more than its annual rainfall in the first two months of this year and it already exceeds 1567mm with 439.4mm falling on January 30th alone!
Over the coming weeks I will share with you some of the many beautiful locations and birds that we saw during our road trip.