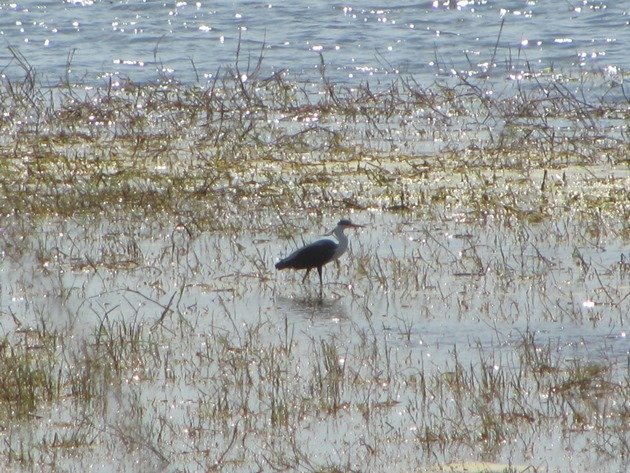 The Pied Heron Ardea picata is a small heron that we normally see each year at Parry's Lagoon Nature Reserve at the Marlgu Billabong, which is over 1000kms/620 miles from Broome. This is the location where last year we captured a Magpie Goose being attacked and eaten by a crocodile and is excellent for birding. Another good place to locate the Pied Heron in Western Australia is the Kununurra Poo Ponds. Once you go beyond the Western Australian border and into the Northern Territory it becomes easier to find Pied Herons and most coastal floodplains will hold a population of them. McMinns Lagoon Recreation Reserve and also Knuckey Lagoons Conservation Reserve are places worth visiting if you are looking for Pied Herons around the Darwin area. Although we have already observed Pied Herons further north this year we had a chance encounter with one this past week near Broome. On very rare occasions Pied Herons do get recorded around the Broome area, but these occasions can be years apart and dependent on the amount of rain we get during our Wet Season and other environmental factors. Our only records of Pied Herons in the Broome area since we moved here permanently in 1999 are on 24th June 2006, 22nd February 2011, 6th July 2013 and this week on 6th September 2017. This one individual Pied Heron we observed this week is in breeding plumage and feeding at one of the local ephemeral lakes that should maintain a good level of water right through until the rains come later this year.
The Pied Heron was feeding in the shallow edges of the lagoon and appeared to be finding ample food among the vegetation. It would then fly short distances along the edge and feed in another area.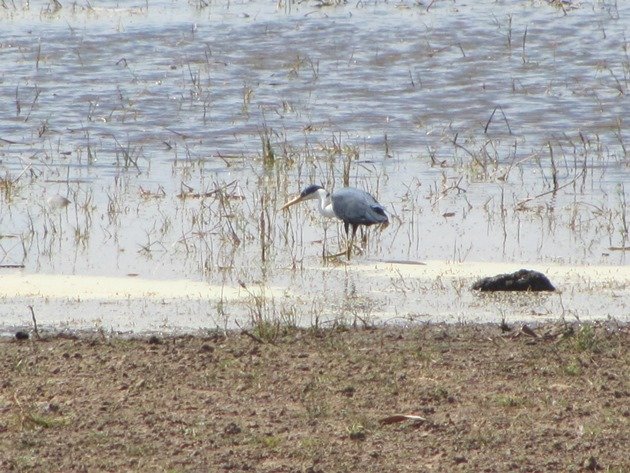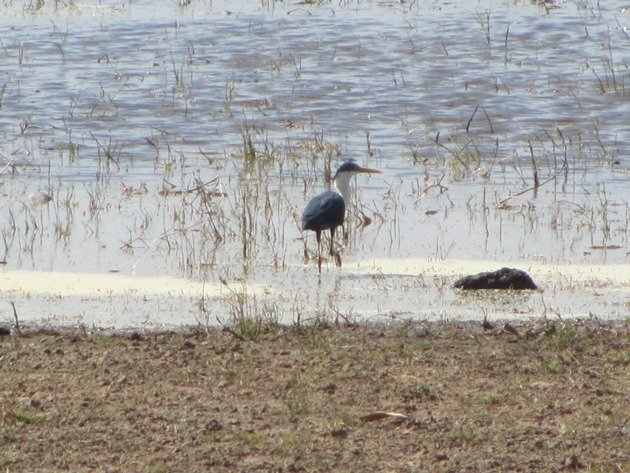 Pied Heron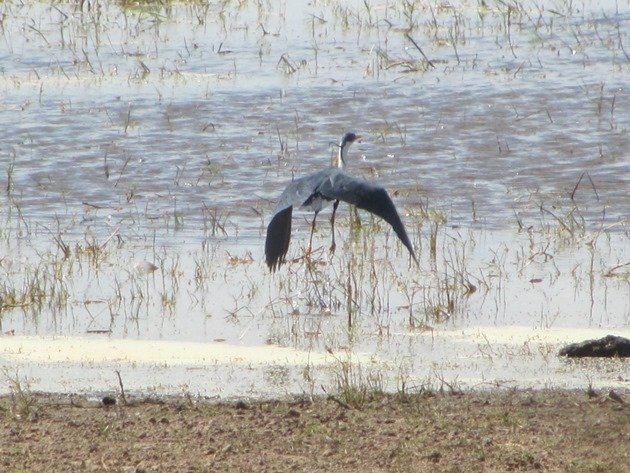 Pied Heron taking off
The Pied Heron landed among a small group of Glossy Ibis that have bred very well around the Broome area this year and have now dispersed to the local ephemeral lakes and beyond.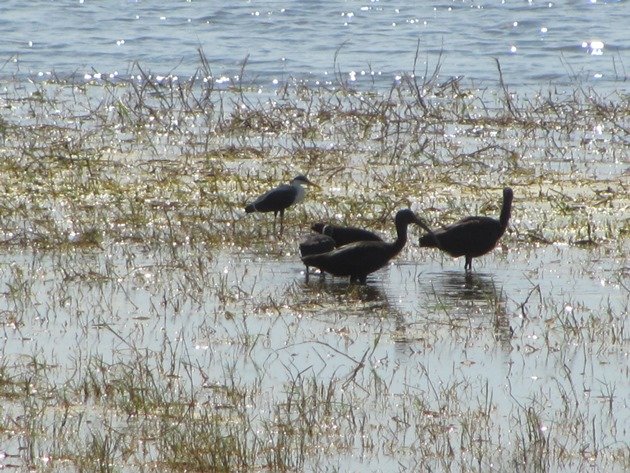 Pied Heron with Glossy Ibis
After feeding for some time in that area the Pied Heron moved to feed a little further away from ourselves close to a Black-winged Stilt. The Black-winged Stilt was a juvenile bird and they are another species that has bred very well around the Broome area this year and now dispersed. The edges of the muddy lagoon are occupied by Red-kneed Dotterels, Black-fronted Dotterels and Magpie-larks all of which have bred well around Broome these past few months.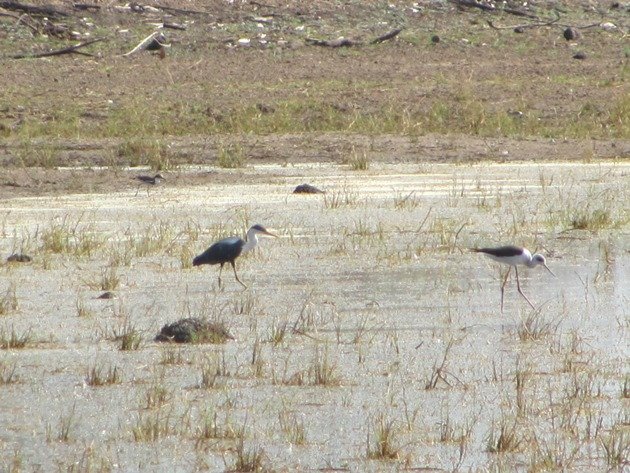 Pied Heron, Black-winged Stilt and Red-kneed Dotterel
We have also recently seen the return of the Wood Sandpipers , Sharp-tailed Sandpipers, Common Sandpipers and Long-toed Stints to these ephemeral wetlands after they have returned from breeding in the northern hemisphere. There have been a pair of Flock Bronzewings present for several weeks now and Black-breasted Buzzards are one of our regular raptors at this location. We will be keeping an eye out for the return of the Eastern Yellow Wagtails in coming weeks and possibly a Little Ringed Plover. Even more interesting will be if the Semipalmated Plover returns to Broome once again. It has been a regular annual visitor since late 2009 and each year we all anxiously await its arrival at the Broome Poo Ponds! Maybe the Temminck's Stint will return! As you may well gather by now we have an ever changing environment here in Broome and a constantly changing variety of birds.