Today is our final Friday of spring before next week's solstice marks the beginning of the astronomical summer in the Northern Hemisphere. Meteorological summer actually began a fortnight ago on the first of June, and at any rate, for most birders, it already feels like summer as things have quieted down after the rush of spring migration.
So, with one week of the season remaining, let's return the same brewery with whom we heralded the very first signs of spring back in the middle of February, with another beer from Fremont Brewing Company of Seattle, Washington. We enjoyed their Universale Pale Ale nearly four months ago to the day, a date which hardly qualifies as spring by either astronomical or meteorological standards, but tends to be good enough for optimistic birders in the northeast United States looking for their first grackle or vulture of the year. Or at least that's how we spun it back then. What's that old poetic chestnut about expectation – "Hope is the thing with binoculars"?  Sounds about right.
Fremont Brewing's mascot is the common, ubiquitous, and always charismatic Great Blue Heron (Ardea herodias).  When we last sampled a Fremont beer in February, the sight of a northbound Great Blue Heron was only a hope-for sign of spring, and one I wouldn't witness for another month, as it turned out. By now though, they've overspread nearly the entire North American continent, returning to long-established rookeries from coast to coast to raise broods of prehistoric-looking chicks.
A heron for all seasons: I photographed this trio of Great Blue Herons flying up the Hudson River at Albany, New York in late March of this year, when spring was only a few days old. Now, they're everywhere.
So, it's just as fitting that these herons make an appearance on this week's beer, a very summery Session Pale Ale from Fremont (and yet another beer coming to us courtesy of fellow 10,000 Birds beat writer, Jason Crotty – thanks again, Jason!). This American-style pale ale is hopped with an appealing combination of Citra, Simcoe, and Ekuanot hops, all grown nearby in the Yakima Valley, the Washington State river valley where 80% of United States hop production takes place. The Pacific Northwest Citra and Simcoe hops have been favorite varieties of brewers for years, but Ekuanot – formerly known as "Equinox", a name that makes it even more suitable for this time of year – is an even newer cultivar, first developed in 2014. Combined in this pale ale, these hops produce bright and lively hints of lime and lemongrass, an earthy undercurrent of sage and eucalyptus, and a summery and peachy stone-fruit aroma throughout. The light palate is crisp and refreshing, with washes of melon, grapefruit, and pine over a toasty, wheat malt backbone. This malty sweetness lingers to the very end, framed by a firm tangerine bitterness in the finish.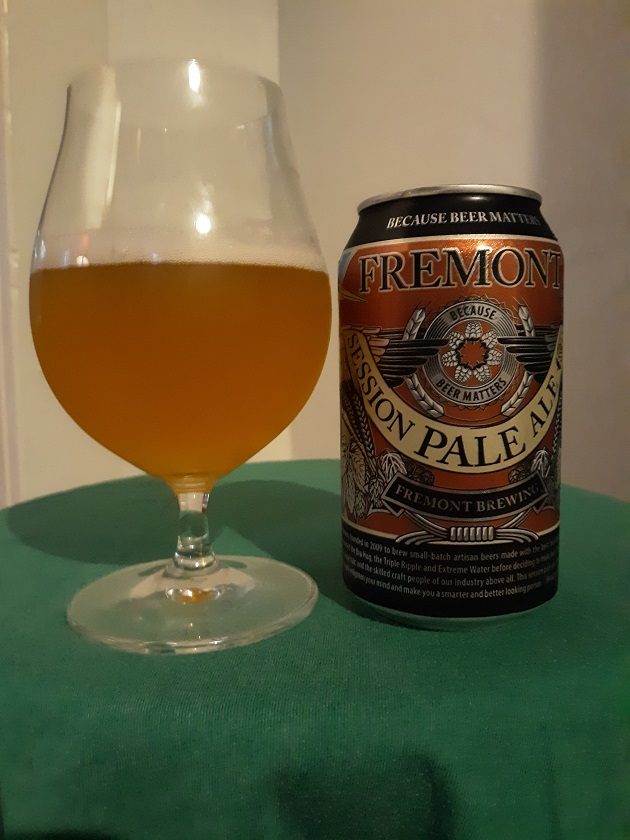 Good birding and happy drinking!
---
Fremont Brewing Company: Session Pale Ale





Three out of five feathers (Good).