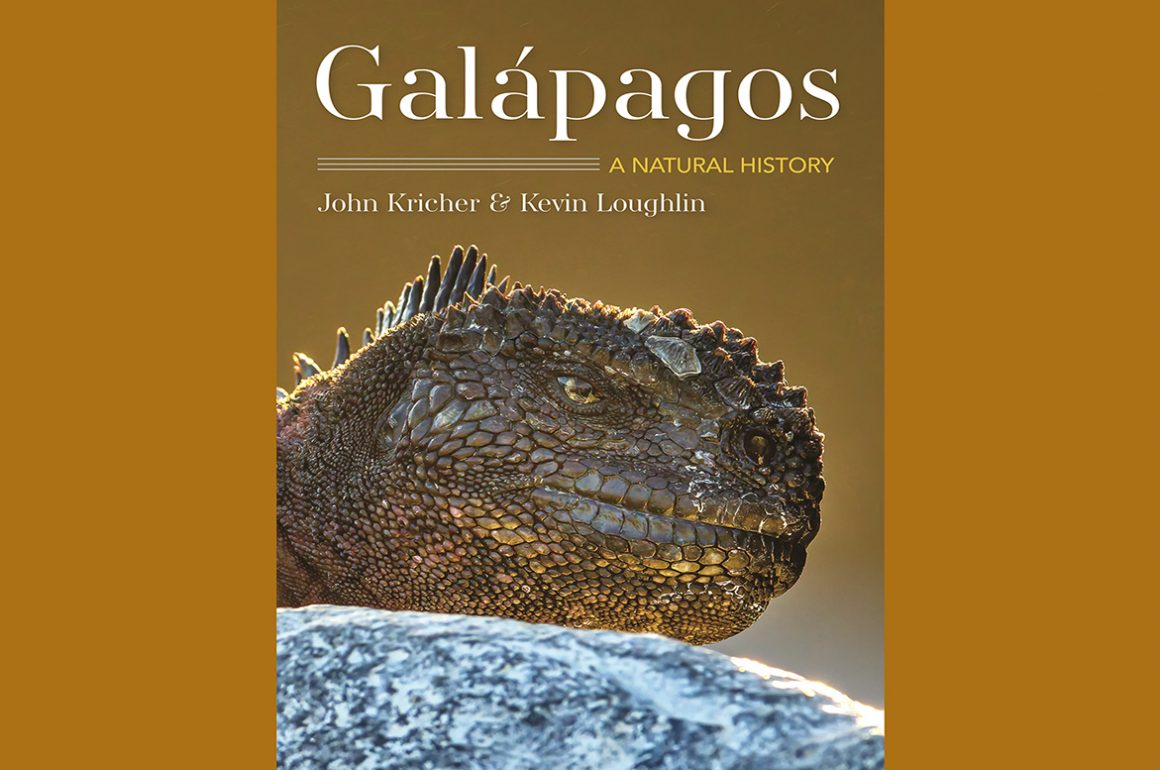 I did not prepare properly when I went to the Galápagos. Reading over my email from that period, I can't believe I ended up there at all–I was working on a chaotic project at work, the economy was in crisis (well, the economy is always in crisis, but this was the summer of 2011, as in Black Monday crisis), and the tour itself was not confirmed till two months before the start date. I somehow managed to get there and it was fabulous, fantastic, grand, the trip of a lifetime. Still, I wish I had prepared. I wish I had read this book.
Galápagos: A Natural History, Second Edition by John Kricher and Kevin Loughlin gives the traveling naturalist the tools needed to fully appreciate and experience the Galápagos Islands. Natural history–geography, geology, climate, oceanography, flora and fauna–and also the historic facts and perspectives needed to appreciate the islands unique place in scientific thought and culture. Framing the text, sometimes in the background, sometimes center stage, is the figure of Darwin. Because, let's face it, when you get off that plane and look at those severe volcanic landscapes and then find yourself face to face with one of the islands' four mockingbird species, you're not going to think, "Oh, look, lava and a mockingbird." You're going to say to yourself, "Is this what Darwin saw?" In fact, chapter 1 starts with 26-year-old Darwin approaching the islands on the HMS Beagle on September 17. 1835.
The book was originally published in 2006 as Galápagos: A Natural History with John Kricher as the sole author. I'm sure it must have been on my list of suggested reading for my tour (I just checked my files, and yes, it was). Kricher is well-known in naturalist book circles as a scientist who can write about complex scientific topics in engaging smart prose touched with just the right amount of dry wit. He's the author of The New Neotropical Companion (2017, originally published in 1997), a must-read for any birder preparing to travel to Central and South America, the Peterson Reference Guide to Bird Behavior (2020), and a long list of other books and articles. He's also Professor Emeritus of Biology at Wheaton College, Massachusetts.
I don't have a copy of the 2006 edition, but I was able to read selected pages via Google Books. This new edition accomplishes two things: It updates taxonomy, distribution, and conservation challenges, and it adds illustrations, lots of illustrations. The first edition contained black-and-white photographs and an insert of color photographs. With the addition of Kevin Loughlin as co-writer, the book now features over 650 photographs and has gone from 221 pages to 496 pages. Loughlin is founder and co-owner of Wildside Nature Tours and has led over 40 trips to the Galápagos. His photographs fill each page, offering visions of the island's creatures, flora, and geography at varying ages and stages and in every season, as seen in close-up and at a distance. They complement Kricher's text., communicate the experience of being in the Galápagos (and the inclusion of photos of humans on birding tours enhances the you-are-there feeling), and, perhaps most importantly, bring together elements of the text to present the complexity of the Galápagos habitat in one image, such as the photograph of American Flamingos at Punta Cormoran, Floreana Island, shown below. The photographic quality ranges from very good to exceptional, and though the point of photographs in a book like this is to communicate information, I think the excellence of some of Loughlin's photography suffers from the number of images packed into the book. I also think there are chapters where the photographs crowd out the text. A little editing down would have enhanced both parts of the book. Although Loughlin is credited with the photographic part of the book, I have a feeling he has also contributed to the text, especially the last chapter on the individual islands.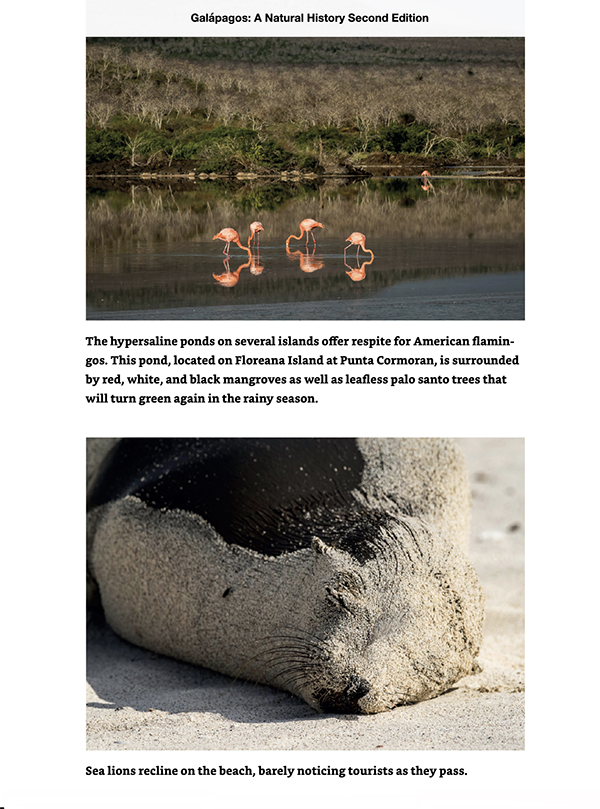 copyright © 2022 by John Kricher and Kevin Loughlin; copyright © 2006 by Princeton University Press. These images are from the Kindle edition and are presented slightly differently in format and size in the paperback edition on page 22.
The updating of the text is very important. A lot has happened over the past 16 years. Where once there were 13 species of "Darwin's finches," there are now 17. Brujo Flycatcher is now a full species, split from Vermillion Flycatcher. There is even a new species of tortoise that was announced as the book was going to press, although it's been identified from fossil remains and is apparently no longer with us.  There are changes in where to find the birds. The Floreana Mockingbird, a bird I easily saw on Isla Floreana in 2011, is now only found on tiny Champion Island, which is not open to visitors (the bird can apparently be seen from a boat though, so don't despair). With the increase in finch species, birders who want to see every species need to make sure their tour includes all the appropriate islands and the most likely areas on those islands. Some finches, like Mangrove Finch, have become elusive. In addition to these changes in classification and distribution, there are larger issues that may play a role in the overall future of the Galápagos as a protected area; conservationists are facing increasing pressure from the tourism industry and the international fishing industry.
The book's twelve chapters can be divided into groups of 5, 5, 1 and 1. The first five chapters focus on natural history and evolutionary thought. There is an introduction, highlighting the themes of endemism and ecological zones; a history of the islands in terms of human exploration, colonization, and visits; a natural history of the islands, including the El Niño-Southern Oscillation and full descriptions of the seven ecological zones; and a chapter on Darwin himself–the man, the myth, and how his thinking about evolution was shaped by the Galápagos years after his voyage; the volcanic geography of the islands. The next five chapters focus more specifically on Galápagos creatures: huge tortoises; iguanas; birds (two chapters–one on seabirds and coastal birds, another on land birds, including the famous finches); water creatures–sea lions, crabs, fish, sea turtles, whales, dolphins, and porpoises. The 11th chapter is on research and conservation challenges. And the last chapter–really a self-contained section–lists every major, and some minor, islands in alphabetical order, giving names (most of the islands have at least two names, some three–official, historical/colonial, current), descriptions and landing sites. This chapter is essential reading for birders and naturalists planning to visit the Galápagos. There is also a table at the end of the book listing major islands and their names that will probably come in handy, I know I spent too much time figuring out that Tower Island is also Genovesa.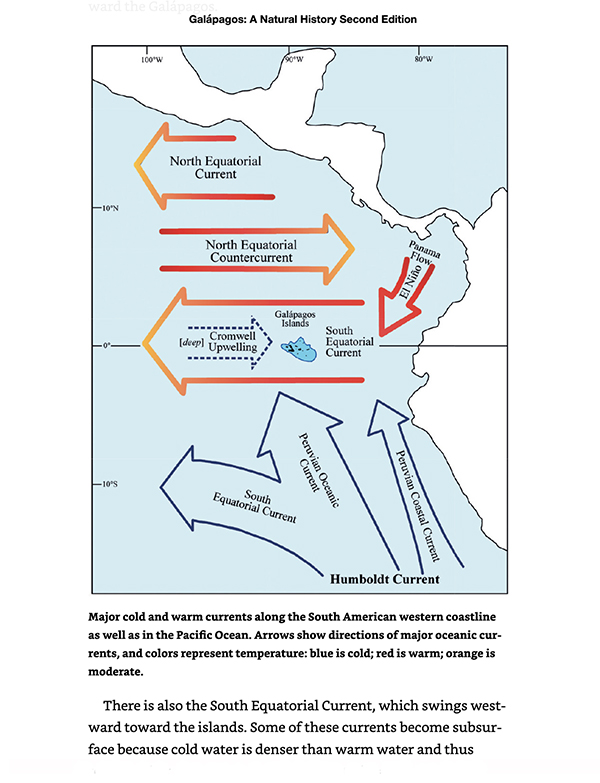 A diagram of the ocean current affecting the Galápagos Island from the section on oceanography. copyright © 2022 by John Kricher and Kevin Loughlin; copyright © 2006 by Princeton University Press. The text and diagram are from the Kindle edition and are presented slightly differently in format and size in the paperback edition on page 56.
Kricher places the "Selected References" at the end of each chapter, which makes it easy to follow up on topics that strike your fancy. The subject index at the back of the book is thorough but difficult to use. For a discussion of the evolution of the finches and their bills, for example, one needs to look under "Darwin's finches," not "finches" (there is a 'see' reference from 'finches' to 'Darwin's finches', but the extra step is annoying). Common bird and other animal names are listed in full; for example, Mangrove Finch is listed as "mangrove finch" rather than "finch, mangrove"; Marine iguana is listed as 'marine iguana' rather than 'iguana, marine.' If you're not sure of the common name of a creature, the best way to look it up in the index is by scientific name.
The use of small caps for common names is followed throughout the book and I think it's very confusing, especially when dealing with birds who have common names like Flightless Cormorant and Marine Iguana. Birders might also be confused with some of the common names Kricher uses since he follows the naming conventions of the IOC (International Ornithological Congress). Galápagos Rail is Galápagos Crake and Brujo Flycatcher is Darwin's Flycatcher. Kricher explains his choice of naming authority in the beginning of chapter 8, the first chapter about bird species, but I wish he would have placed this very important piece of information in an introductory note in the beginning of the book. If you're not reading the book in narrative order, it is rather mind boggling to see the name of a species that you didn't know existed (and which then turns out to be an alternative name).
Galápagos: A Natural History, Second Edition by John Kricher and Kevin Loughlin is a wonderful and timely book, coming out just as the world is starting to open up again to birding travel. In addition to offering updates on taxonomy and other research, profiles of the islands' (nonhuman) inhabitants, readable explanations of the ecosystem, a brief and sometimes amusing history of the islands' human habitation, and stunning photographic images, it also includes Kricher's knowledgeable, witty, and affectionate account of Darwin's relationship to the island and the artifacts he collected (and also failed to collect). Kricher punctures many myths about Darwin's scientific analysis and thought process, and what we get instead is the story of a brilliant but cautious man who made serious errors (he collected the finches but didn't document which islands the specimens were from) and was smart enough to enlist the help of colleagues and their expertise to puzzle out the enigmatic riches mined from these islands, which are still giving us knowledge and joy. There are many books out there about the Galápagos; Kricher and Loughlin's "natural history" (not to be confused with several other books with similar names) is distinguished by its scientific breadth, readable and witty writing style, visual richness, and the personal experiences of both authors which inform every chapter. It is a heavy book, so it may not be in every traveler's backpack, but if I ever go to the archipelago again, this is the reference book I will study, with enjoyment.
---
Galápagos: A Natural History Second Edition
by John C. Kricher and Kevin Loughlin
Princeton Univ. Press, Nov. 2022
Pages: 496; Size: 5.88 x 8.25 in.;2.48 lbs.
Illus: 665 color + 7 b/w illus. 4 maps
ISBN-10: 0691217246; ISBN-13: 978-0691217246
$29.95 paperback; also available in eBook format