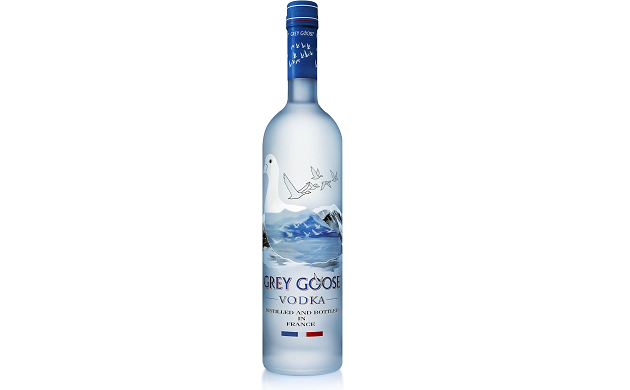 Well, we've done it again. For a third year in a row, Birds and Booze has dipped on a bird-themed Champagne to recommend for New Year's Eve. It hasn't been for want of trying: all year long, I've scoured every wine shop and liquor store I've visited, looking for a bird-themed bottle bubbly, whether it be Champagne, Crémant, cava, Franciacorta, Asti, Lambrusco, or Prosecco. There just doesn't seem to be much – if anything – out there, a scarcity addressed in last year's Birds and Booze post for the New Year.
But happily, New Year's Eve is just as much a night for cocktails, so let's turn our attentions to the spirit realm for now. We'll toast to better luck in finding a properly birdy sparkling wine for next year with a one of the best-known bird liquors of them all: Grey Goose Vodka.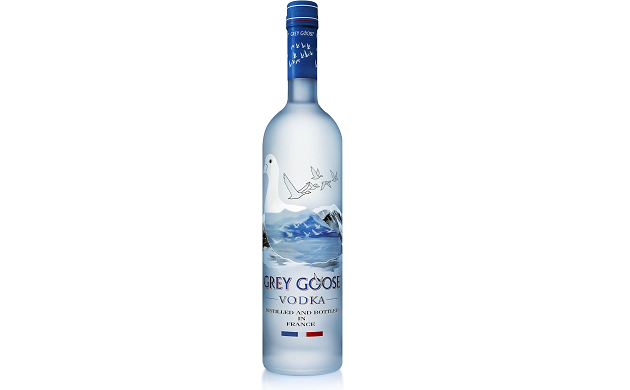 It was inevitable that Birds and Booze would one day get around to reviewing Grey Goose, the popular and high-profile brand of premium French vodka that comes in an attractive bottle adorned with frosty white silhouettes of geese in flight. In its relatively short existence – the brand was only launched in 1998 – Grey Goose vodka has become one of the most iconic marketing pairings of alcohol and birds this side of the Guinness toucan and Wild Turkey bourbon (the latter representing another glaring omission in our review record– though we did feature an imperial stout aged in Wild Turkey barrels for Thanksgiving in 2017). So, an obvious choice for Birds and Booze, no doubt, but with its hefty price-tag – as well as the unexciting prospect of appraising such a neutral, reputedly flavorless liquid – it's a review we've been putting off for a while, admittedly.
But with the new year just around the corner, it's time for us to stop ducking Grey Goose and take a gander, as it were. Naturally, Champagne will always be the star of the show on New Year's Eve, but a good bottle of vodka can't be recommended highly enough for its ability to perform double duty in both revelry and recovery on this booziest of holidays. It can be mixed into any number of cocktails during the countdown celebration, or – on the morning after – poured liberally into a screwdriver, bloody Mary, and many other restorative hair-of-the-dog concoctions you may find yourself craving early in the new year.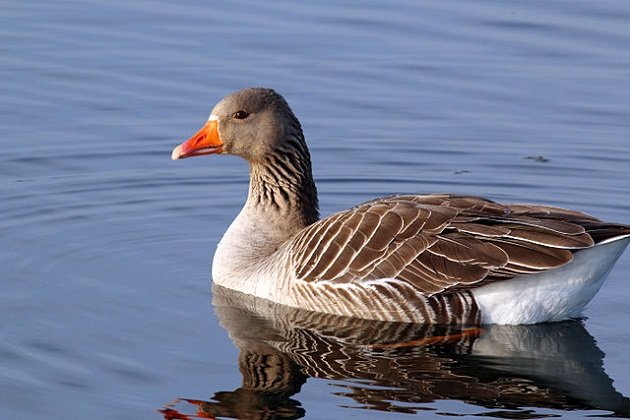 Deciding what to drink on both New Year's Eve and New Year's Day? This may be your Anser.
A few things make this Grey Goose stand out from the rest of the vodka flock. For one, it's made not in Poland, Russia, or Scandinavia, but in France, a country better known for distilling spirits from grapes and apples.  Grey Goose was conceived and marketed as a luxury vodka from the very beginning, a curious category for a spirit in which most other labels fall into one of two camps: cheap, sometimes artificially-flavored swill best served in red plastic party cups, or the seriously authentic stuff made in the traditional Eastern European vodka belt, served by the shot on festive occasions, neat and ice-cold. As vodka became more popular in the West in the 1990s as the drink mixer of choice, gradually supplanting gin in traditional cocktails like the martini to become the most widely-consumer liquor in the United States, savvy distillers teamed up with marketing experts to foist a new breed of "super-premium" vodkas on the public. In the late 1990s, Grey Goose was one of the very first of these.
The original recipe for Grey Goose was concocted by François Thibault, a former cognac distiller. His formula calls for French soft winter wheat grown in Picardy, a region in the northeast of France known as the breadbasket of the country. It's distilled into vodka there, before being sent southwest to the commune of Cognac in Nouvelle-Aquitaine for further blending using minerally, calcium-rich water retrieved from a limestone-filtered spring found 500 feet below the Grey Goose bottling facility.
It's an impressively elaborate production method and the makers of Grey Goose take great pains to advertise the source of their ingredients, undoubtedly to justify the premium price their product commands. But several observers have noted that much of the popularity of Grey Goose can be attributed as much to careful brand management and shrewd marketing as the quality of its recipe and production, which some critics decry as decidedly ordinary for a vodka of such repute. In other words, some claim that the makers of Grey Goose are trying to turn their geese into swans.
While it's usually much more exciting to mix vodka with other liquids that, well, have more obvious flavor, it's our solemn duty at Birds and Booze to offer tasting notes of the potables we feature in an unadulterated state. So, in keeping with the austere rituals of drinking in the vodka belt, I sampled a shot from my bottle of Grey Goose that had spent several hours in the freezer, poured ice-cold into a chilled shot glass, and sipped, delicately. Dutifully, I enjoyed my Grey Goose without any of the traditional distractions of blini and caviar, though selections from The Nutcracker may have been playing in the background, a Boxing Day holdover of holiday season programming from my local classical music radio station that lent an appropriately Russian mood to the tasting.
All things considered, Grey Goose is an enjoyable nip on its own, perhaps in spite of, rather than because of its relatively high cost. Its aromas are faint, but a trace of winter wheat can be detected on the nose, along with subtle notes of lemongrass and citrus. The palate is soft, creamy, and surprisingly sweet with malt, supplemented by a gentle peppery bite and hint of cocoa powder. A dash of licorice adds a spicy note to the clean and dry finish.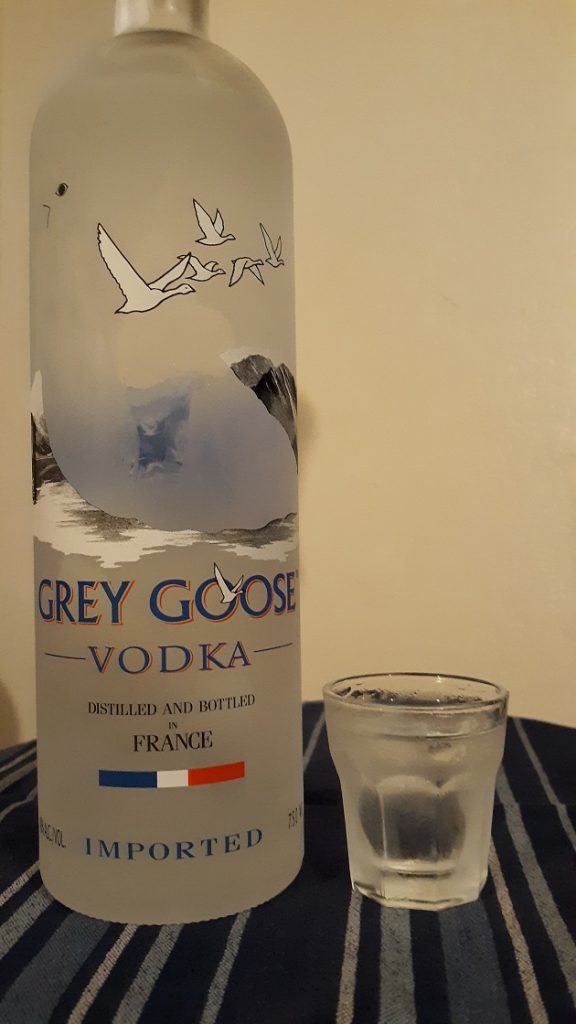 One might think teasing out subtle aromas and flavors be the most daunting task in reviewing a vodka like Grey Goose but establishing the identity of the geese on the bottle doesn't appear to be any easier. As a premium brand, bottles of Grey Goose are often kept out of reach behind the counter, and without pulling out my binoculars in my local liquor store for a better look, I had to wait until now when I'd bought a bottle of my own for a closer inspection. But having the bird in hand hasn't proved any more helpful: the geese flying across the distinctive smoked glass bottles of Grey Goose are entirely white and nearly featureless. In North America, one might immediately be tempted to call these Snow Geese (Anser caerulescens). But even if these geese aren't exactly gray in color, the use of the preferred British spelling "grey" – instead of the more American "gray" officially favored by the American Ornithological Society – is a clue that we're dealing with a European goose here. Species of the genus Anser are often generically called "gray geese" and of these, the Graylag Goose – or Greylag? – (Anser anser) – the type species of the genus and the ancestor of European domestic geese breeds that became the archetypal barnyard goose of fable and nursery rhyme – seems a likely candidate.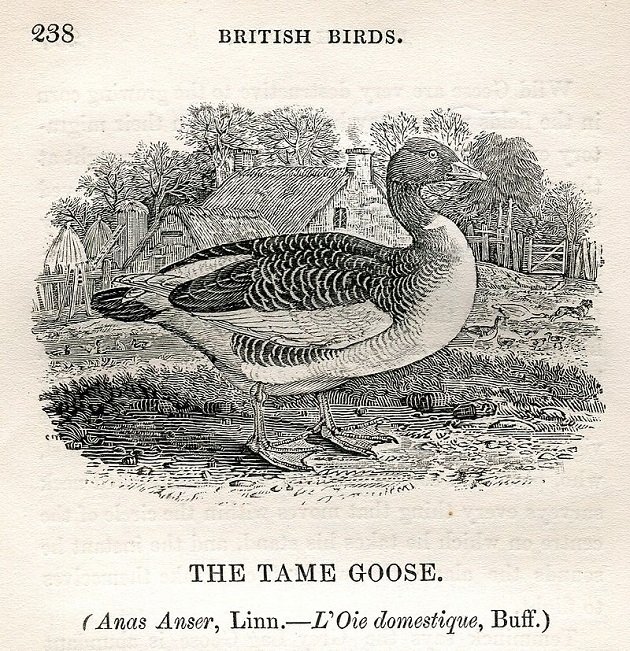 An engraving by Thomas Bewick, from The History of British Birds.
Whatever the identity of the Grey Goose, be sure not to get too loosey-goosey with this vodka if you plan to head out early on New Year's Day to get a start on your 2020 year list.
Good birding, happy drinking, and happy New Year!
---
Grey Goose Vodka





Three out of five feathers (Good).