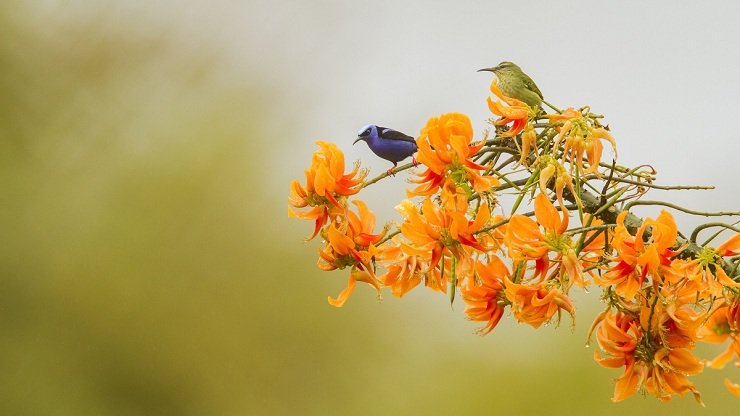 As is standard operating procedure, once a song gets stuck in your head you must pass it off to someone else. In this case it is you, the innocent reader who should thank me for not setting the title of this piece to "Just Like Paradise". Not that I have anything personal against David Lee Roth but this isn't a blog post about something that can be likened to paradise. It is paradise.
For those who have visited T&T before, the luckiest of the lot may have had the good fortune of spending a few nights at Cuffie River Nature Retreat, cozily nestled in the rainforest of central Tobago. I am certain that the memories made in this absolute heaven have stayed with you, whether you visited last year or ten years ago. Feel free to leave your testimonials in the comment section so others wouldn't think I'm being unnecessarily effusive!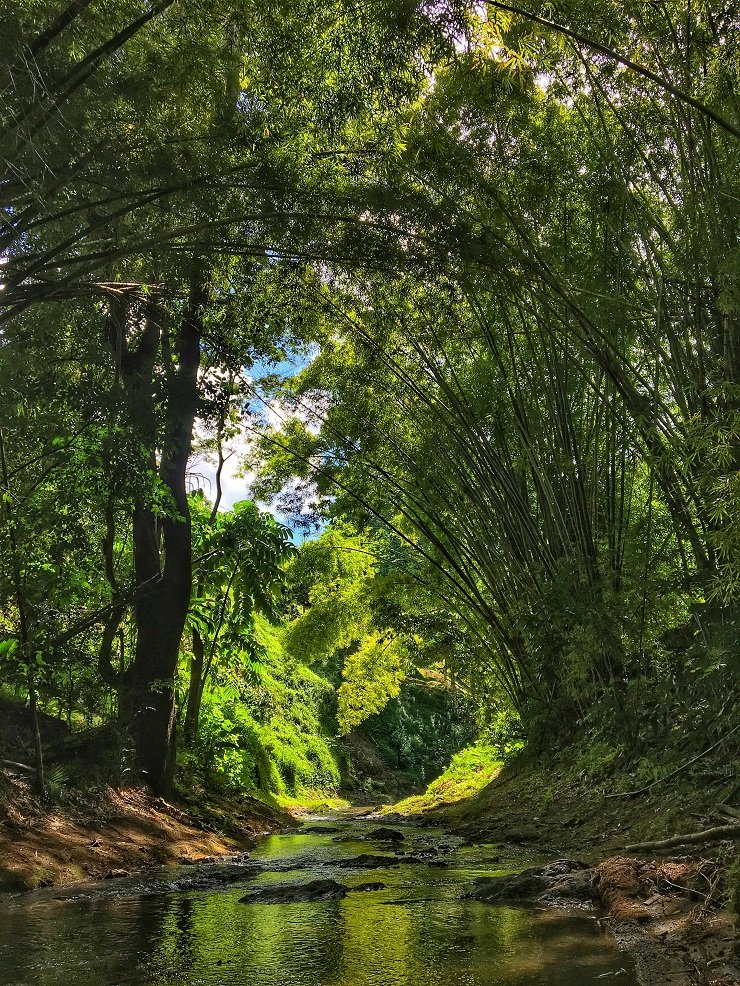 The Cuffie River encircles the lodge, ensuring that the relaxing sound of flowing water forms the baseline of the aural landscape.
The road to the resort casually branches off the main road after a half hour drive from the only highway on the island. This quiet roadway snakes through a few small dwellings before it begins its descent into the valley. Cool, fresh air and the distant sound of the river itself – still a considerable distance below the observer – immediately invigorate even the most worn traveler. There are no streetlights on this road – the first time I saw the Milky Way was with my naked eye while driving along this road. But I know, we're here for the birds.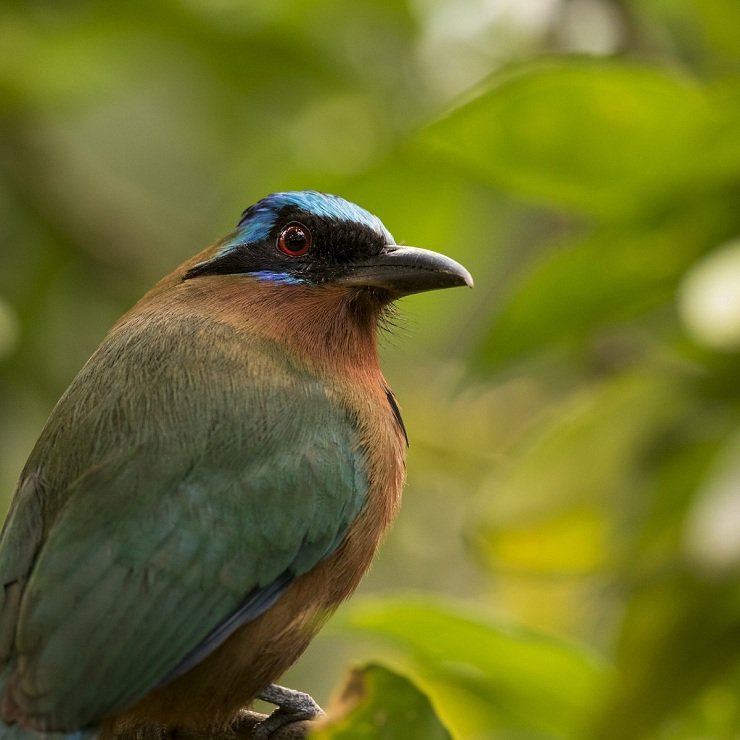 The Trinidad Motmot is the only endemic species on the island. They are quite tame at the lodge.
I refrain from placing a timestamp on the couple hundred yards of gentle descent into Cuffie River, as it is highly likely one may be distracted by one or two Rufous-tailed Jacamars sallying into the roadway, or a Trinidad Motmot observing the observer from the adjacent bamboo. Exceptionally sharp eyes can see roosting nightbirds like a White-tailed Nightjar or Common Potoo on the drive in.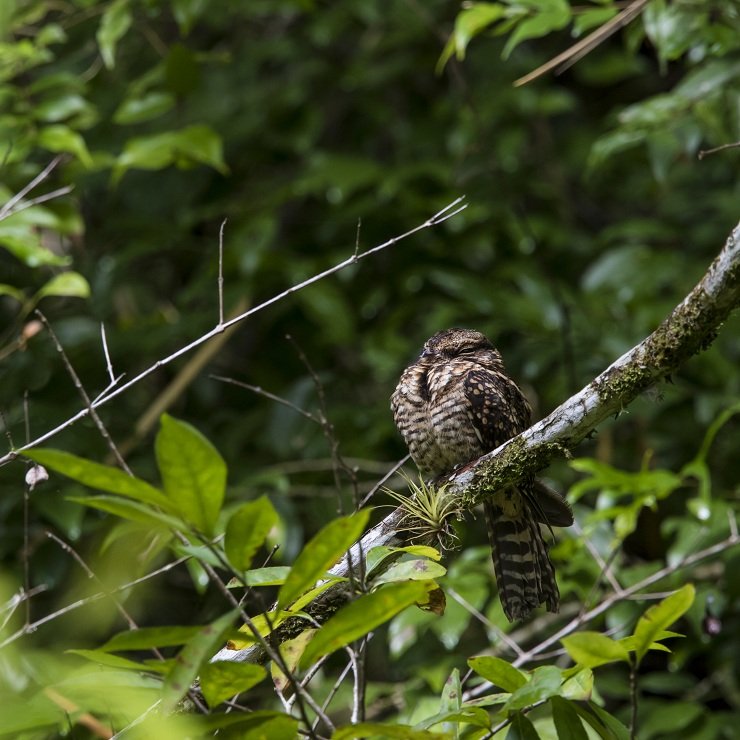 White-tailed Nightjar (above) and Common Potoo (below), both along the access road to Cuffie River.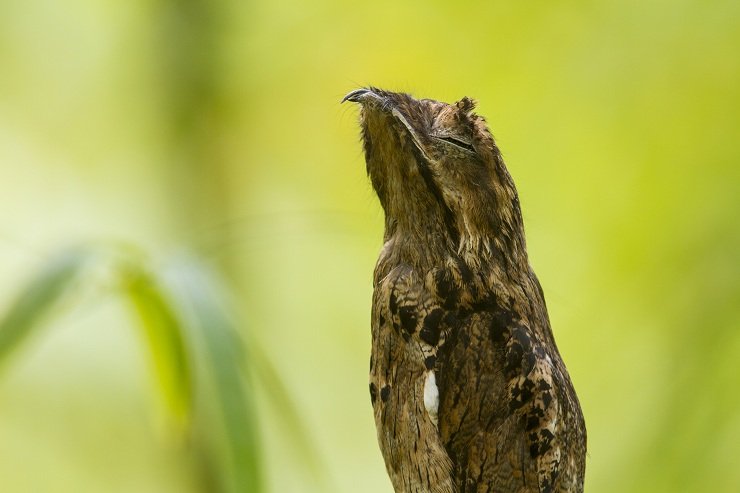 One must cross a bridge over the Cuffie River to enter the Cuffie River Nature Retreat. Pause at the crossing and enjoy dorsal views of Short-tailed and Grey-rumped Swifts darting in to drink from the cool water. A Green Heron may be stalking the riverbank, just as a Green Kingfisher may be perched above the flowing water, silently waiting for its opportunity. The fishing birds have it easy here. The pristine environment means the water is often crystal clear and visibility is excellent.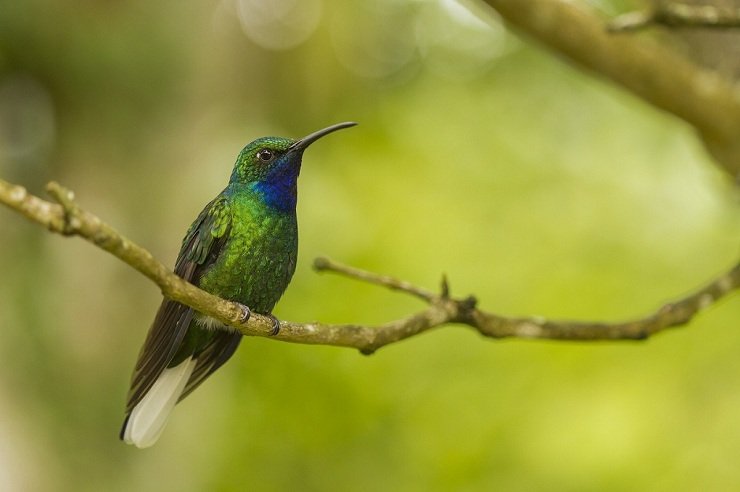 The Near Threatened White-tailed Sabrewing is routinely seen around the lodge.
But enter the gates of Cuffie River Nature Retreat and the waterbirds will quickly flutter out of your mind as you will be confronted with a hummingbird metropolis. Safe to say most guests take considerable time to make it to check in at this point! All six of Tobago's hummingbirds are easily seen at this endless buffet of flowering plants, trees and feeders. As if the majesty of Mother Nature in all her glory wasn't enough to have mouths permanently agape, Owner/Manager Regina Dumas personally warmly welcomes each guest upon arrival – whether you're eighty or eight – and suddenly everyone feels as if they have come home.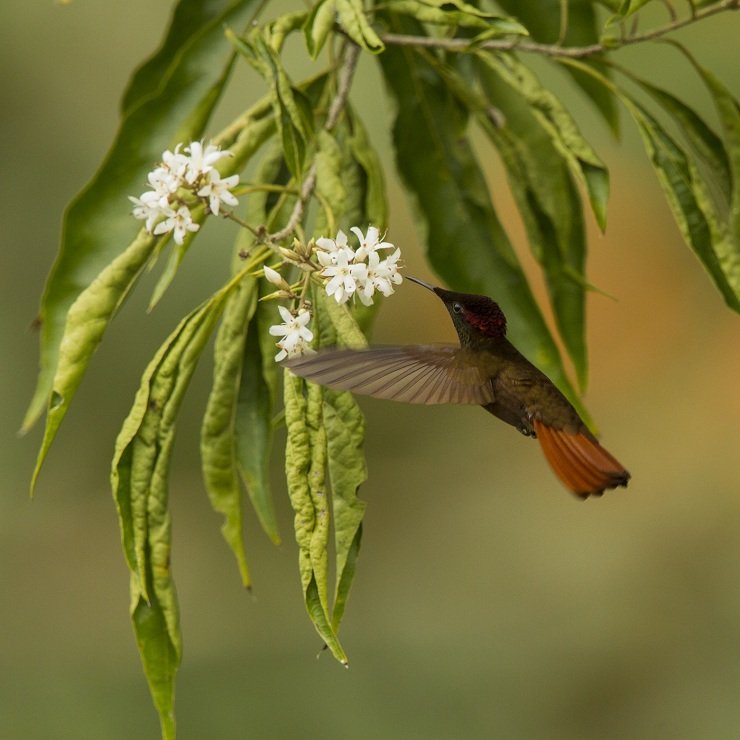 A Ruby-topaz Hummingbird feeds on the flowers of a tree on the property.
Be warned, staying at Cuffie River Nature Retreat may encourage you to cancel your other birding plans on the island. In addition to the species mentioned before, it is easy to have incredible looks at Red-crowned Woodpeckers, Barred Antshrikes, and Rufous-vented Chachalacas as they frequently are attracted to the fruit feeders. White-lined, Palm, and Blue-grey Tanagers also squabble over the fruit put out multiple times per day by Regina's diligent husband, Earl. Grey and Tropical Kingbirds call noisily from conspicuous vantage points throughout the day.
Scarce on both islands, White-winged Becards occasionally nest on the property.
The lodge also has a raised saltwater pool – no excessive digging nor abrasive scent of chlorine in the rainforest – from which one can observe flocks of Crested Oropendolas attending to their pendulous nests in the nearby trees under the watchful eye of a Piratic Flycatcher. During the right time of year, the relatively large and deep blue Caribbean Martins accompany both species of swifts as they drink from both the river and the pool. The skies above are a lottery made up of Magnificent Frigatebirds, Broad-winged Hawks, and if you're lucky enough, Great Black Hawks.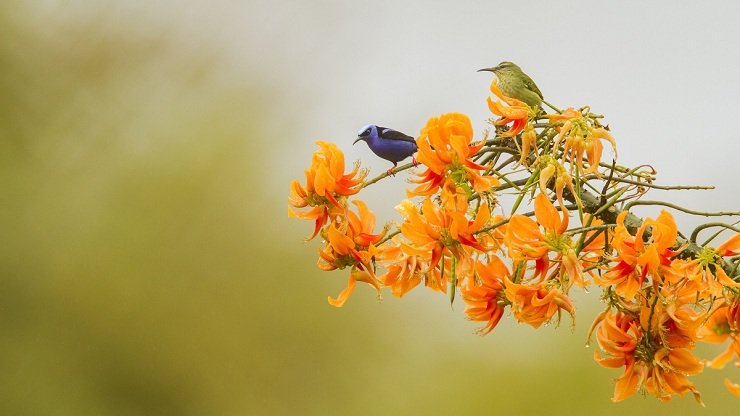 A pair of Red-legged Honeycreepers on a flowering immortelle.
Many large trees dot the surroundings, and the bright orange flowers of the immortelle attract brightly colored Red-legged Honeycreepers and Orange-winged Parrots. Within the branches of these very trees, Ochre-bellied, Streaked, Brown-crested, Fuscous and Yellow-bellied Flycatchers hunt. Keen ears are needed for the rarely seen Venezuelan Flycatcher, however.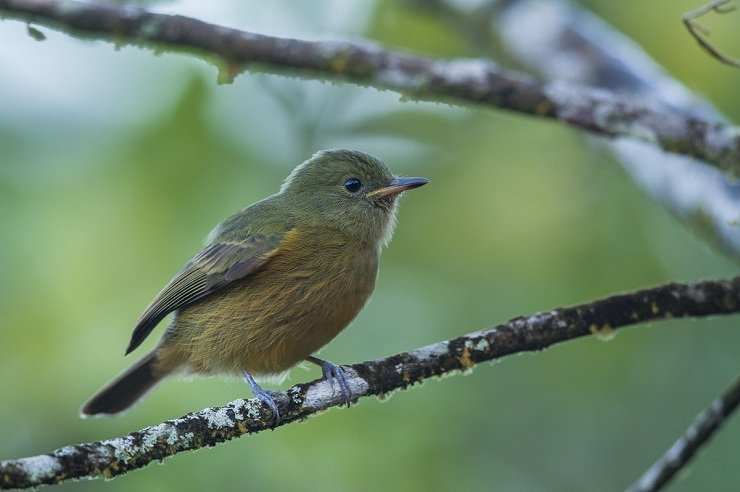 An Ochre-bellied Flycatcher early one chilly (by tropical standards) morning.
I've spoken about all these birds and we haven't even left the lodge! Everything mentioned here can be experienced from the comfort of one's own personal balcony, shared balcony or even afloat in the pool.
There are numerous trails that are very doable around the property as well. These are highly recommended as they can yield certain species that aren't often seen at the lodge itself. Reclusive species like Grey-throated Leaftossers are often encountered along some of these forest trails, as well as Olivaceous Woodcreepers, Stripe-breasted Spinetails, and the more commonly occurring White-fringed Antwren. Although Blue-backed Manakins are heard regularly at the lodge itself, they are much more visible along these trails.
This Blue-backed Manakin was the first I had ever seen, at a lek along one of the trails at Cuffie River.
As you can probably tell by now, I can literally go on and on about this entity that is Cuffie River Nature Retreat – but see for yourself here in case any disbelief has crept in after reading my fanciful tales of incredible birding in a place that seems almost too good to be true. Do check out their impressive list of green initiatives as well. Let me also tell you that their food is the best on the island, based not only on my picky palate but also more than a handful of guests we have hosted there over the years. Even if you must leave for a birding mission at 4am worry not, for your breakfast will be packed and ready to go when you are.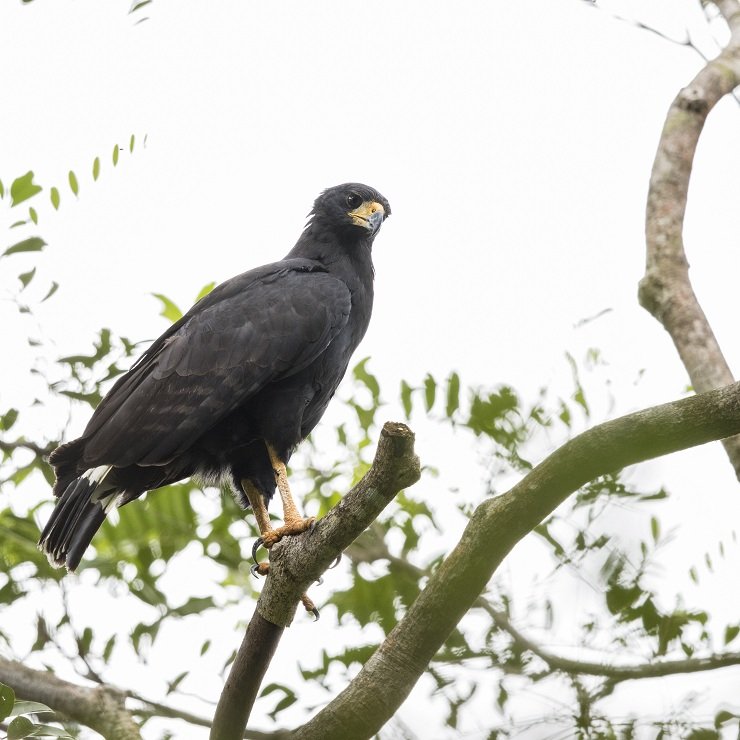 A Great Black Hawk along one of the trails.
I hope you enjoyed this virtual tour! All images here were made at or around the lodge – the photographic opportunities are limitless.