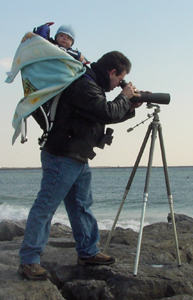 Long Island is absolutely magnificent for winter waterfowl; don't let anybody tell you different. If you want to pick up eiders, scoters, and all the other birds of the frigid Atlantic coast, the East End is probably the most reliable place to find them south of New England. But one needn't thread the needle of the Hamptons for spectacular New York winter birding. The south shore of Long Island presents abundant opportunities for avian appreciation from Brooklyn and Queens out through Nassau and Suffolk Counties. The same famous beaches that attract throngs of sun and sand worshippers from May to September draw birders, in far more modest numbers and attire, from November to March.
Since the Core Team had plans to see some close friends on Long Island yesterday, we thought we might mix pleasure with pleasure. Considering the weather and time restraints, we'd be able to swing about an hour or so of birding somewhere in Nassau County. A bit of browsing on Long Island Birding turned up a site just hopping with hopeful additions to our life list. Point Lookout, located on the eastern tip of Long Beach across the inlet from Jones Beach, was the place to be.
Conditions yesterday were superb for the tail end of winter birding. Fear that most of the seasonal birds had flown was unfounded, as Harlequin Ducks had been reported recently along with an array of equally enticing avians. When we arrived, Mason was still asleep, so I left the rest of the team in the car to conduct a bit of reconnaissance. Birding, as many of you know, can be dicey business; when your targets have wings, you take nothing for granted. But once I crested a dune and focused my scope on the deep blue ocean, picking out a loon and a grebe in rapid succession, I knew we were in for some fun.
Birding with a baby is not easy. Not only are young'uns sensitive to extremes of weather and activity, they're kind of bulky. With Mason strapped into his new hiking backpack, an early birthday present, we took to the beach. Ignoring the variety of gulls wheeling about, we laid avid eyes on the sea. The first bird that caught our anxious eyes was a Black Scoter, bright bill a pleasing contrast to its oily plumage. Next to that was one of our hopefuls, a Horned Grebe. This grebe would doubtless be more impressive in its rufous, yellow, and black breeding coat, but a new bird is always beautiful. As the tiny sailor joined the rest of its crew, our eyes were drawn to a small raft of scaup. Of course, we have no idea whether these were Lesser or Greater Scaup. The differences between the species practically require forensic science to distinguish. Scaup are like the Empidonax flycatchers of waterfowl. One day, on a trip with better birders than us, we'll be able to add them to our list. Until that day, we remain scaupless.
We may be scaupless, but we're loonless no longer. Beyond the ducks, we spied a Common Loon, identifiable by its great bulk and flat head. Another member of the Gaviidae family, a Red-throated Loon, also plied these crowded waters in its distinctive fashion, thin bill held high as if to sneer at the other birds around it.
Though we logged three and a half lifers in ten minutes, we didn't have much more time to identify avifauna. Our little lord, perched imperiously in his howdah, was gradually succumbing to the chill wind out of the south. The only other waterfowl we noted on the ocean was Red-breasted Merganser. Of the gulls, we had time to differentiate only Herring, Ring-billed, Great Black-backed, and Bonaparte's Gull. For the peeps and plovers dancing in the surf, we had no time at all. Mason was putting on a brave front, but his chattering teeth told us all we needed to know.
The birding from the warmth of our car wasn't bad at all as we left Point Lookout. Killdeer placidly grazed the fields in the parking lot as large numbers of American Robin flocked up nearby. We spotted flocks of Brant and Canada Goose along the causeway, as well as crows, probably Fish Crow, perched ominously on the lightposts. We even saw our first Osprey of the year, tidying up its platform after a long vacation. Best of all, though, perhaps even better than our lifers, was a gun metal gray Merlin flying along the side of the Loop Parkway. This falcon maintained a steady altitude of about three feet as it clung to the shoulder of the road. We pulled up alongside it and then passed by, yet it never deviated from its low, predatory path.