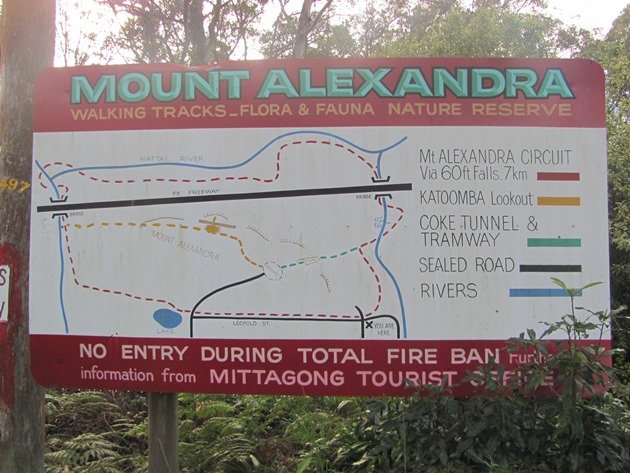 Having spent a few days in Sydney with my sister and family and doing the two long walks in the Royal National Park and Georges River National Park we headed south to stay at Mittagong in the Southern Highlands. It was colder in the highlands than it had been in Sydney, but the sun was shining and enabled us to wrap up warm and head off each day to visit various reserves and National Parks in the area. We packed a thermos each day and this was definitely essential at this time of year, especially if you are used to warmer weather!
Mittagong has its own nature reserve around Mount Alexandra with several trails and you could choose to walk for a few minutes or a few hours and we did a short trail the first morning followed up by the whole circuit at a later date. There are some steep and narrow sections of trail and other areas are part of the fire-break system and as such are wide enough for vehicles. These wide trails are rather handy for walking alongside each other and observing the White-browed Scrubwrens, Red-browed Finch and Spotted Quail-thrush as they hop onto the trail. The edges of the trail had also been turned over recently by Superb Lyrebirds. As we wandered along the trail there was the familiar sound of the mimicry of the Superb Lyrebird.
The trees held a great variety of birds and even the Australian Wood Ducks had taken to finding a warmer place than the ground in the morning. You don't generally expect to find ducks high up in trees, but this species was often found perched high up. Around Broome there are no tall trees, so we are used to seeing them on the ground.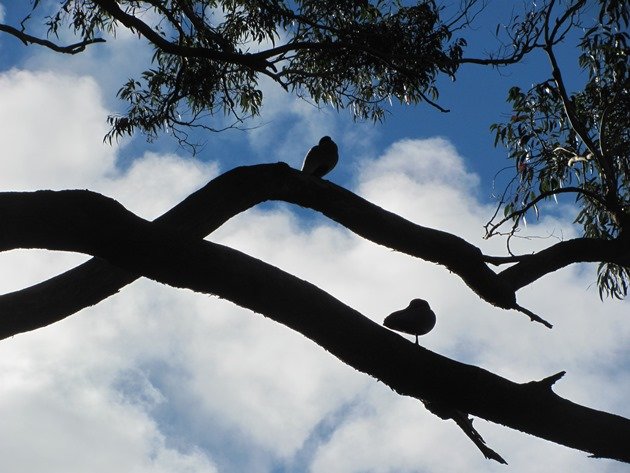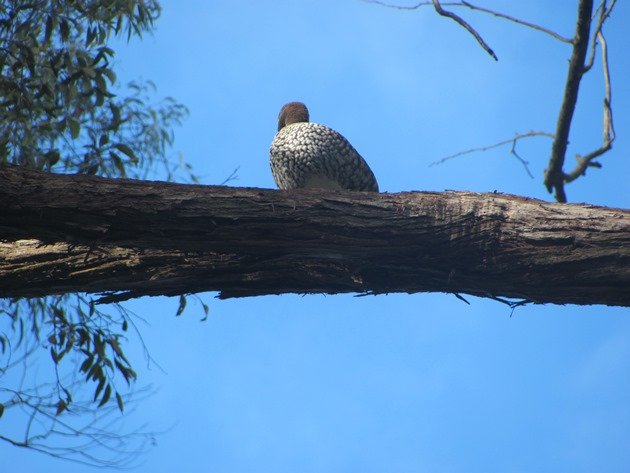 Australian Wood Ducks in a tall tree!
There were a huge variety of honeyeaters passing through the trees in search of flowering native plants and the Yellow-faced Honeyeaters, Lewin's Honeyeater, White-faced Honeyeater, White-naped Honeyeater and New Hollands Honeyeater were most prolific. There were also Eastern Spinebills feasting on nectar in the trees. The native plants that they were attracted to were generally the tallest trees in the forest making observations a challenge and photography impossible. Even the red and blue of the Crimson Rosellas appeared to blend into the forest!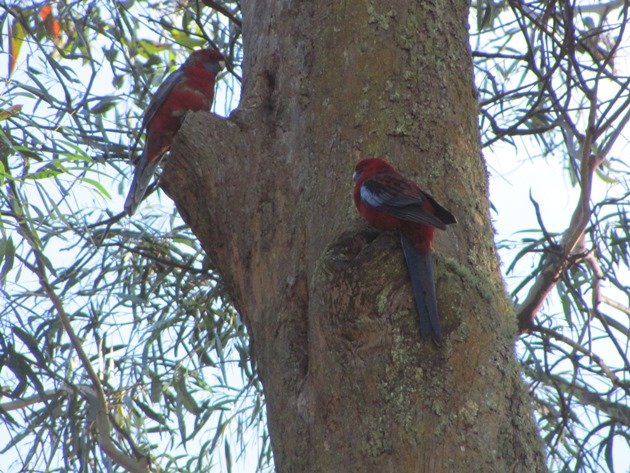 Crimson Rosellas
A lot of the native plants like Banksias had already finished flowering, but every now and again you would find a plant still blooming and still attracting nectar feeding birds. The tall trees also included the Scribbly Gums, which are named for the naturally occurring scribbles on their trunks.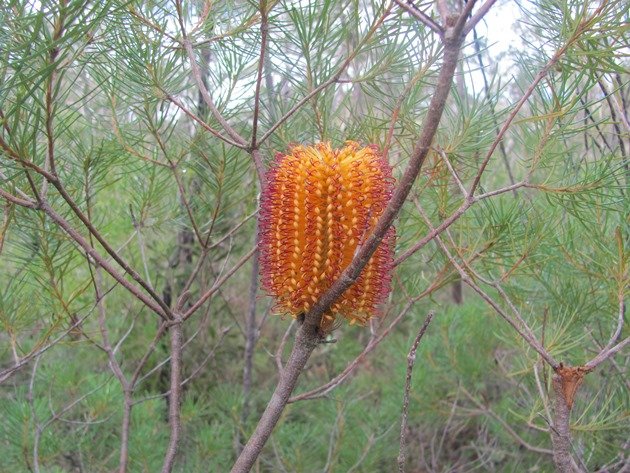 Banksia flowers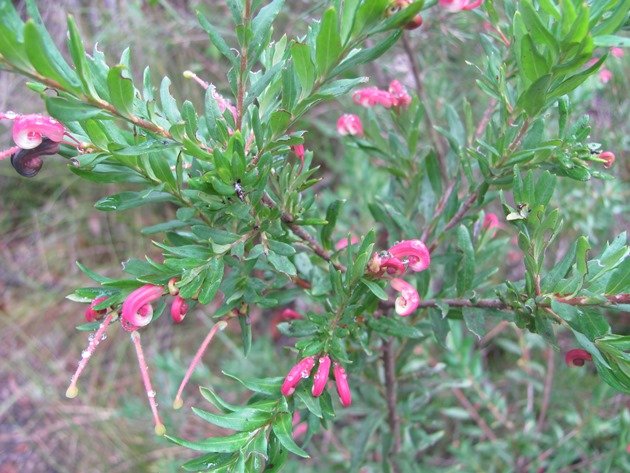 Native flowers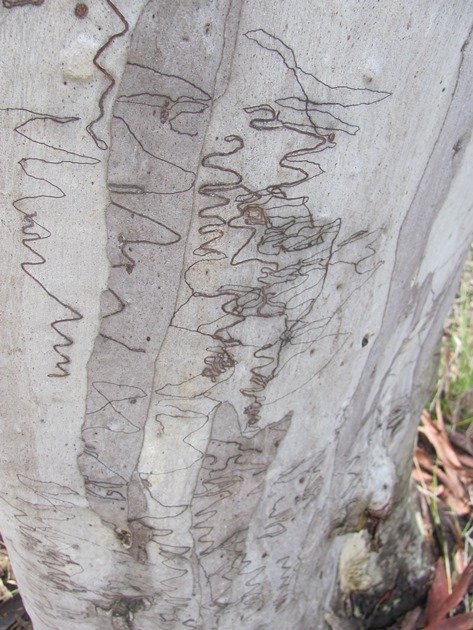 Scribbly Gum tree trunk
Due to the dampness in the forest there were various plants growing on fallen logs and you needed to keep an eye out for leeches that had caught on your clothing. There were some amazing rocky outcrops along the trail and this is of course ideal habitat for Rockwarblers.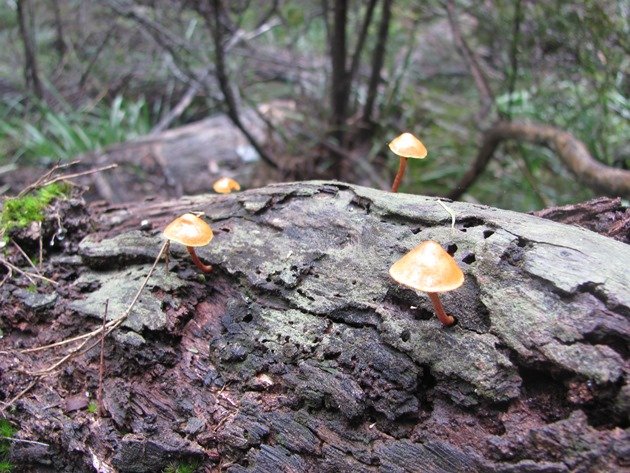 Growth on fallen tree trunks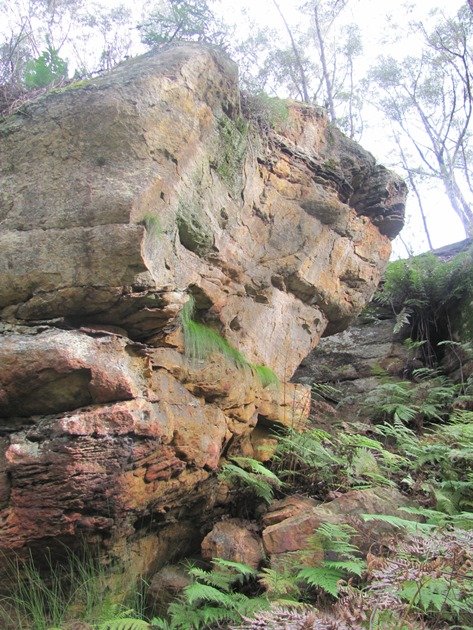 Rockwarbler habitat
We approached all of these rocky outcrops cautiously and we were lucky enough to see several Rockwarblers on various trails in the Southern Highlands. It was always a rocky outcrop and they always hopped off fast. I had thought it was a challenge last year to get photographs of Rockwarblers, but I realise now that they were quite good compared to this year's efforts! We saw more of the bird itself, but only got two very lousy photographs. The first was perched on the top of a rock when I tried to photograph it and you will have to trust me when I tell you it is just to the right of the curved branch coming down the centre of the photograph! Yes, that tiny round spot on top of the rock! The second attempt the Rockwarbler/camera thought I wanted to photograph the dry sticks!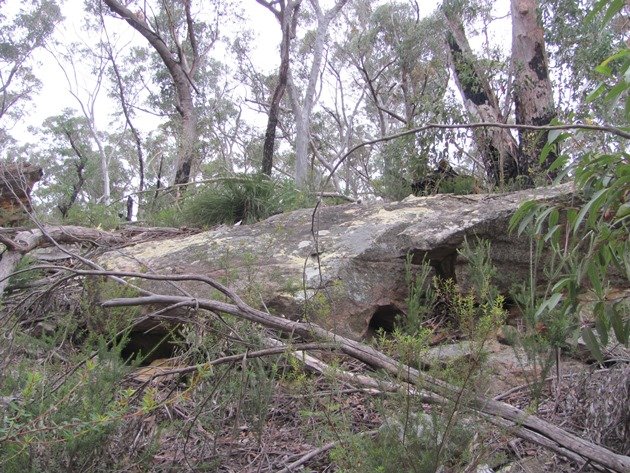 Rockwarbler-trust me!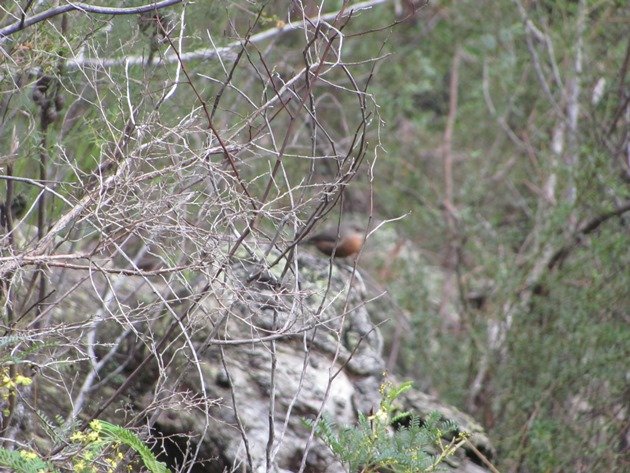 Rockwarbler-I mean dry sticks in front of…..
The White-throated Treecreepers were also challenging to photograph as they hopped up the tree trunks feeding as they went. They were often heard before they were seen, but with patience they would move around the trunks and you would eventually observe them and even attempt to photograph them!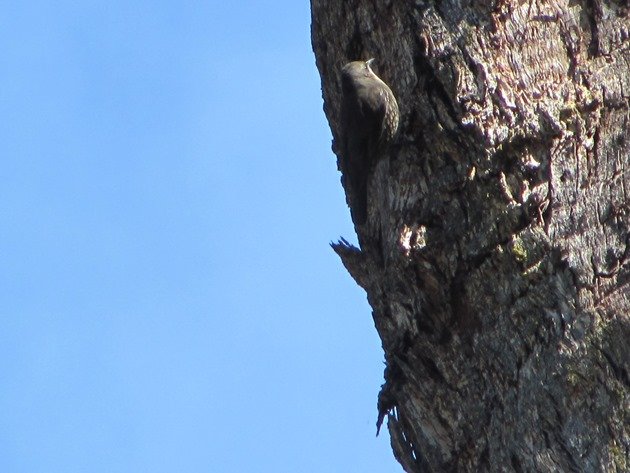 White-throated Treecreeper
There are a huge variety of species at different heights throughout the forest and you are constantly looking from ground level to high in the tree canopy. Bell Miners called out in one area of the forest only, but other birds were present throughout. Brown Thornbills, Grey Fantails, Eastern Yellow Robins, Eastern Whipbirds and Golden Whistlers presented themselves all along the trail and then there would be small groups of Superb Fairywrens that muttered quietly as you passed by.
The trail passes by Lake Alexandra, which is also accessible by car from town and has a concrete path around making it accessible to everyone. It is here that you can easily observe Eurasian Coots, Dusky Moorhens, Little Pied Cormorants, White Ibis, Noisy Miners, Hard Heads, Pacific Black Ducks, Grey Butcherbirds, Red Wattlebirds, Satin Bowerbirds, Sulphur-crested Cockatoos and much more if you spend the time.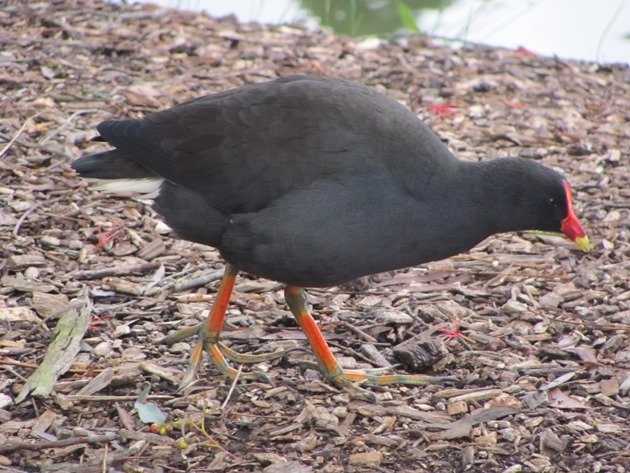 Dusky Moorhen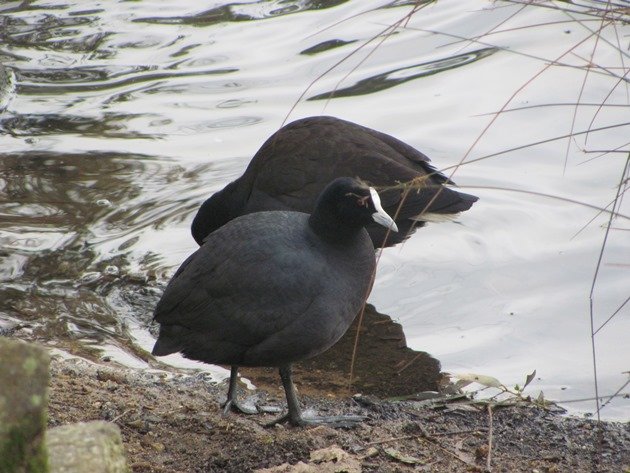 Eurasian Coot in front of Dusky Moorhen
Mittagong is an ideal place to stay to be close to the bush and to observe many species of birds, even if some are almost impossible to photograph!