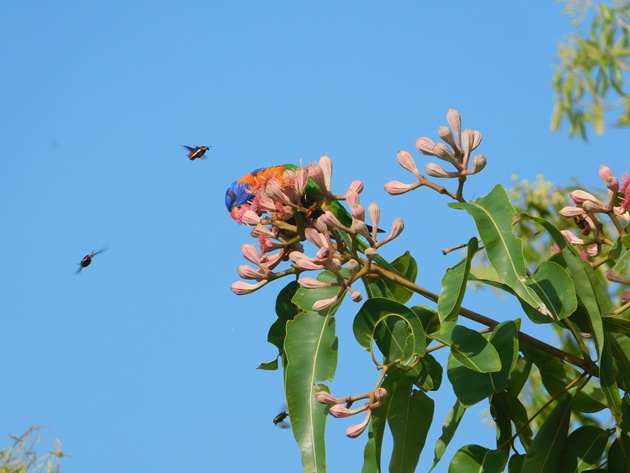 There is nothing better than waking up to the sound of rain, especially when it has been so many months without rainfall. At 1:30am on New Year's Eve the overnight temperature suddenly dropped from 30c to 27c and the raindrops fell! Instead of the torrential rain we often get in our wet season it rained steadily for about an hour. It dropped around 15mm of rain depending on what part of town you live in. Isolated storms are common and you can be so close, but so far from rain sometimes! We had a free carwash from a torrential storm only nine kilometres from home on Boxing Day and no rain fell at home at all.
New Year's Eve morning the sky had cleared somewhat, but clouds continue to build up and tease and maybe there is more rain on its way. We are hoping for a wet few months to start 2022 to top up all of the ephemeral lakes to see us through the dry part of the year. Our garden was busy with Double-barred Finch, Brown Honeyeaters, Singing Honeyeaters, Bar-shouldered Doves, Peaceful Doves and Little Friarbirds early on. We decided to take a walk around our local patch to see what birdlife was about. We startled a lonely Pacific Black Duck at a puddle close to home.
The next surprise was a Great Egret, which was not in our garden this time! The Great Egret had positioned itself right against the main highway into town at the turn-off to Lorikeet Drive. There is a culvert there that soon fills up and provides food and water for passing birds. Although it looks like very poor road design when it rains there are advantages for the birds. After several vehicles went by the Great Egret decided it would be safer to cross the highway and work through the long grass for food for now.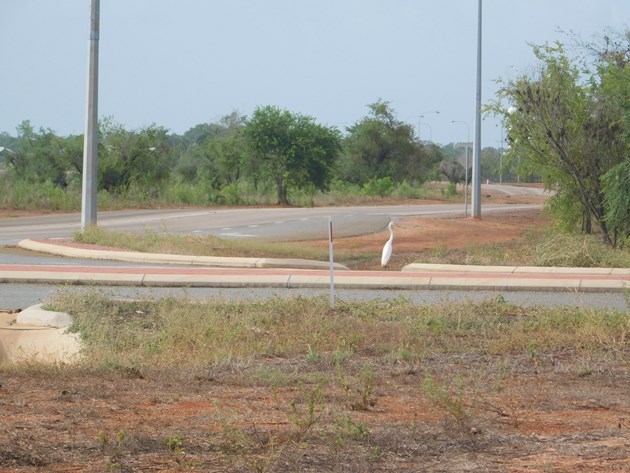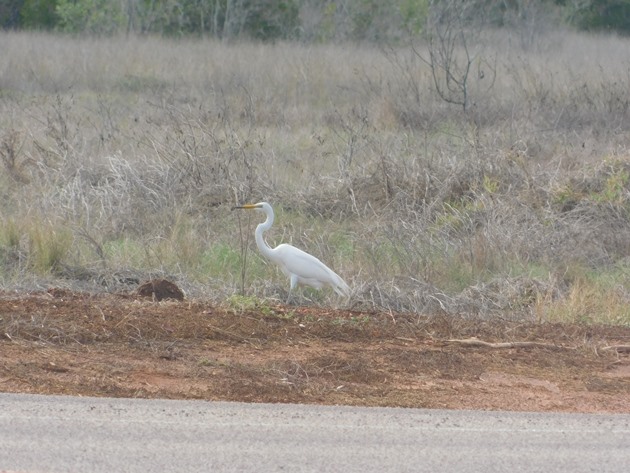 Great Egret beside the highway
In Cygnet Park there are several flowering gum trees. The pink trees are currently flowering and attracting the Red-collared Lorikeets. The trees are also attracting jewel beetles, which are also featured in the header photo. New Year's Eve breakfast for the Red-collared Lorikeets was sweet and pink!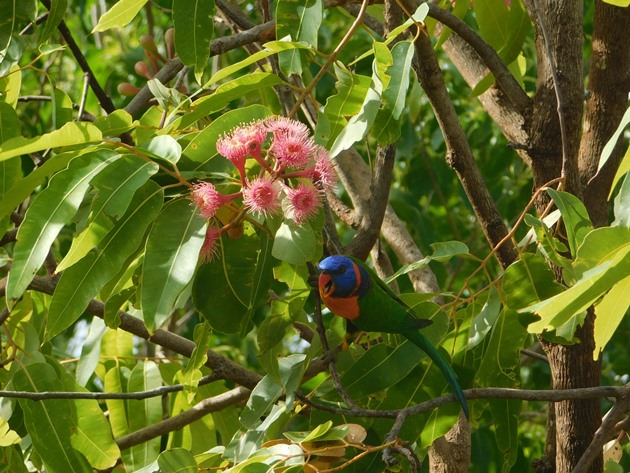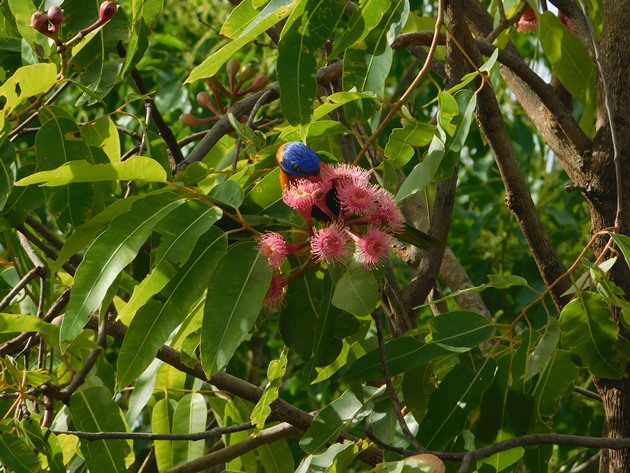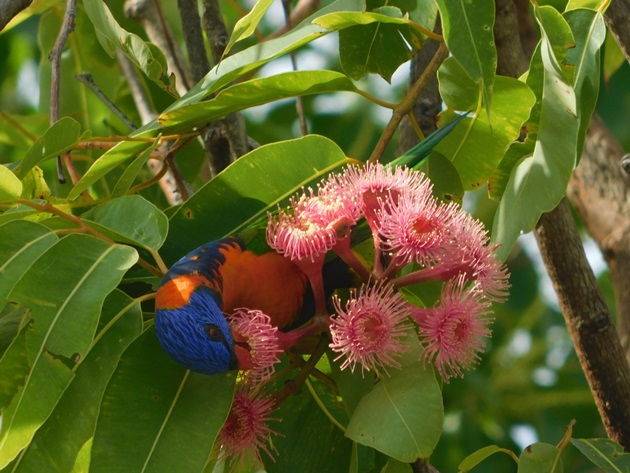 Red-collared Lorikeet enjoying a sweet breakfast
The Black-faced Cuckoo-shrikes were high up in the trees trying to get dry. The sky was blue in some directions, but very overcast in the opposite direction.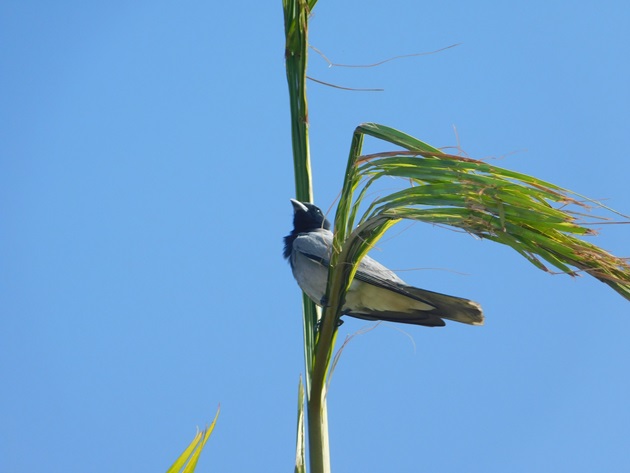 Black-faced Cuckoo-shrike
The Olive-backed Orioles were being very vocal after the rain and also preening.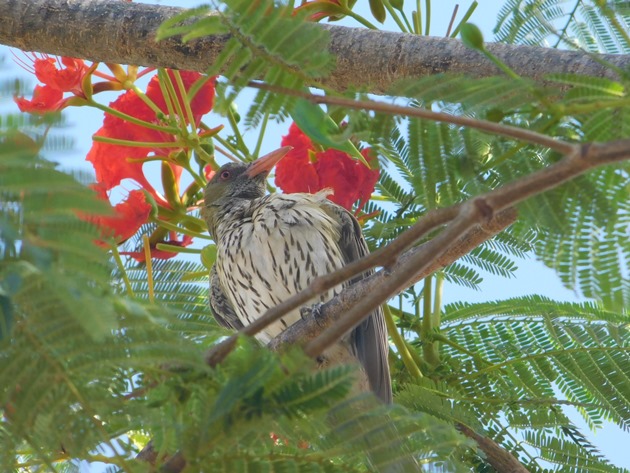 Olive-backed Oriole
The Pied Butcherbirds were very busy in the park looking for food after the welcome rain.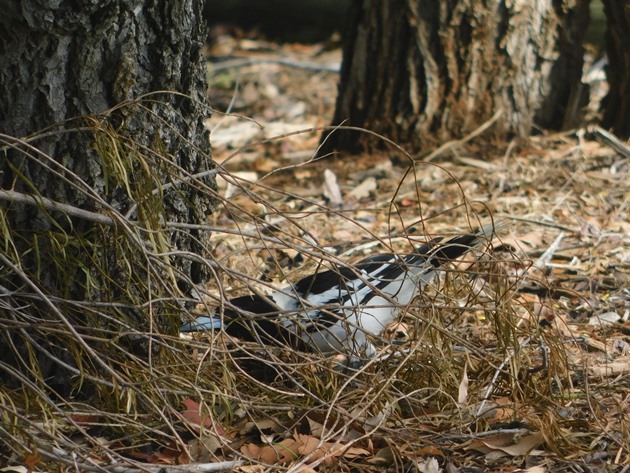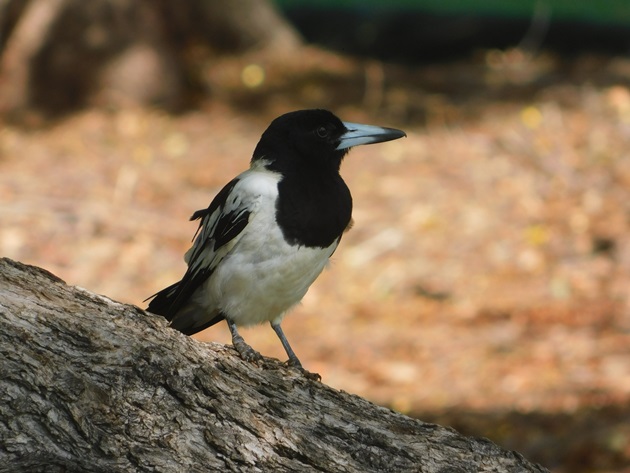 Pied Butcherbird
The other delightful find after the rain was a pair of Tawny Frogmouths. This time rather than be in the park they were directly over the footpath leaving evidence below!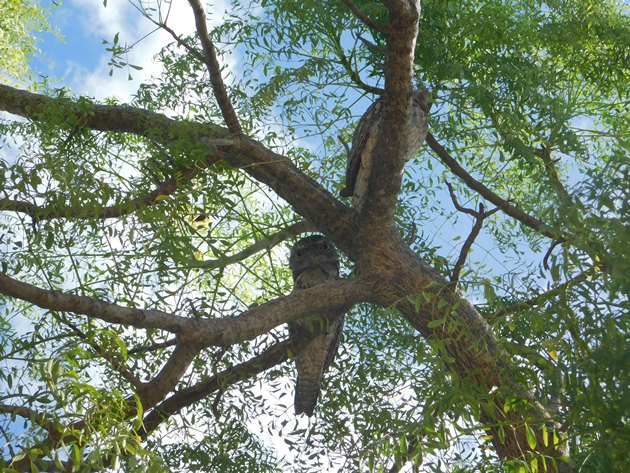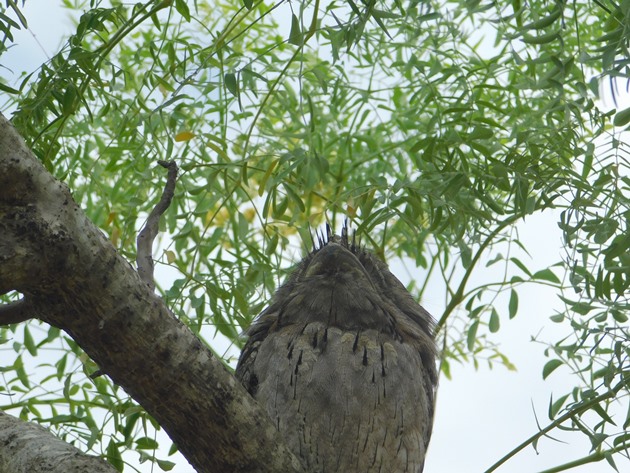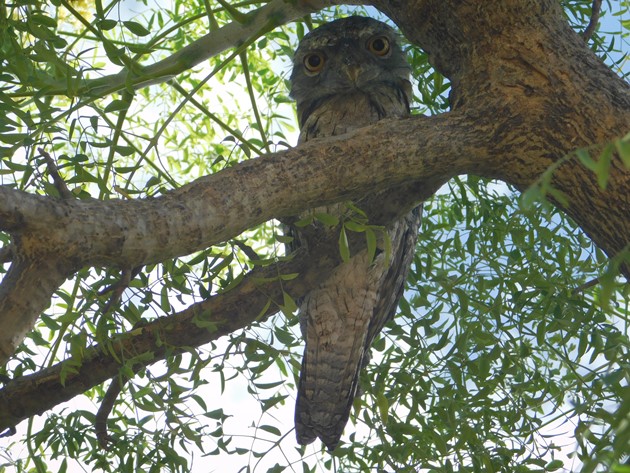 Tawny Frogmouths
We can all see that there are plenty more challenges ahead for us in 2022, but take the time to enjoy your surroundings. Remember that even if you can't personally travel the birds will come to you.