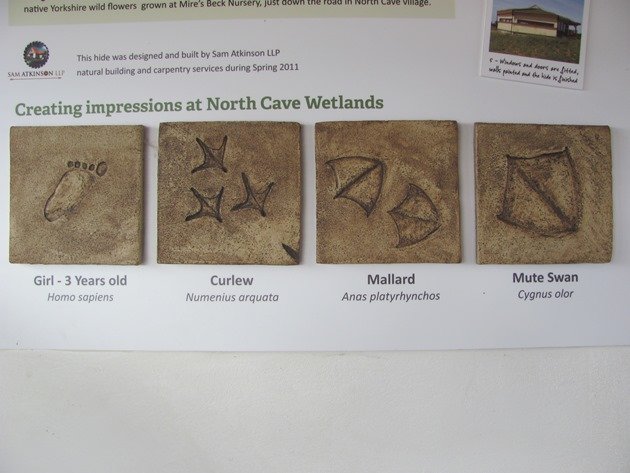 We visited North Cave Wetlands on October 22nd this year while we were in the UK and it is across the River Humber from my parent's home and close to where we worked when we lived there in 1987. At that time it was not a nature reserve at all and the forty hectare piece of land was only acquired in 2001. We were constantly being asked locally if we had crossed the river yet to see the magnificent birding at North Cave Wetlands and so it was only a matter of time before we headed over the Humber Bridge to see what everybody was talking about! The nature reserve is really well managed by the Yorkshire Wildlife Trust with numerous hides and wheelchair access to much of the reserve. The nature reserve is constantly evolving and although part of it is a former sand quarry it has been carefully developed to encourage wildlife.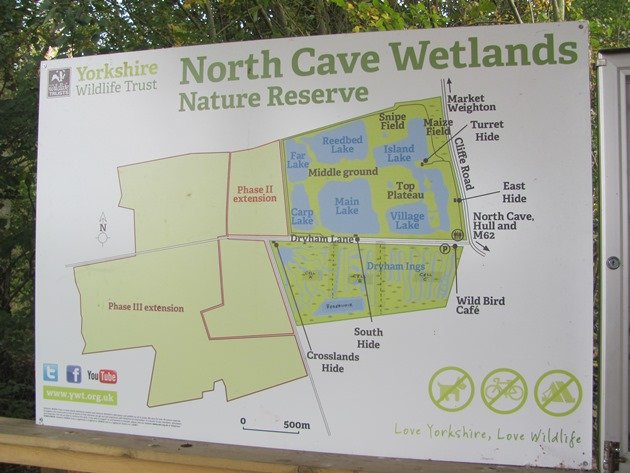 Map of North Cave Wetlands
Arriving late morning on a Saturday we had no problem parking on Dryham Lane and there were a few people taking the trail around the fields. Our first stop was the area marked Wild Bird Cafe next to the car-park. It is a sheltered area with numerous picnic tables for the people visiting and bird feeders for the feathered variety of visitors. It had already turned quite cold in the UK by now and the weather was inclement to say the least! It would be silly to be deterred by a chance of rain and there are several bird hides to take advantage of if the need arose. The view from the car-park on the left-hand side of Dryham Lane started our bird list for the trip and we soon had Northern Lapwing, European Magpie, Eurasian Coot, Western Marsh Harrier, Mallard, Dunnock, Common Shelduck, Common Starling and Common Blackbird in our notebook.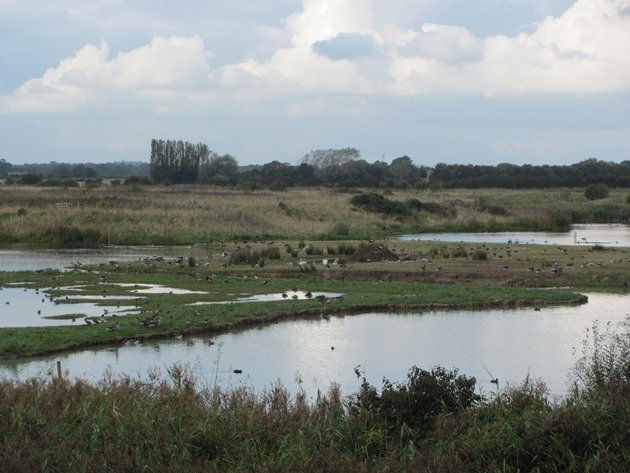 View from picnic area next to the Wild Bird Cafe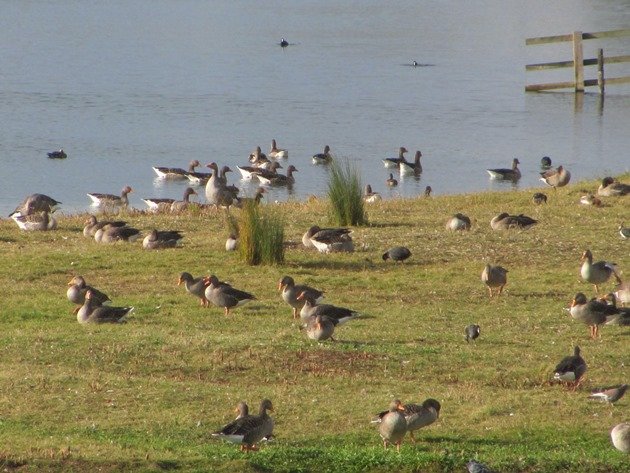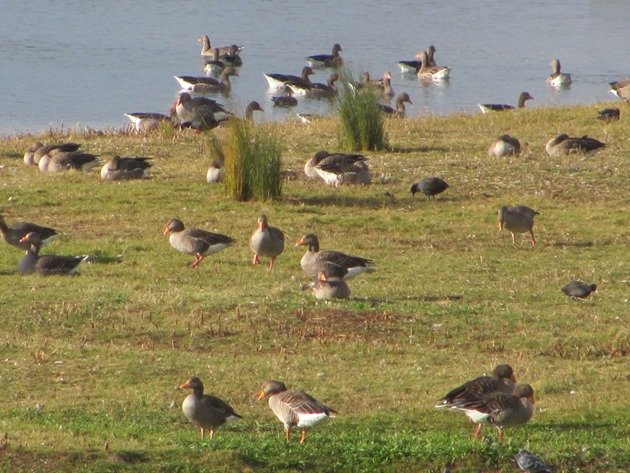 Greylag Geese in front of the picnic area next to the Wild Bird Cafe
The islands in view from the Wild Bird Cafe offered fantastic views of the Greylag Geese, Eurasian Teal, Eurasian Wigeon, hundreds of Rock Doves, Common Moorhens and some spectacular views of Common Snipe. A flock of twenty Common Snipe flew into the nature reserve and we had learnt over our few weeks in the UK that they are abundant in October! Great views were to be had from East Hide and we soon added more birds to our notebook, which included Northern Shoveler, Tufted Ducks, Common Pochard, Little Grebe, Great Crested Grebe, Pied Wagtail, Common Gull, a pair of Canada Geese, Common Redshank and Great Cormorant. Walking along the trail between the hides offers views of several passerines and we soon added Eurasian Wren, Blue Tit, Great Tit, European Robin, European Goldfinch and Common Pheasant.
It was bitterly cold when we arrived at Turret Hide and we were quite happy to sit inside for a while! You can keep the windows shut to enjoy the views without the wind cutting through you and the Common Snipe were active near the hide. Sitting for a while proved beneficial, because we did get to see a Mediterranean Gull that we had been advised to keep an eye out for! There were several Herring Gulls and Black-headed Gulls present and it wasn't until they took flight that we realised where the gull was and could then keep an eye on it. The information inside the hide on the similarity and differences in similar species is very useful and would be an excellent resource to a new birder or an overseas visitor still trying to get their heads around similar birds. In fact this reserve had more information than any other reserve we visited during our visit to the UK. Well done Yorkshire Wildlife Trust!
Visitors to the reserve we met along the trail were excited to tell us about the arrival of a Whooper Swan and told us to check the northern field to our right as we circumnavigated the lakes anti-clockwise. The first Whooper Swans for autumn had just started to arrive in the days before and that was one of the reasons that people were visiting the reserve that day. There was also a Black Swan present and visible from Crosslands Hide and several Mute Swans around the nature reserve. It was a three Swan species day!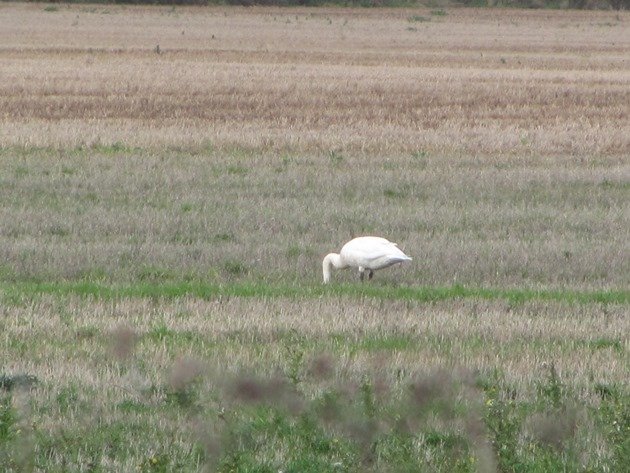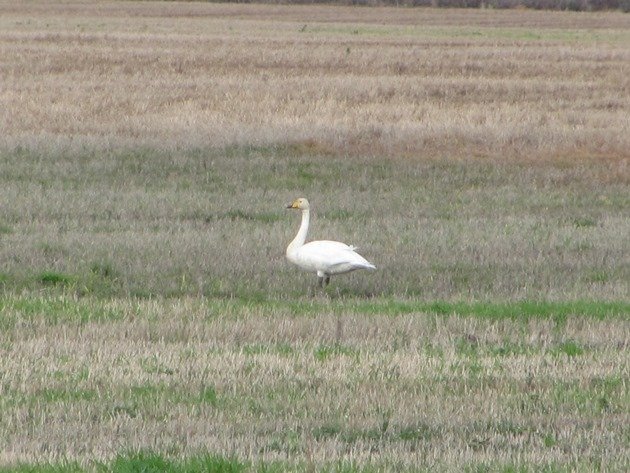 Whooper Swan
Walking fast in the drizzle we accidentally flushed a Green Woodpecker and it was rather vocal as it took off. They are often feeding on the ground and every time we had an encounter with them in the UK it was a vocal call as it took off and flew upwards. Incidentally I don't have any photographs of Green Woodpeckers! Another incredibly hard bird to photograph on our trip was the Common Kingfisher. They were very good at flying fast in front of you and then settling in on a distant post. Even in locations where they had placed posts close to bird hides they would fly beyond and position themselves too far for my little camera. On this occasion the Common Kingfisher didn't just fly in front of us and land in the distance, but it was also raining! Hence some poor quality photos of a Common Kingfisher!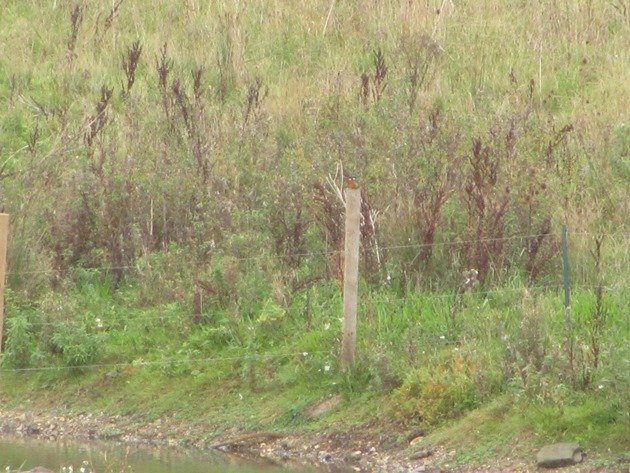 Common Kingfisher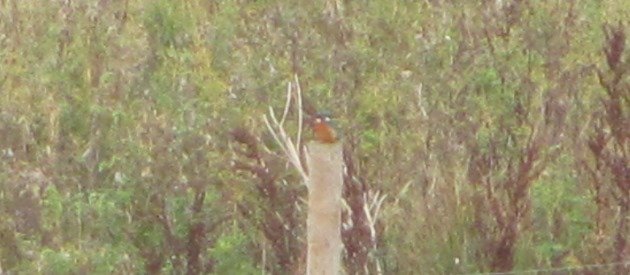 Common Kingfisher-zoomed in and cropped to convince you!
Crosslands Hide is accessible down Dryham Lane by car and has a ramp for wheelchairs and pushchairs and is extremely large with ample seating and views of various lakes. Little Egrets and Egyptian Geese were showing well from that hide despite the wet weather. It is part of the two kilometre loop trail, but you can just drive down to it if the weather is particularly bad. It has displays to explain about the nature reserve and the birds and other creatures that visit it. The header photo is of part of the display in the Crossland Hide.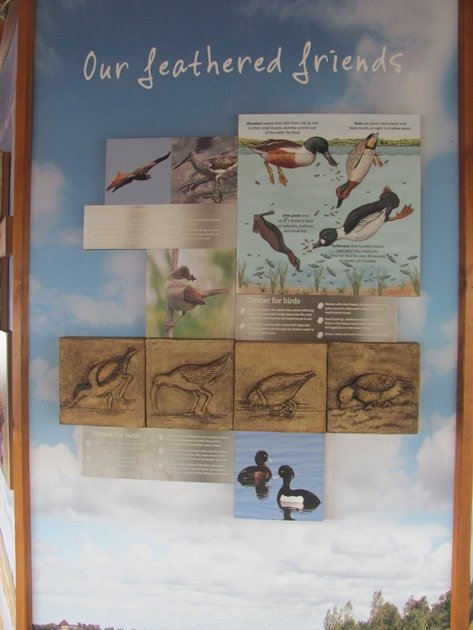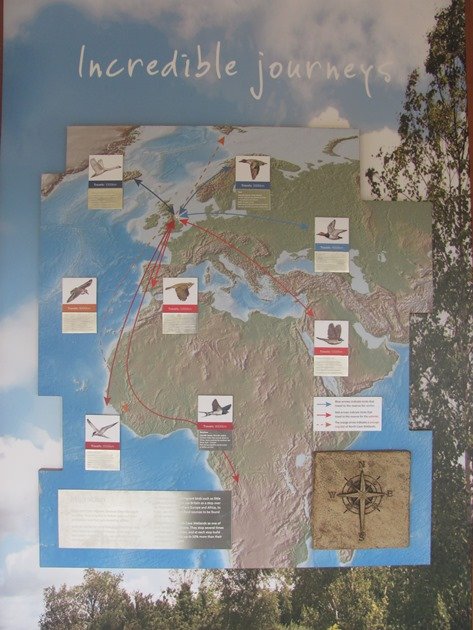 Some of the informative display in Crosslands Hide
As I mentioned earlier, this nature reserve is a work in process and there are areas that are still a working quarry. They will become part of the reserve and as an ongoing project since 2008 an additional 100 hectares will be restored for wildlife and gifted to the Yorkshire Wildlife Trust. This includes lakes, flooded meadows, reed-beds and all of the water levels are carefully monitored.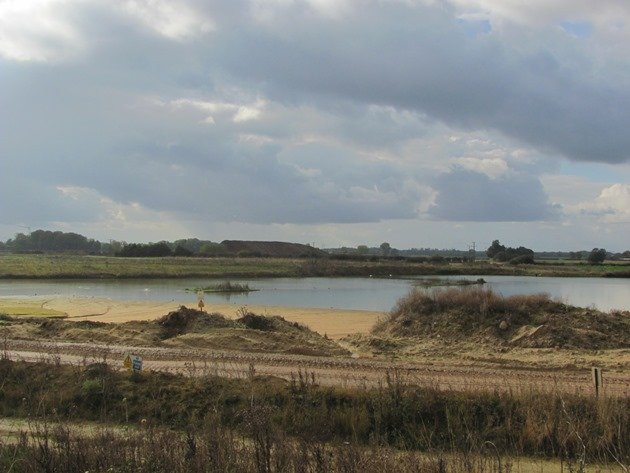 Future wildlife habitat
We ended our walk at the picnic area next to the Wild Bird Cafe, where we could make ourselves a hot drink and have a late lunch and watch the birds come into the feeders. The views across the lakes are a pleasant way to end a walk.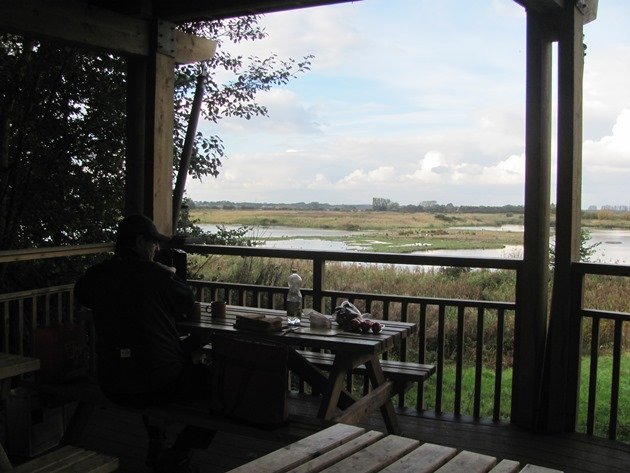 Picnic area next to the Wild Bird Cafe
We were able to add Long-tailed Tits, Yellowhammer, Tree Sparrows, House Sparrows and Siskins to our notebook before we headed off. It appears that the main information for bird sightings at the North Cave Wetland Reserve is on Twitter.