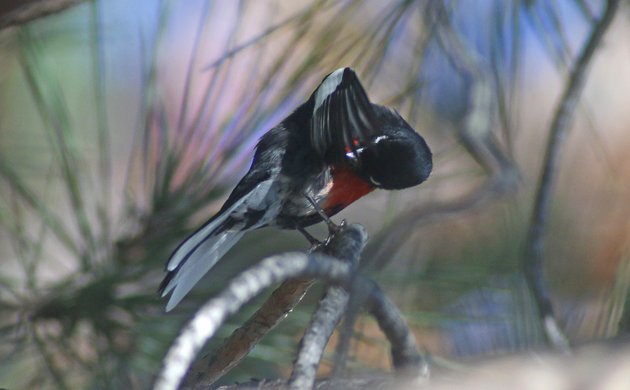 Back in December I was in Orange County, California, enjoying the holidays with my in-laws. I have been relatively negligent about having blogged about the birding I did while I was there so I thought I would try to rectify my lackadaisical attitude with a quick post about a quick twitch for a rather stunning bird.
In 2012 I got my 500th bird in the ABA area when I twitched a Painted Redstart at Lacy Park in San Marino, California. I got brief, unsatisfying looks in the drizzlymist and, though I saw enough to put a satisfying check-mark on my checklist the bird was still a BVD – Better View Desired. Fortunately, a Painted Redstart was frequenting Irvine Lake, a mere fifteen minutes from my in-laws house, in December. (In fact, as of this post the bird is still present.) It would be an easy twitch, as the bird was very reliably foraging in the trees behind the bait-and-tackle store by the entrance to the lake.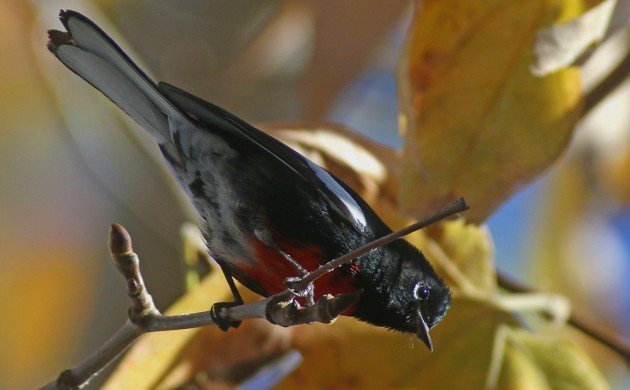 Painted Redstart at Irvine Lake
And, yeah, it was no problem at all to see this bird. Several birders were already present and once I paid my $5 entrance fee to the lake I joined them and struggled to get decent digiscoped images of the fast-moving bird. It seemed frantic as it foraged and the only time it stayed still for any length of time is when it paused to preen high up in a pine, which you can see at the top of this post.
It was an enjoyable experience and the better views desired were definitely achieved. I got some intelligence on other local birds and enjoyed the southern California sunshine while watching a wood-warbler that I never get to see in New York. What more could I want?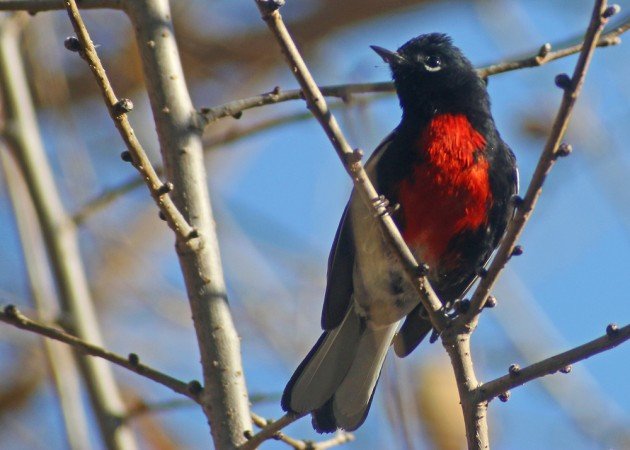 Painted Redstart
Of course, I missed the Lewis's Woodpecker that had been found at nearby Irvine Regional Park, which also would have been a second encounter with a species I hardly ever get to see but batting .500 would make me an amazing baseball star so I can't complain too much. After all, I did see a Varied Thrush in lieu of the woodpecker so it wasn't all bad. Man, I wish they all could be southern California birds…