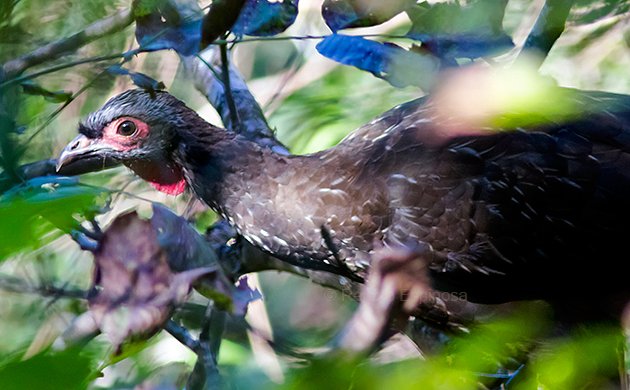 Continued from: Birding Cuesta del Obispo and Los Cardones National Park
This is an important conservation area declared a Biosphere by UNESCO for its unique cloud forest ecosystem . This is a must stop by all birders interested in local specialties like Red-faced Guan and Rufous-throated Dipper.
Getting to Yala turned out more difficult than we planned. After departing from Salta we took the scenic route that goes through a windy road through mountains and reservoirs and birding hotspots; it must be beautiful drive during the day but we were late and drove this tortuous (paved) and very NARROW road at night.  This road barely has enough room for one car so I do not advise to any faint-at-heart drivers to take this paved route, it is best to take the four lane highway connecting Salta to Genera Martin Guemes and Jujuy.  If you are a birder then take this road and explore all the birding hotspots along the road, plan for at least a four hour trip, is only like 100 km but you have lots of stops and a very slow (safe) drive.
We arrived at Casona del Camino Real at last-call for dinner. Luckily this is like a weekend resort and there was late dinner service. The place is nice, comfortable rooms, good cook (the owner), but it is geared towards weekend weddings and events, so make sure there is no events if you plant to stay there because you could have a noisy night. We were lucky and probably the only guest except for some people that came to the restaurant for late dinner.
Next morning we got breakfast and a quick look at two Gray-necked Wood-Rails that ran around in their extensive front gardens.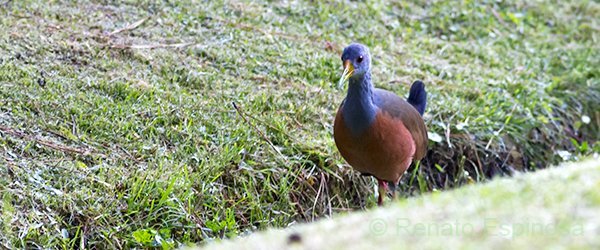 Gray-necked Wood-Rail
We stayed at La Casona because it is the closest place to the park and is outside the town of Yala.  This was a good choice and soon we were driving along the Yala River looking for the Rufous-throated Dipper.  We found a large field on the right side with a downhill road to the left that led to the river.  We parked and walked down to the river and there it was: the Dipper doing its thing for a minute or so before he took off down the river.  Amazing sighting but the light was very dim for a good picture.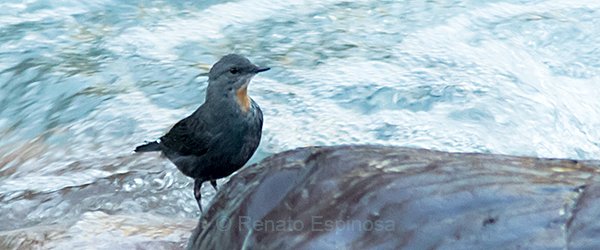 Rufous-throated Dipper
We got back to the road and the soft pecking noise above my head caught my attention.  A beautiful White-barred Piculet at the top of a tree in bright sunny setting: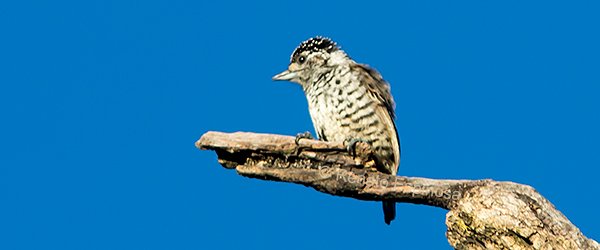 White-barred Piculet
A bit further ahead the road turned to the right and started the slow uphill climb toward the Yala Lakes, we drove slowly listening for guans but nothing seem to be active at this time, we even stopped at a couple of places but there was little activity, so we continued further to the lakes.  The first lake was El Desaguadero on the left of the road but we could not spot anything new, then we arrived to lake Rodeo and looked pretty desolate so we continued toward Comedero Lake.  On the way there we encounter a large flock of small birds.  Got a great list of new lifers; the fun finally had arrived all at once.  It was hard to keep up with all the new birds in the flock which included: Buff-browed Foliage-Gleaner, Fulvous-headed Brush-Finch, Mitred Parakeet, Rusty-browed Warbling-Finch, Stripe-crowned Spinetail, and TopicalPewee! Wow it was now a joyful morning.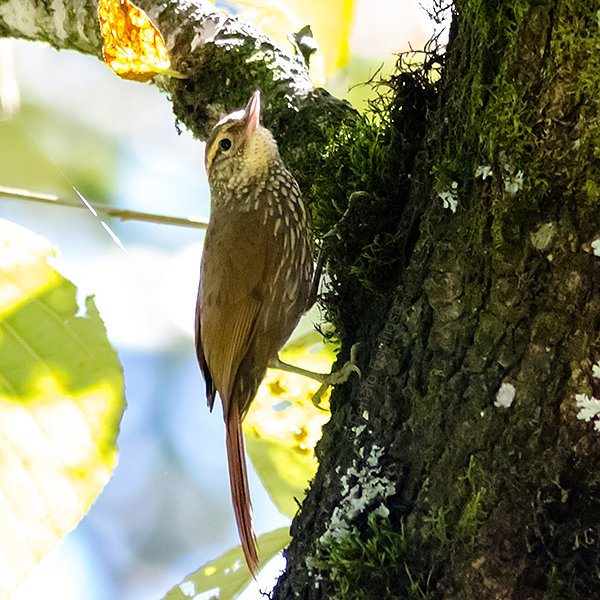 Buff-browed Foliage-Gleaner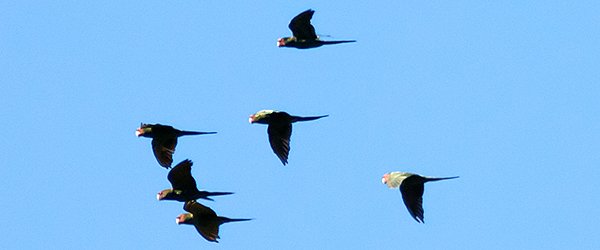 Mitred Parakeet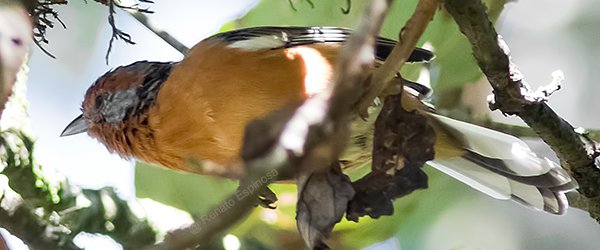 Rusty-browed Warbling-Finch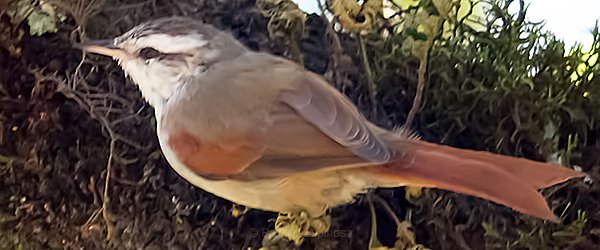 Stripe-crowned Spinetail
After this great adrenaline rush we tried to continue towards the Termas de Reyes but the road was closed and there is where we spotted the Cream-winged Cinclodes.
Cream-winged Cinclodes
We headed back without stopping until I heard a strange call out the car window.  This was near the end of the downhill slope near a water tank on the right, just at the crossing a tiny stream.  We stopped and listened, and looked, until the calls started again and the large bird was spotted, it was the Red-faced Guan!  Took lots of pictures while following the small flock of three guans hiding in the forest trees and trying not get noticed by us!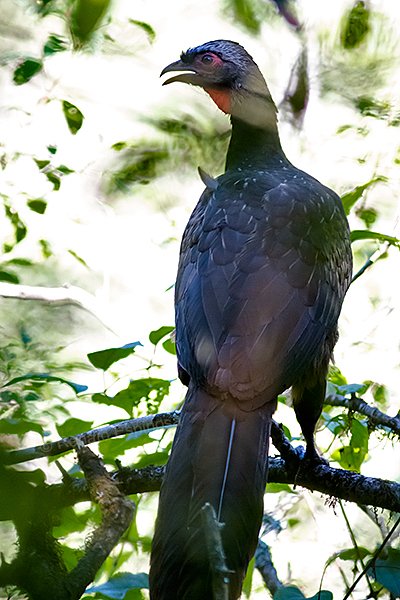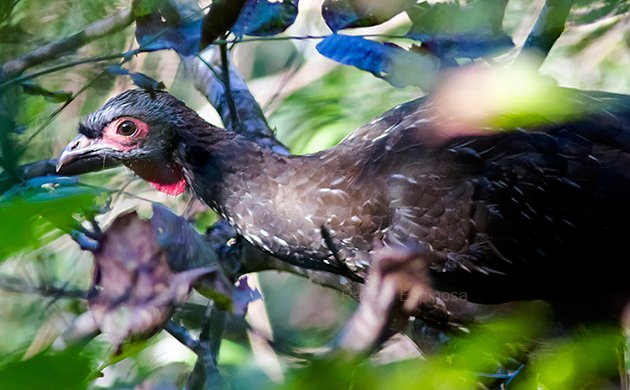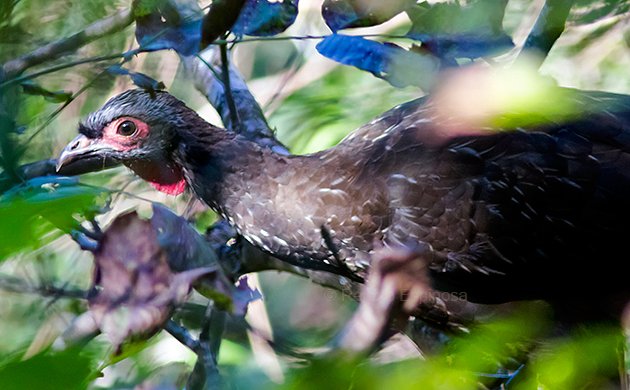 Red-faced Guan
After this epic encounter with the sought-after guans we continued our day in search of food and a new adventure in the northern direction of Humauca and Abra Pampa.
Continued here:  Birding Humauaca and Abra Pampa – Northern Argentina Trip Report