A beautiful spring day began in Woodside, Queens, with coffee, a shower, a drive to Flushing to drop off Daisy at the library (haha, law-student), and then Hempstead Lake State Park.
Warblers! Black-and-white, Northern Parula, Palm, Pine, and tons of Yellow-rumps! The Northern Parula, a brilliant male singing on occasion, foraged high up in the budding trees and was a sight to see in the early morning sun. The Black-and-white Warbler foraged slightly lower so I paralleled its path, hoping it would eventually get down to eye-level. It fed, unconcerned, and then took a plunge to a thick bush about five feet off the ground but before I could even get my camera on it a butterbutt charged and the chase led the two deep into the undergrowth. Curses!
Other birders were out in force so I know that I missed Nashville and Yellow Warblers, a Baltimore Oriole, and a Northern Waterthrush (at least at the moment). Two other birders tipped me off to a Solitary Sandpiper feeding along the creek alone, alone that is, until a second showed up and made the bird-namers liars.
I also checked up on the young swan that had confused me so and its bill now looks more like a Mute Swan (sorry no pic but the bird stayed distant). One of the fellows who had tipped me off to the Solitary Sandpiper then led me off to look for a reported Spotted Sandpiper. We found it feeding at the far end of a pool, accompanied by many basking turtles, including the largest slider I have ever seen. The turtles slid into the water one by one as a jogger circled the perimeter of the pool. After that we walked to the area where the Nashville Warbler had been reported but found a Blue-headed Vireo in its place. And did I mention that pretty much the whole time I was there the air over the canopy was filled by Chimney Swifts and Tree Swallows? A very nice start to the day.
Next I was off to Jones Beach, hoping for more migrants. Birds were everywhere! Flocks of Double-crested Cormorants flew overhead. On the sandbar by the coast guard station a small flock of shorebirds included Black-bellied Plovers and Red Knots. I say this casually but Red Knots were a lifer. I just wish I had gotten there a half-hour earlier because the only knots I saw were not yet in breeding plumage and I learned breeding-plumaged birds were around before I arrived.
A walk on the roadsides netted Eastern Towhees, a Hermit Thrush, Brown Thrashers, Northern Mockingbirds, Yellow-rumped Warblers, Savannah Sparrows and a Killdeer along with other common birds. I studied gulls carefully, hoping to find the Lesser Black-backed Gull that had been reported the day before but failed to find it. A walk out to the beach netted me a Piping Plover, my first ever in New York. Hopefully it'll manage to breed in the dunes behind the busy beaches this year.
A return to the area around the Coast Guard station revealed a pair of Fish Crows building a nest in an evergreen, clam-diggers and no shorebirds on the sandbar, a Great Black-backed Gull catching and eating what I think was a skate, and fly-by American Oystercatchers.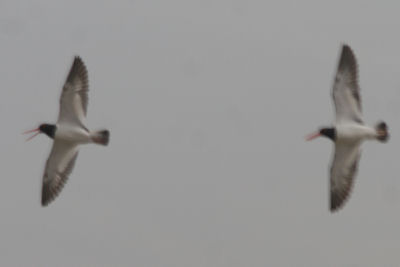 Then Jory, who you've met, and Bill, another Albany-area birder, who with Rich Guthrie form the triumvirate of Albany-area birders on a New York State Big Year, arrived and we continued to look for avians. They had endured a nightmarish drive down and were happy to be out of the car and birding.
We watched large flocks of shorebirds across the water but they were so distant we couldn't identify them. Red-throated and Common Loons flew by somewhat regularly along the fishing area along with flocks of cormorants and Brant. Common Terns flew past, and probably Forster's Terns too but we didn't manage to pin a Forster's down. An oriole in some vegetation behind other vegetation on a dune first looked bright orange and black and when it reappeared it looked dark orange and black. Either there were two birds (Orchard and Baltimore) or the light changed or I'm crazy…but I had to mark it down in my notes for the day as "oriole species."
A return to the Piping Plover spot was rewarded when Bill spotted one foraging safely behind the roped-off area. More shorebirds flew by and we managed to pick out Dunlin and Black-bellied Plover from the flocks. Other species got away but I would be pretty impressed by anyone who could have gotten more out of the fast-moving birds than that.
Then it was on to Robert Moses State Park, further east on the south shore of Long Island, for a Blue Grosbeak that other birders had earlier in the day. In the lead car, not even out of Jones Beach, I spotted a blue bird on the shoulder of the parkway that sure looked like a Blue Grosbeak.
Brakes, glance in the rear-view, uh-oh, oncoming car, speed up, pull into next lot, grab cell phone and bins, call Jory while walking, okay, jogging, okay, running, back on bird, blue, big, orange on wings, Blue Grosbeak!
To confirm my ID an Indigo Bunting flew out and landed next to the grosbeak. Seriously. The two beautiful blue birds were within six inches of each other. Camera was in the car…
Bill arrived, having jumped out of Jory's car, then Jory, somewhat miffed at having been so callously abandoned. But the birds were there so no harm, no foul, and we didn't have to drive out to Robert Moses!
On to Alley Pond Park in Queens, where we saw a Prothonotary Warbler.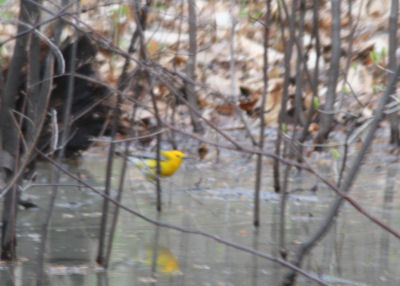 Ruby-crowned Kinglets, a Northern Waterthrush and Yellow-rumped Warblers were pretty much ignored, as they should be when a Prothonotary Warbler is present.
Thirteen year birds and a lifer and quite a few new-for-me in New York birds. Not bad for a Saturday in April.