Jamaica Bay Wildlife Refuge, Queens, NY, 3 August 2008
It was while watching flocks of shorebirds on Friday on Cape Cod (an adventure I will soon describe) that I first heard of a Red-necked Stint being found at Jamaica Bay.  I got back-to-back calls that I let go to voicemail from Jory and Will, my upstate birding buddies, and when I checked my voicemail I found out the news.  There was nothing I could do about it though, so I let it go (ok, maybe I whined a bit) and figured I would chase the bird down on Saturday when I was back in New York.  After getting home from New England on Saturday I changed my mind and decided that I could let the stint sit one more day before I went after it: I was tired, I hadn't seen Daisy in days, and I figured that maybe some of the upstate folks I haven't seen in awhile might come after the bird.  Am I ever glad I waited until today to chase that stint!
Before I even got out on the muddy East Pond I ran into some birders, including Doug, who kindly helped me find a Eurasian Collared-Dove near Binghamton last year.  We headed into the north end of the pond after getting our waders on and quickly encountered some other birders with exciting news: they had not yet found the stint but they had seen a Sharp-tailed Sandpiper!
A quick word about both of these birds.  They both breed in Siberia, which is pretty far from Jamaica Bay.  They must have taken the "Siberian Express," which is a birding term for when birds ride the jet stream across from Siberia, over Alaska and Canada, and veer south wherever the jet stream does.  Fortunately for me and about fifty of New York's finest birders, the jet stream must have been veering south towards us!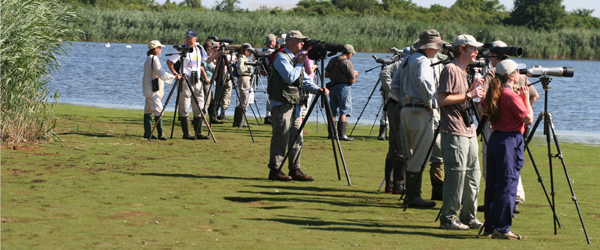 herd o' birders at Jamaica Bay
The Sharp-tailed Sandpiper was refound on the island in the middle of the pond and then across on the opposite shore.  While looks were achieved they were far from optimum because of the range and light, which was against us.  While trying to find the bird after it had disappeared again a birder spotted the stint on the other side of the pond, and, again, lousy looks were acquired.  Now, at this point, I could have gone home, happy with having had identifiable looks at two rare life birds.  But I wanted good looks (and pictures) so I stuck around sweating in the stinky air, hoping against hope that the lone birder working the opposite side of the pond would flush the birds over to us.
Shortly thereafter, when the herd of birders had split up a bit and I was in a short scope line of about six people I looked up in front of us and there was the Red-necked Stint, about twenty feet away!  Oh, and did I mention that the stint was still in breeding plumage?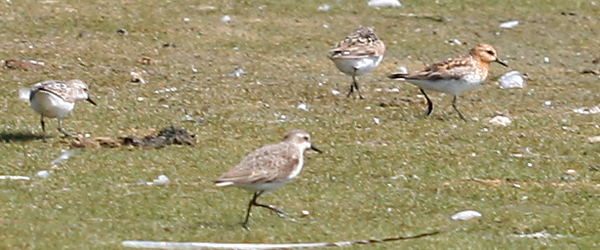 the rightmost bird is the stint (ust in case you couldn't tell)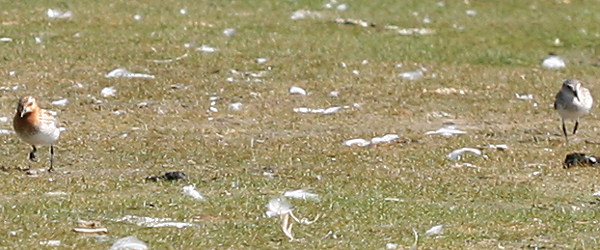 here it is again, on the left this time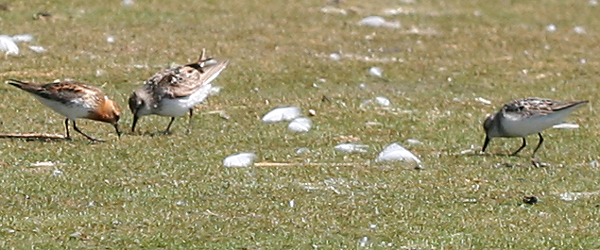 by now you can find it on your own, right?
Then word came from further south on the pond that the Sharp-tailed Sandpiper had been refound and I joined the herd trekking south, through the treacherous cove where at least one birder lost a boot and at least two birders took spills into the disgusting mud, down along the shore until I was directly across from the bird with a bunch of birders.  We all watched the sandpiper, also an adult in breeding plumage, and I was content with the so-so looks at its cap and "chevroned" flanks.
In addition to the aforementioned birds I picked up three other shorebirds that I either hadn't seen this year or hadn't seen in a way that qualifed them for my Anti-Global Warming Big Year List, so I ended my excursion with five new birds for my list and two lifers!  Not bad for a quick jaunt to Jamaica Bay!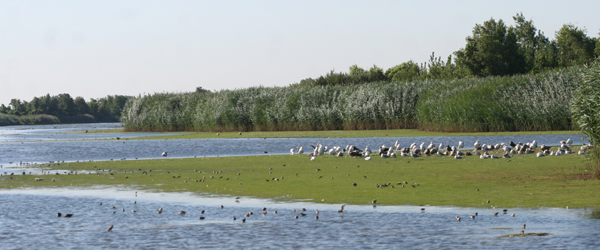 …
This blog post was first published on 3 August 2008 but a post involving two out-of-place Siberian shorebirds is just too good to leave hidden in the archives.
…