Today, January 20, a public meeting is convening in Nashville, Tennessee, to decide the fate of anywhere from 300 to 2,199 Sandhill Cranes, depending on which Tennessee Wildlife Resources Agency estimate you look at. In two previous posts, I've presented Tennessee's proposal to be the first state in the Eastern Flyway to hunt Sandhill Cranes. They want to issue 733 permits to hunters, to bag up to three cranes each.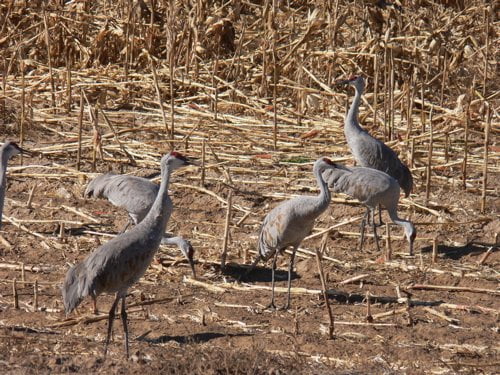 I can't be at the meeting; Bill's traveling and I'm caring for our kids and home through closely-spaced winter storm fronts. But three of my women friends are driving there as I write, one of them (Vickie Henderson) to present a carefully researched dissent, and I am cheering for them, eagerly waiting for their dispatches. The journalist in me yearns to be there, just to witness a rare birdwatcher's uprising (we tend to be a rather placid bunch overall).
Whatever happens when the Tennessee Wildlife Resources Agency votes on Friday, it's going to be interesting. I get the distinct impression from their officials' public and private responses to the flap over crane hunting that TWRA is not used to being challenged on its proposals. Or, apparently, its science. It's posted some eye-popping figures for the midwinter count of the annual peak population of cranes in Tennessee.
2006: 14,158
2007: 14,698
2008: 12,945
2009: 20,191
2010: 48,505
Wait a minute. Population estimates of all Sandhill Cranes on the entire Eastern Flyway hover around 60,000. So suddenly, in 2010, the average population of 15,498 more than triples, and 80% of the entire flyway is concentrated in Tennessee? No wonder they want to shoot some!
Could the 2010 count be flawed? Affected by weather? Double-counted? Inflated? There are a lot of people who'd like to know.
Beyond that, there are a lot of people—many of you among them, thank you—who have written TWRA, voicing their opposition to the hunt. In an email released to its members on January 17, The Tennessee Wildlife Federation characterizes the flood of letters and phone calls protesting the hunt in this way, typos and all:
"To date the commission has received several e-mails and letters from in and out of state anti-hunters asking that the season not be approved. It is very important to realize that the U.S. Fish and Wildlife Service has given permission for Tennessee to pursue this Sandhill crane season and if we do not take advantage of this opportunity, this permission may not be extended in the future. If the season is not approved, this will embolden the opponents for any future effort, making future approval even more difficult and less likely.
"Those people that would prevent sportsmen and women from harvesting Sandhill cranes hold an intolerant position. Sportsmen and women do not ask that birdwatchers or hikers be banned from using lands for wildlife because they disturb wildlife at the waterfowl refuges? This wildlife resources is big enough for all users to enjoy and for the population to sustain itself and continue to grow."
Now, it's not quite fair to describe all of us who protested as "intolerant anti-hunters." Most of us appreciate the role of hunting in wildlife management. We don't want to see Sandhill Cranes killed as game birds, and we're questioning TWRA's decision to open season on them. We don't think much of the science behind the proposal, and we wonder how a species in which, by USFWS figures, only one in three pairs is successful in raising a single colt per year, suddenly explodes in population to the point where it needs to be controlled by hunting.
We strongly believe that Sandhill Cranes are worth more alive, as a stunning visual and aural draw for ecotourism, than dead, one more thing to shoot for 733 lucky raffle winners. Nebraska is the lone state on the Central Flyway that bans crane hunting. In 2009, the sleepy town of Kearney, Nebraska, pulled in over 10 million dollars from 15,000 crane ecotourists from every single state and 46 different countries, without a single shot being fired. So much for the assertion that hunters pay for everything.
I've corresponded with four dedicated bird hunters who have told me that they can't imagine shooting one. The latest put it this way:
"I am in fact a bird hunter…Having given the back story, I personally couldn't kill a crane-the thought of extinguishing one note of their calls is enough to make me think the whole exercise is crazy…Keep up the fight."
Last weekend, TWRA, Tennessee Wildlife Federation and the Tennessee Ornithological Society came together to celebrate cranes in their annual festival at Hiwassee Refuge. Leaders of all three organizations made a pact beforehand not to discuss the hunt—to keep the focus on enjoying the spectacle of thousands of cranes. TWRA's information and education specialist broke the pact right out of the gate with a stack of bright blue flyers on the registration table promoting the hunt, and calling for sportsmen to register their support or risk losing the chance to shoot cranes. Staffers manning the registration table had their hands full all weekend fielding the outrage of festival attendees, many of whom were finding out for the first time that their state wildlife agencies consider Sandhill Cranes just another huntable bird.
I'm left scratching my head. How much support did the state expect to garner for opening season on the bird that these thousands of crane enthusiasts had traveled just to see? If I were going to market myself as a prairie–chicken hunting outfitter, I wouldn't hand out flyers at a prairie-chicken festival. Nor would I walk into a Humane Society function in a floor-length lynx coat. Whatever prompted the move, it couldn't have backfired any more explosively.
So yes, it's going to be interesting to see what TWRC decides to do with this hornet's nest it's got in its hands. Is it really going to be worth the fight to let 733 hunters fire on the cranes that tens of thousands more just want to admire? Think about it, Tennessee. You might want to give this round to the ecotourists, the birdwatchers, and the tall gray ones they love.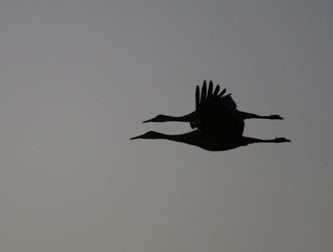 Sandhill Cranes, mated pair