Central Park, Manhattan, April 2010
I have spent many of my lunch hours over the last several months in Central Park.  As spring has sprung and the sun has come out and the weather warmed I have been in the park almost every day, scarfing up spring migrants like a starving man who finds himself at an all-you-can-eat buffet.  Now, taking a lunch break in Central Park on a sunny spring day means that one must have some tolerance for the folks who travel hundreds and thousands of miles to come to Central Park and take pictures of squirrels.  Not that there is anything wrong with that at all, in fact, I might have done something similar when I visited a foreign-to-me world capital.  But, after awhile, when one has learned the words "furry," "cute," and "little hands" in every language under the sun, well, one might be forgiven for having fantasies that involve tossing tourists from the top of Belvedere Castle to land on the rocks below.
One might therefore understand why, when I spotted a rather large raccoon shambling through the ramble in broad daylight, that I considered ignoring the fact that it was headed directly for a family of tourists who would probably say something like "Regardez ce joli animal à fourrure avec les petites mains" just before screaming as they were bitten and given rabies.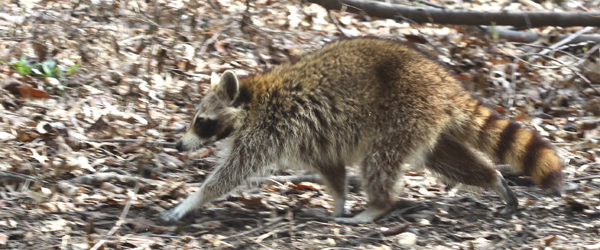 Lest you think that I am overstating the likelihood of the raccoon being rabid please take into consideration that signs like the one below hang near every entrance to the park and rabid raccoons have been found not only in Central Park but all over New York City of late.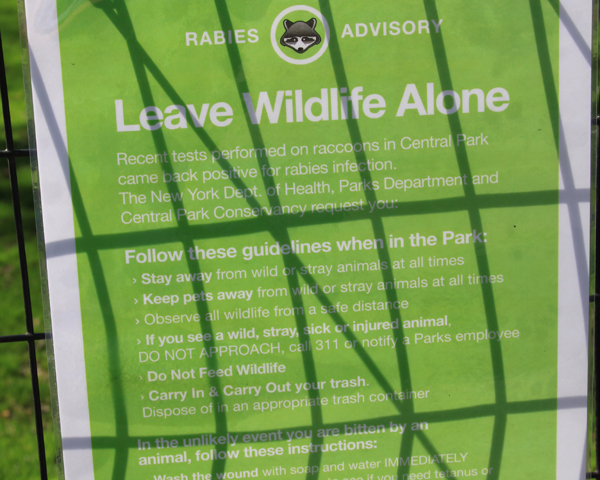 So the potential danger here was real, which is why I approached the mother of the family (the father was reading and the kid was playing in the raccoon's path, a place I was certainly not going to place myself, especially after reading about the cost of rabies shots) and tried to convey to her that she should get her kid out of the raccoon's way.  This was not made easy by the fact that I couldn't figure out what language she spoke and the raccoon had temporarily hidden behind some bushes.  I have no idea what she was thinking but she smiled at my play acting and tried to hand me money.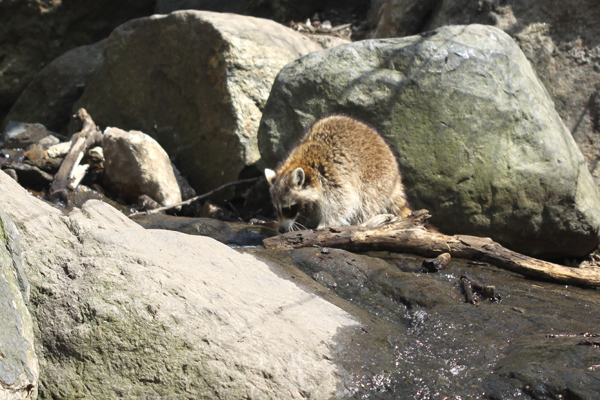 No, she didn't actually try to hand me money, but I think that might be what she thought I was after, because she said something with a rather sharp tone of voice and her husband looked up as if he were going to have to do something and at that moment the raccoon came out from behind the bushes.  I pointed (which needs no translation) and she said "Mis imetlusväärselt armas karvane olend. Ja vaata, et need tillukesed käed!"
I have no idea what that means, but she did call her son over, which was good, because moments later the raccoon crossed the stream (pictured above) where her son had been.  Shortly afterward a couple of Central Park Conservancy volunteers came past so I pointed out the raccoon and they called it in and I went on my way, having done my good deed for the day.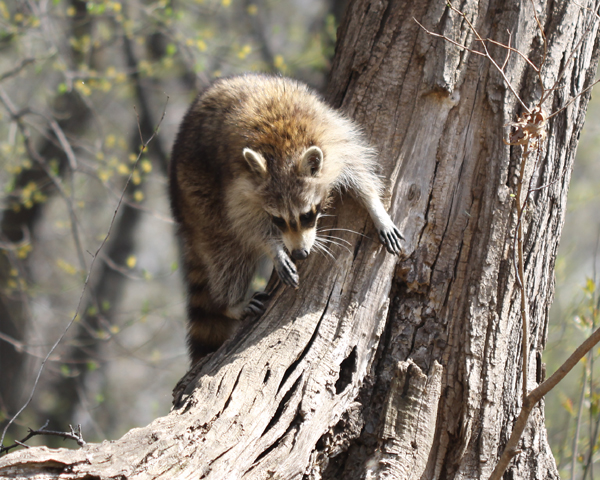 To prevent everyone from thinking that I am a responsible and thoughtful person when it comes to rabies vectors I will provide this link without comment.
…
This post was first published on 9 April 2010 but heroism like this is too good to keep locked up in the archives!
………