Unless you haven't been paying attention, you know that this is Wood Warbler Week at 10,000 Birds. To us living here in Europe, that's Sylvia Warblers. And boy do we got 'em here in Cyprus.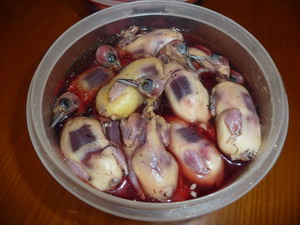 Except here they're killed and eaten as a "delicacy." Not cool. Because of this, I actually thought of calling my Wood Warbler Week post "Dead Warblers," or something to that effect.
The timing for this week 'o warblers couldn't be better for highlighting this problem, as BirdLife Cyprus wraps up its spring monitoring program and begins to crunch the numbers and come to a firm estimate of just how many warblers were killed. Well, not just warblers. This week, the Committee Against Bird Slaughter was also getting some press, with their Cyprus spring bird protection camp journal for 2011. For the anecdotes alone the journal is an eye-opening read, with tidbits like:
In the morning Game Fund officers found a poacher attending to 20 limesticks in his garden. This location had been passed on by CABS. The man was unfortunately let off with a warning. A CABS team checking the same garden that evening found that the man had set out 57 new limesticks.
A CABS team had located a trapping site in a garden with 15 limesticks and an electronic decoy. The police arrived and stood by and watched as the offender dismantled his decoy. The then seized only 5 of the 15 limesticks and left the site without further action. Subsequently the team went to the police station to lodge an official complaint against the poacher and complain about the lack of action by the police. The officer refused to accept the complaint and threatened and verbally abused the CABS team members.
At the site where the Game Fund had let the poacher off with a warning (see Saturday) some 84 limesticks were set out, twice as many as before. The traps were dismantled by a CABS team. Another team found an aviary full of freshly-caught Wood Larks.
In the afternoon a serious incident occurred close to the popular tourist resort of Ayia Napa. A CABS team found two limesticks on public land and, as previously cleared with the police, removed them. Suddenly a muscular man with a club appeared and threatened and verbally abused the CABS members. Shortly thereafter three other men in pickups appeared at the scene and in an aggressive manner prevented the CABS team from leaving. They also demanded that the RTL film crew hand over their video material. The men were increasingly aggressive and stated openly that they were from the local mafia. In the meantime one of the CABS members managed to call the police who arrived before the situation went totally out of control. The officers were however very uncooperative and refused to search or identify the attackers.
The team deployed to the Limassol area made a major find – by chance! The three German activists 'stumbled upon' a professional limestick factory.
That's probably pretty shocking to most of the readers of this post. But I note that CABS went looking almost solely for limesticks, and there's only a few sparse mentions of mist nets. As is discussed in BirdLife Cyprus' Final Trapping Report for Autumn 2010, the vast majority of trapping is from mist netting, not limesticks. The nets are just much more effective as maybe you can imagine. But if CABS had tried looking into the nets much more, they'd have been confronted by much more of the mafia types.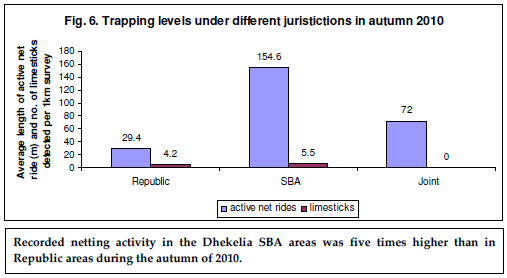 BirdLife Cyprus has been looking for the mist nets however this Spring (thankfully not being attacked because they've been trying, and succeeding, at keeping a lower profile). But like I said, their results aren't out yet.
————————————————————————————————————————————————
This week, 8 May – 14 May 2011, is Wood-Warbler Week on 10,000 Birds! Though wood-warblers, the mostly brightly colored birds of the family Parulidae, are only found in the New World we felt that birders the world over would be pleased to see a plethora of posts about these striking and sought after species. We are devoting a whole week to wood-warblers but are only just barely scratching the surface of possible topics involving this amazing family of birds.
Right now great flocks of wood-warblers are making their way north from the southern United States, Mexico, the Caribbean, Central and South America to breed across the United States and Canada. Many other non-migratory wood-warbler species are living their lives across the neotropics, doing their best to survive and pass on their genes. Wood-Warbler Week is a celebration of all wood-warblers and we hope you join us in celebrating these absolutely wonderful birds. Read about them here but also get out and experience them. You won't regret it!
————————————————————————————————————————————————