Here in the southeast we have three Mimids of three distinct groups all present more or less throughout the year.  The Northern Mockingbird is easily the most famous, celebrated in classic literature and song and deemed notable enough to have the honor of being the official state bird of five southern states.  Brown Thrashers, those double voiced lurkers with the angry yellow eye, are honored in Georgia, and always a pleasure to find beneath the hedgerows in my neighborhood, but my favorite of the infamous trio has to be the third, the smallest, the sneakiest, and the most subtly charismatic of the three, the Gray Catbirds.
I'm not sure why I'm so taken with Catbirds.  Perhaps it's because I'm a sucker for classy slate gray, especially when it hides a little flash.  Maybe I enjoy their song, a cascade of squeals, squeaks and warblers running reckless out of a willow grove or blackberry thickets.  Lately it's almost certainly my young son's cry of "kitty-cat bird!" when a whining mew pierces the relative silence of the screen-door spring evenings, though my infatuation with Catbirds pre-dates his arrival.  Where I grew up in Missouri, Catbirds were present, but not in the same density that I find here in North Carolina.  Arriving to find them camped out en masse in my suburban backyard was a fabulous surprise, even if their nasal calls at 6 in the morning drive my wife completely up the wall.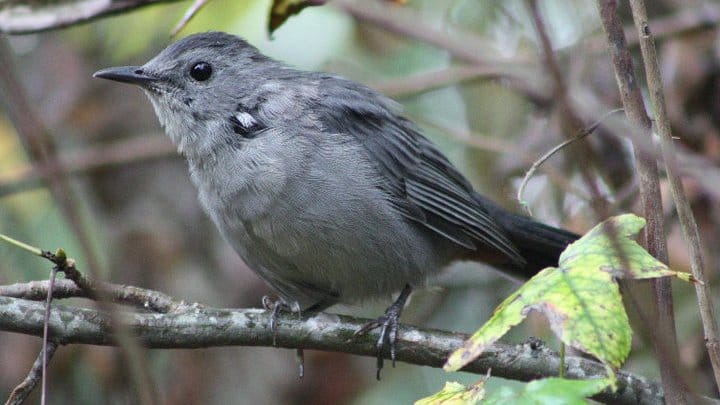 But Catbirds are more than just charismatic mimids with glass-breaking voices, they have a cultural cache the even tops the celebrated Mockingbird.  Because while everyone who's taken middle school English Lit knows why it's a sin to kill a Mockingbird, everyone who listened to baseball on the radio knows why it's a great thing to be in the Catbird seat.
As a kid and teenager, I'd listen to the St. Louis Cardinals on the radio in Ozark, Missouri.  The voice of the Cards was the legendary Jack Buck, only the finest play by play man in Major League Baseball (though I'm not so partisan to admit that the great Vin Scully comes close).  His color man was the incomparable Mike Shannon, a jovial former ballplayer who used to get progressively more drunk as the innings went on (a fun game was to predict which inning he would make his first completely incomprehensible statement, usually around the 7th), and regularly who used the phrase "in the Catbird seat" to describe a player who was in a good position – up on a pitcher three balls to no strikes or advancing to third base on a wild pitch.  This was in reference to the Gray Catbird, who despite his skulking nature would sit up high, relatively speaking, in the spring and sing his squeaky song with all the pride you can attribute to a dapper gray bird.  Or at least it's supposed to.  As a baseball fan I'd love to see this accurately describe Catbird behavior but the truth is I've only ever seen Catbirds high in a tree a few times.
Anyway, it wasn't until I got older that I realized that Shannon ripped off the Catbird seat saying from famous New York (Yankees and Brooklyn Dodgers) broadcaster Red Barber, who himself got it from author and wit James Thurber who attributed to Barber in a short story before Barber started using it.  It's clearly one of those convoluted stories that owes as much to good-natured embellishment of folk heroes like Barber and Thurber as historical documentation so I don't know how important it is to get that part of it right, but it's clear that by the time Shannon was using it in Cardinals broadcasts it had long been in the baseball vernacular.
In any case, the Catbird ends up as a bridge between two seemingly disparate interests.  Which is only appropriate considering how great they are.