That notoriously bad Bergin owl luck seems to be breaking. Perhaps my recent expedition to Texas' Rio Grande Valley cleared out the curse; after all, within hours of landing, I spotted a screech owl (Eastern or Mexican, you take your pick) in a Sabal Palm and two days later eyed not one but two Ferruginous Pygmy-Owls at King Ranch. Maybe my owl luck improved as a consequence of my Rochester relocation. Living across a Great Lake from Canada lands me in prime owl habitat. Yet, while both of these possibilities seem persuasive, albeit in a superstitious sort of way, if I were to credit any agent, rational or irrational, with my new owl allure, it should be Laura Kammermeier.
Laura, my new birding buddy, has in the space of just weeks improved my Rochester birdwatching reality tremendously. After all, she was my impetus to seek out the Snowy Owl at Buck Pond. Just days later in Webster Park, not only did Laura, Seth, and I wrangle our life White-winged Crossbills but we actually managed to locate a Long-eared Owl in a pine grove… ON OUR OWN. It's one thing to be led to a special sighting but quite another to manufacture one yourself.
Laura was two-for-two on owls in the span of just a few days and, fortunately for us, wanted to push our collective owl luck. "How about making this," she suggested, "a three-owl week?"
A three-owl week? Could this be done?
Before you fancy bird spotters start going on about how you routinely score scads of owls every time you strap on your bins, let me remind you that I've historically been, for lack of a better term, owl impaired. Not even a year ago, during the historic first meeting of the 10,000 Birds triumvirate, I led the team on an icy, utterly-unredeemed-by-owls adventure to the Magic Grove in the Bronx's Pelham Bay Park. Were it not for Jory's uncanny Eastern Screech-Owl call, our Montezuma Muckrace might have been similarly cursed. But a new day has apparently dawned for me and the avian ambassadors of Athena.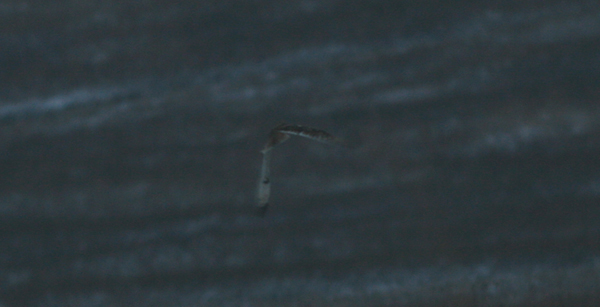 Laura, Seth, and I met at the appointed spot, where Doran Road in Lima, NY rounds into Townline Road, at the appointed crepuscular hour. While I drove past countless fields and farms on my way to this particular location, every one appeared uninhabited by owls. Yet, some alchemy of ecology and topography at this intersection conjures raptors by the score. When we arrived, two other prominent local birders, Jay and Mike, already had their scope trained on a Short-eared Owl perched on a telephone pole. Other short-ears were hunting the tall grass, joined by a few Northern Harriers. In fact, one of the best sightings of the evening was a gray ghost adult male harrier coursing for prey.
Just like that, our three-owl week became a reality. If you've never had the pleasure, Short-eared Owls are magnificent creatures, possessed of a sleek, muscular manner and a fierce, penetrating yellow glare. Without a doubt, if one of us had been a bit smaller, we'd have been dinner!
Apart from the owls and harriers, there was little else to see as the light faded. A few American Tree Sparrows flitted through but none of the larks or shrikes or roughlegs we hoped for appeared. However, it was just as we left when things got most interesting. As we pulled away, Seth and Laura in the car ahead and I alone in pursuit, we spotted a single short-ear perched on a post right along the road. I rolled up to the owl yet it stood its ground. I quickly reassembled my camera yet it still stood its ground, staring at me with undisguised owl malice. I snapped off a few shots with my passenger side window up and even still, that incredible bird remained there. It wasn't until my friends in front opened their car doors to get a look at this intense staredown that the owl took off. WOW! I have never engaged in a samurai-style psychic duel with a raptor of any sort, let alone an owl.
Now, you'd think the photos from this series would be once-in-a-lifetime portraits of a predator in infinitesimal detail. Unfortunately, the light was awful. Worse yet, my flash bounced back at me from the interior of the car. These poor images are all I could conjure in post-production. Suffice to say, the actual event was truly unforgettable.