In June, I go to Nickerson Beach, a place of nesting Common Terns, American Oystercatchers, Piping Plovers, and, later in the summer, Black Skimmers. Nickerson is on the South Shore of Long Island, close enough to attract NYC birders, far enough to be an excursion, even for those of us who live in Queens. Corey wrote about the Common Tern chicks of Nickerson back in 2014, so I thought it was time for another post. All Common Tern chicks may look alike, but that doesn't mean we can't have an annual dose of their cuteness.
I've discovered that the trick to photographing the Common Terns of Nickerson is to find a spot where you can get a good view of the little ones but be far enough from the nesting area that you don't stress out the birds (and, they'll let you know when they don't want you there!), have the sun behind you, and also be at a distance from groups of people with cameras that–let's just say they're noisy. I walked the breadth of the nesting area before finding a tern family that was a little bit away from the densest part of the colony and looked interesting. That could just be because I have a thing for boxes.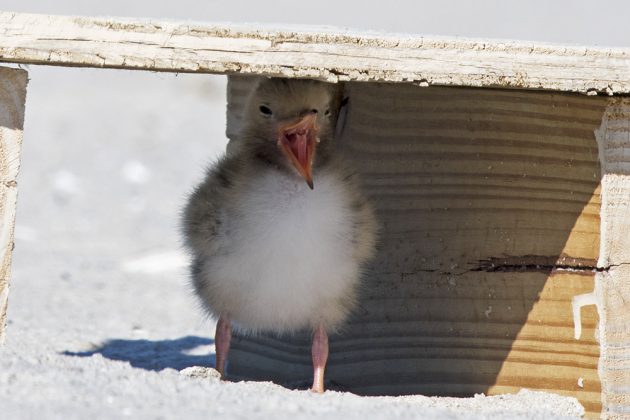 And, then I noticed out of the corner of my eye another tern chick all alone, outside the fencing string.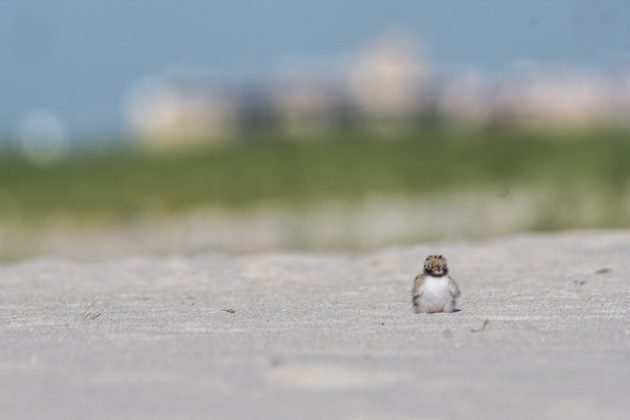 It was just sitting there for over an hour. Every other tern chick was surrounded by other terns, what was the deal with this one? Should I bring it back to the feeding area?
Finally, the chick started cheeping and almost literally jumping up and down, and barely before I could focus my camera, a parent tern flew in. Breakfast! Or, maybe brunch.  A few seconds later, she left. (Both male and female Common Tern parents feed chicks. Mothers tend to bring smaller tidbits of fish, according to the Birds of North America database (BNA),  so I'm thinking that this is the mom.)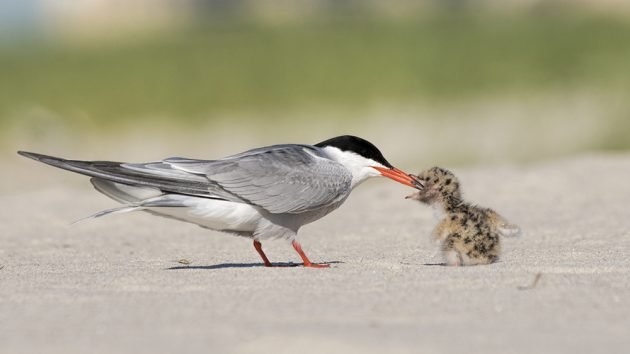 The chick was fed two more times over the next hour, but there appeared to come a time when Mom got a little fed up with Greedy Chick's begging.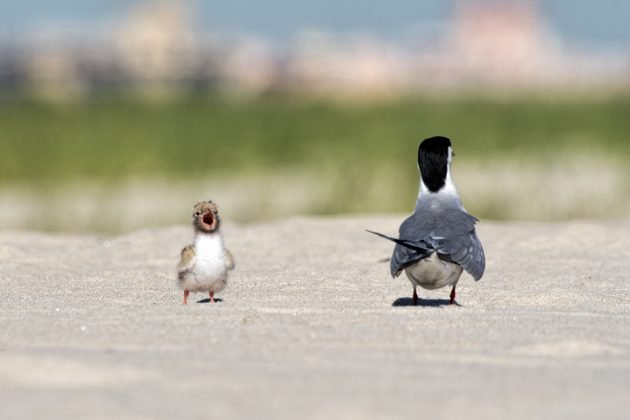 It was around that time that I realized Greedy Chick had two siblings! They were far back, buried in the sand, and groggily came to life as the parent flew off for the third time.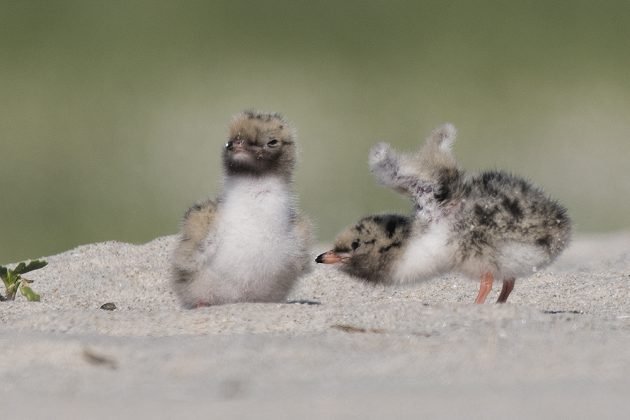 "You missed feeding time, you lazy chicks," I told them. And, then, a parent landed with a Big Fish. Sand lance, anyone?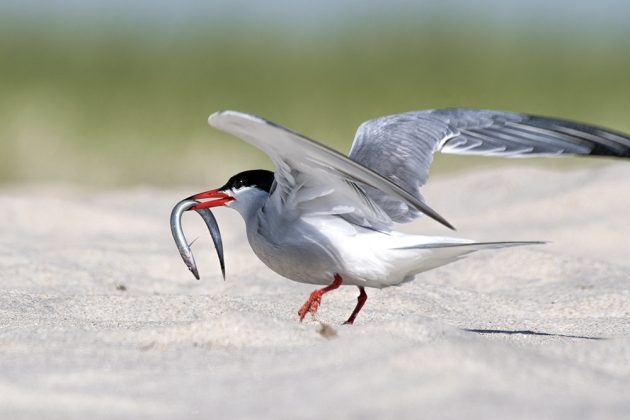 I'm thinking this must be the father, but, who knows? This is Long Island, where we eat big. Big Greedy Chick grabbed the Big Fish eagerly.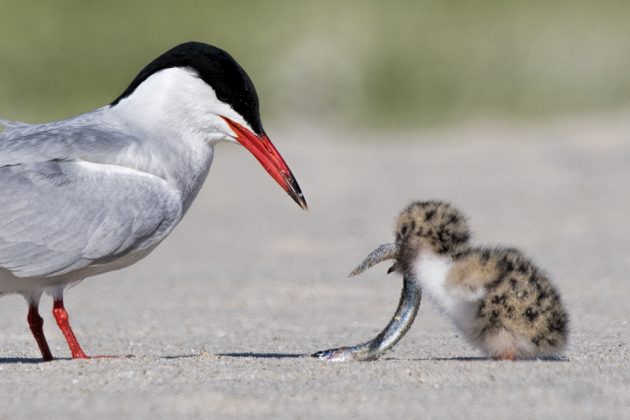 But, he was having trouble handling it, and dad finally picked up the other end and they engaged in some kind of tug-of-war. Or, was the parent helping the chick? It was really hard to tell. Michael Gochfield, a multifaceted scientist who did research on Common Terns, writes about how parents teach the young to eat fish in their first few days of life. This isn't easy, the chick has to have a certain level of neuromuscular system that allows it to stand and work the fish. Also, they need to learn to swallow the fish head-first; swallowing it tail-first can be injurious to the chick because of the way the fish is structured anatomically.* So, let's call this an educational moment.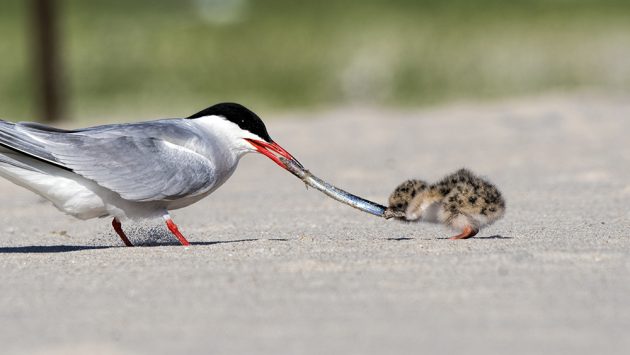 Meanwhile, what about the siblings? They were just sitting there in the back, doing nothing. That kind of behavior could get you starved on Nickerson Beach!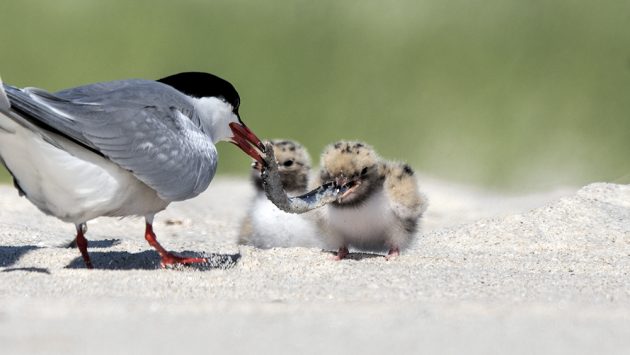 The parent must have thought so too, because he finally took the Big Fish away from Greedy Chick and walked it over to the little ones. They too played tug-of-war. And, got fed a little when the game petered out.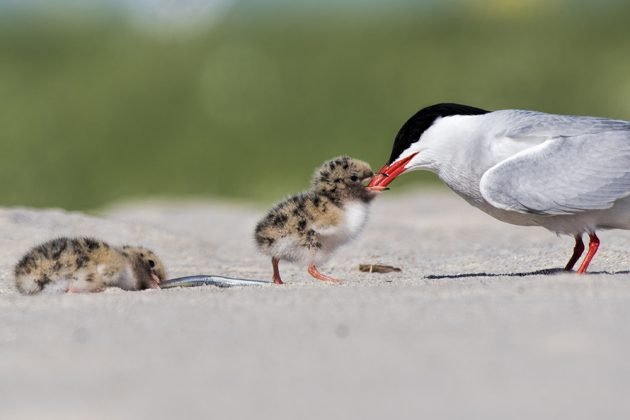 Big Greedy Sibling walked across the sand to where the action was, just in time to see the parent leave, Big Fish in its bill.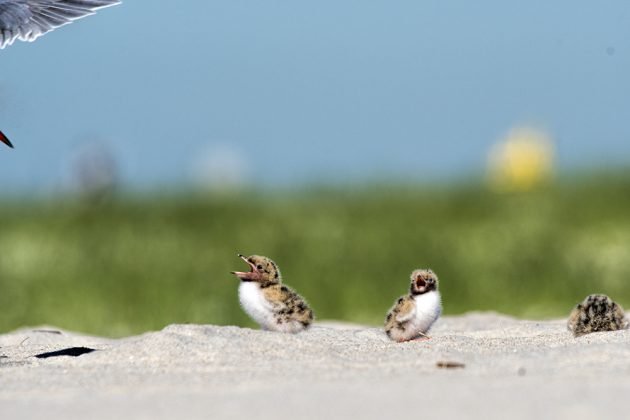 Alone again, this time together, a threesome on a tough love learning curve.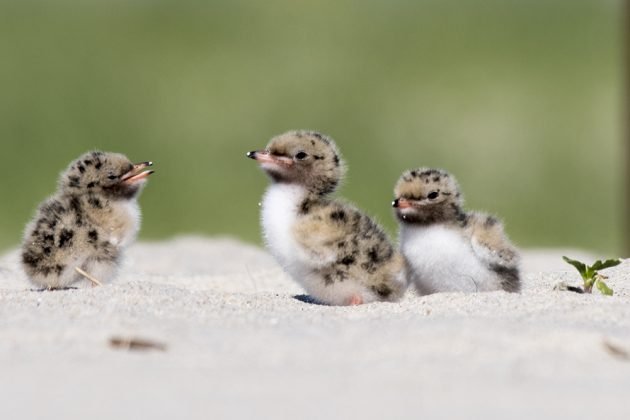 There are other kinds of tough love on Nickerson Beach. I came across this American Oystercatcher chick in the middle of the sand expanse leading to the ocean, being passed by unaware beachgoers and life guards.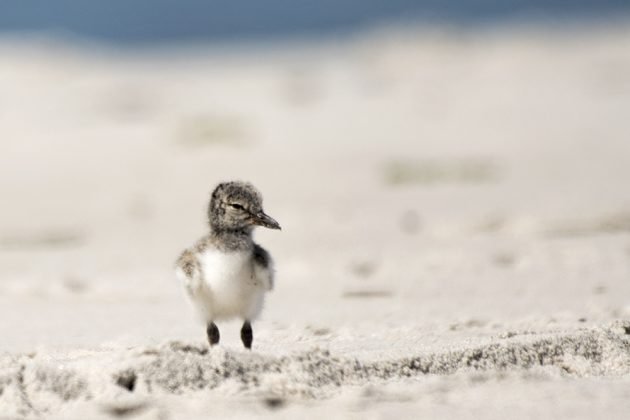 Finally, a parent showed up. The chick seemed reassured and happy.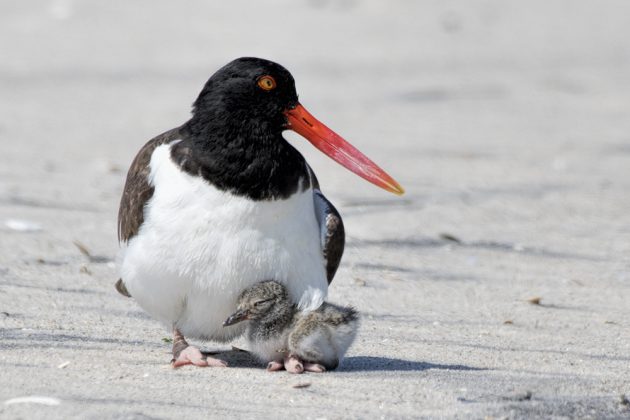 But, the other parent wasn't.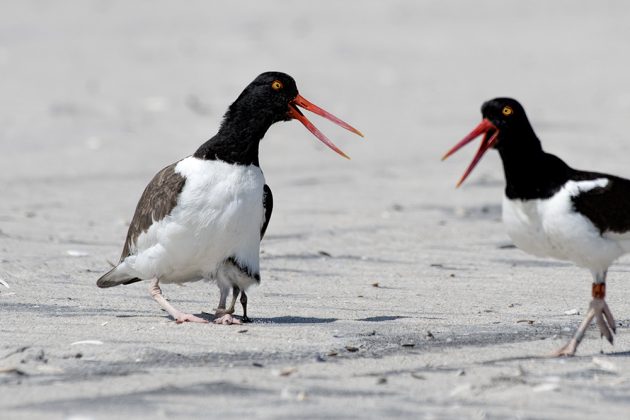 The parents had it out (note the chick hiding behind Nice Parent) and then left together. The chick was alone again in the middle of the beach. But wait! Nice Parent came back!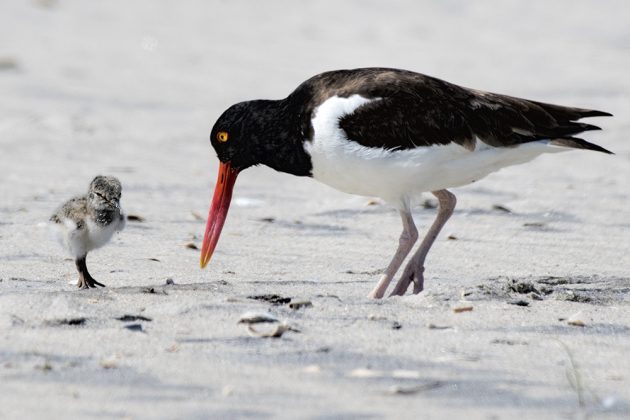 And then left again, as soon as Lone Chick began to cuddle. I began to worry again. (I know I shouldn't, these are not humans, but I do.)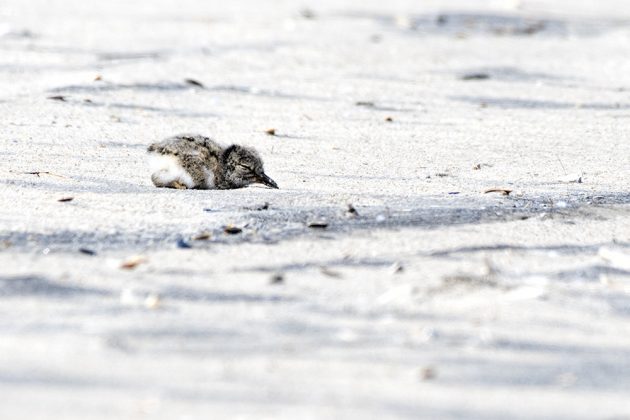 And, then, once again, the parent came back, a little frustrated, I think.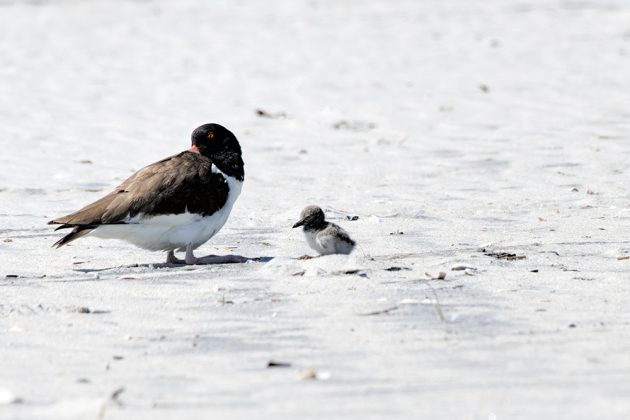 And, this is where I left them. Let's face it, it's tough being a chick on Nickerson Beach, but some days it's even tougher being a parent.
---