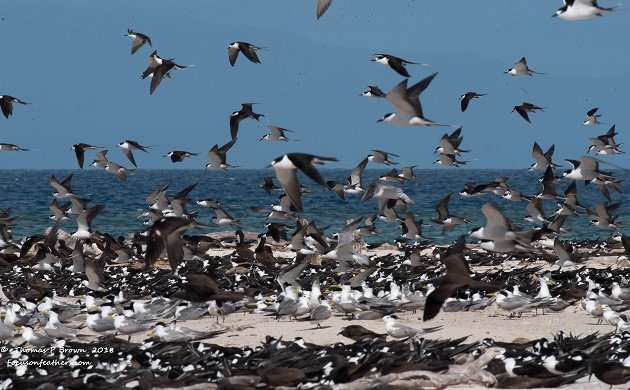 When we began planning this trip, Cairns was immediately put on the list, as we have a very good friend, Kevan, who we have not seen in a few years, and this would be a great chance to do so. Later on, as my research got a little bit more detailed, this might just turn out to be a huge stop. With help from Giles, back in Melbourne, this details got much clearer. Places and people that were going to make this stop a very memorable one fell in line. Cairns became a place I could live.
Our time here started as usual for us, a stop to pick up a motorhome, and track down a good, close to birding  area to park it. The RV center was prompt, and we found Lake Placid RV Park, and I was off and running. 5 new species in the first hour, with a Olive-backed Sunbird, Helmeted Friarbird, a Varied Triller, White-breasted Cuckoo-shrike and the Australasian Figbird, and we hadn't even got out of the park yet!
I was able to convince Murray Hunt to take us out for a morning cruise on the Daintree River, despite late notice, and that it was a Sunday morning that looked to be really crappy weather. We were able to locate the RV right alongside the boat ramp where Murray launches his tours from, so our walk to the boat was about 100 meters, in the rain. Despite all the ways this could have gone wrong, the morning proved to be simply amazing. With over 10 years on this piece of water, there is no doubt that he knows his stuff. Every bird call, every plant, he even knew where to find the Green Tree Snakes that hung out over the water in the branches. But more important, he knew where to find birds, a lot of birds and some very hard to find birds. The highlight of the day, had to be locating the two Papaun Frogmouths. This male and female were back off the water a bit, but he was able to maneuver the boat well enough for me to get a couple of decent pictures. Here is a shot of the male.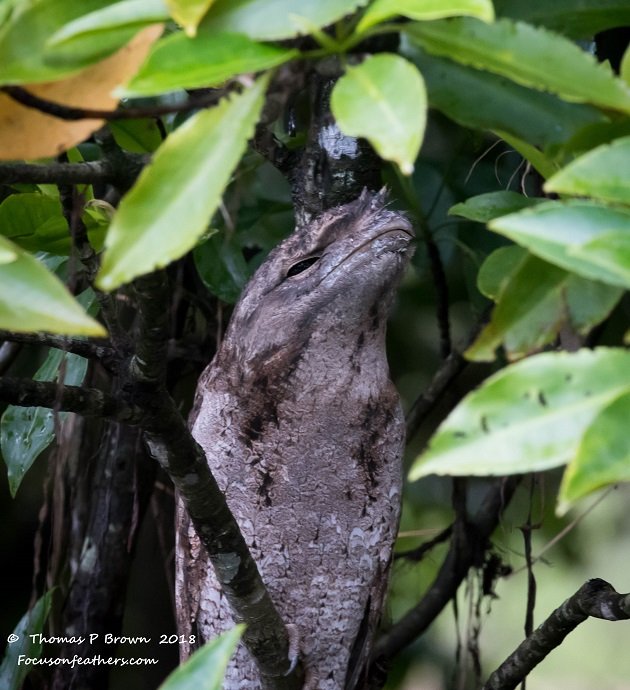 With a pretty good bunch of rain, and dark over cast skies, great photos were hard to come by, but I did manage a few. At the end of the day, 38 species were found, of which 19 species were new to the year list as well as lifers! The new birds were, White-eared Monarch, Little Bronze Cuckoo, Brown Cuckoo Dove, Shiny Flycatcher, Large-billed Gerygone, Striated Heron, Chestnut-breasted Munia, Macleay's Honeyeater, Azure Kingfisher, Forrest Kingfisher, Fairy Martins, Tree Martins, Yellow Orioles, Double-eyed Fig Parrot, Radjah Shelduck, Australian Swiftlet, and a Gray Whistler.
This Male Shiny Flycatcher showed up right at the end of the trip.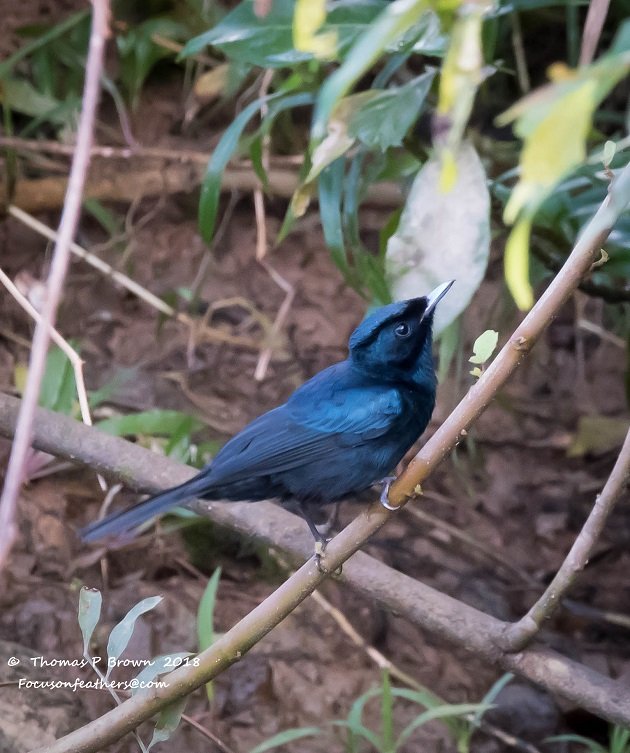 This Little Bronze Cuckoo, is also know as the Gould's Cuckoo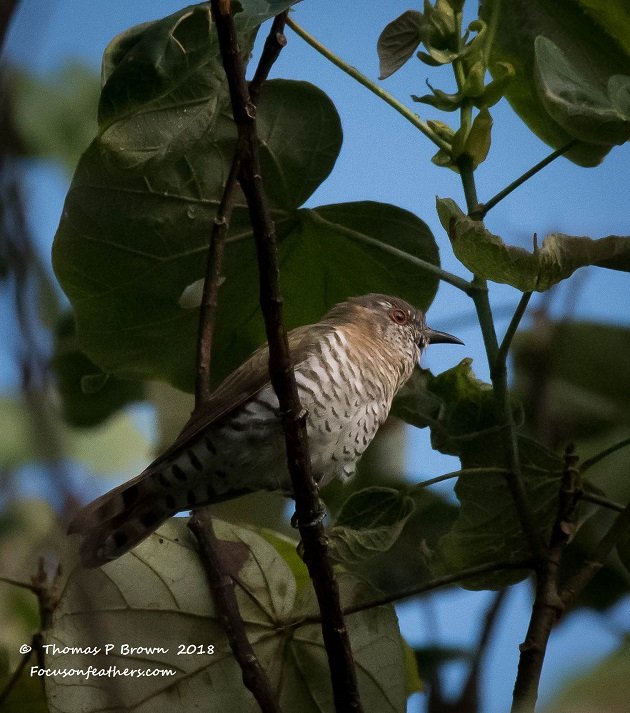 We managed to sneak up on this Azure Kingfisher, while it waited out a rain squall.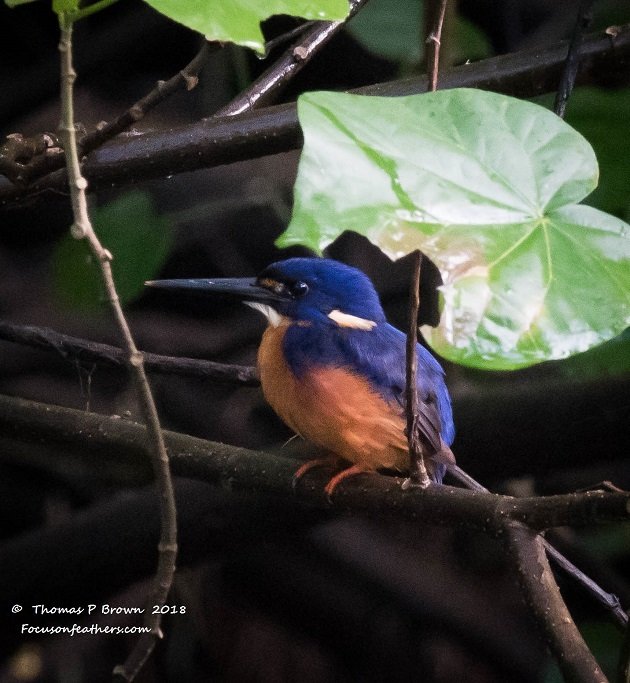 Day two in Cairns, was some tourist stuff, but there are always birds, so when we were riding the historic train up to Kuranda, my head was hanging out the window, looking for what ever I can find. The highlight of that part of the trip was a Bridled Honeyeater. After a visit to the huge aviary, Bird World, right in the middle of town,   we rode the overhead tram back down to the bottom of the valley. Along the way, I got to see my first Pacific Baza, and photograph a Dusky Honeyeater.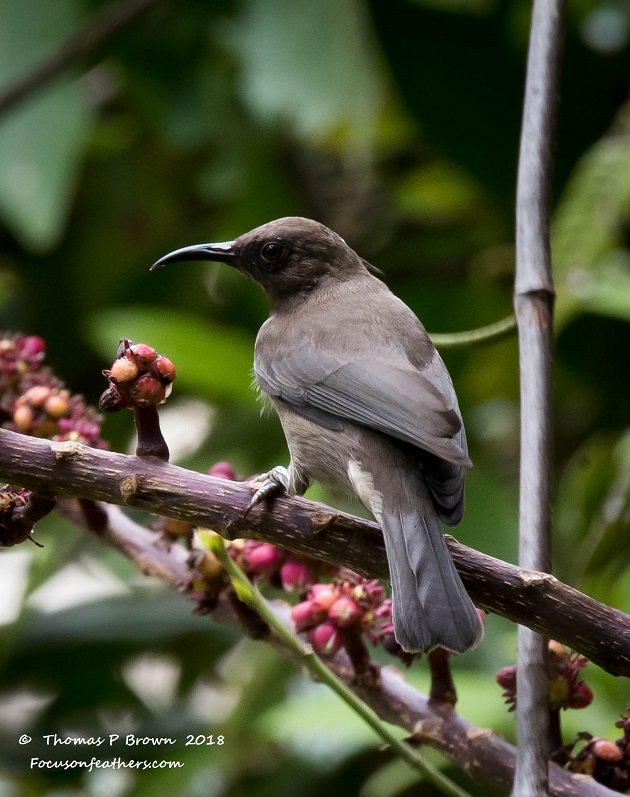 Back in the RV Park, this White-breasted Cuckoo-shrike landed right above the palms near our RV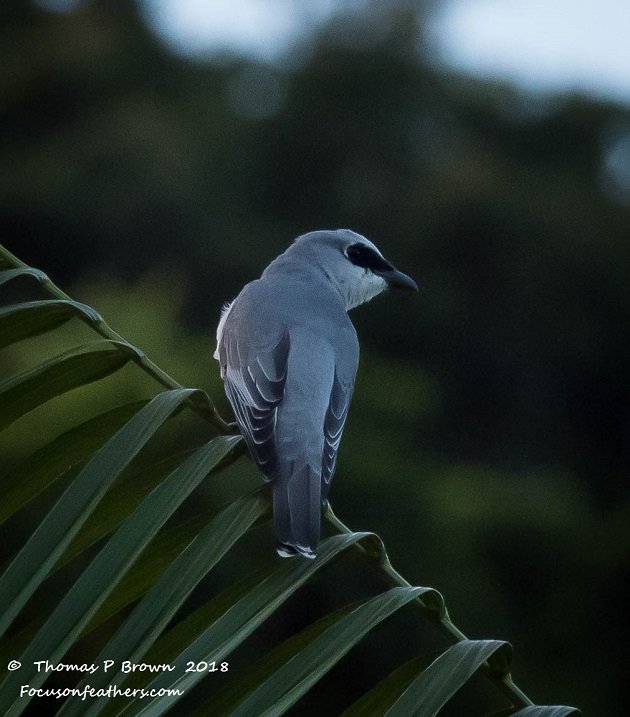 It turns out, the Yellow-spotted Honeyeater that I found, is actually rather common. Oh well, It was a great find in my mind!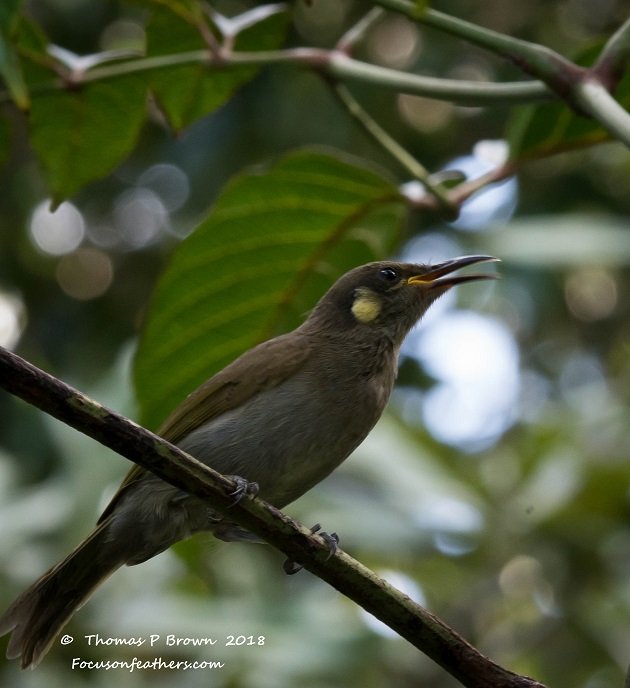 Here is the male Australasian Figbird.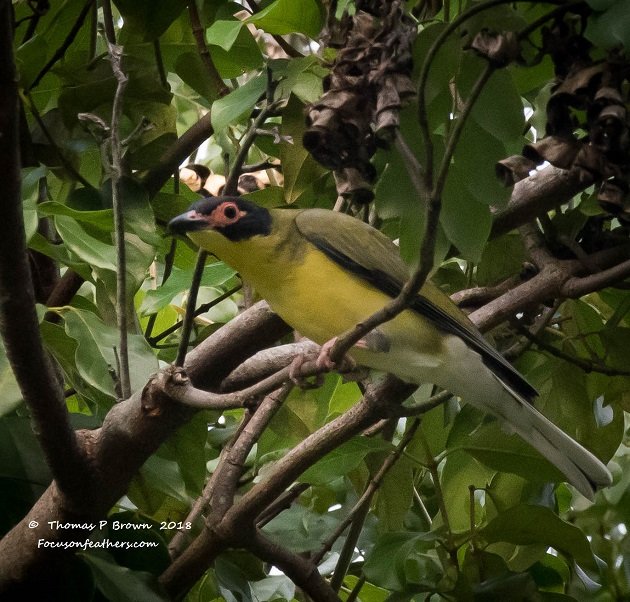 This lovely bird is the Varied Triller.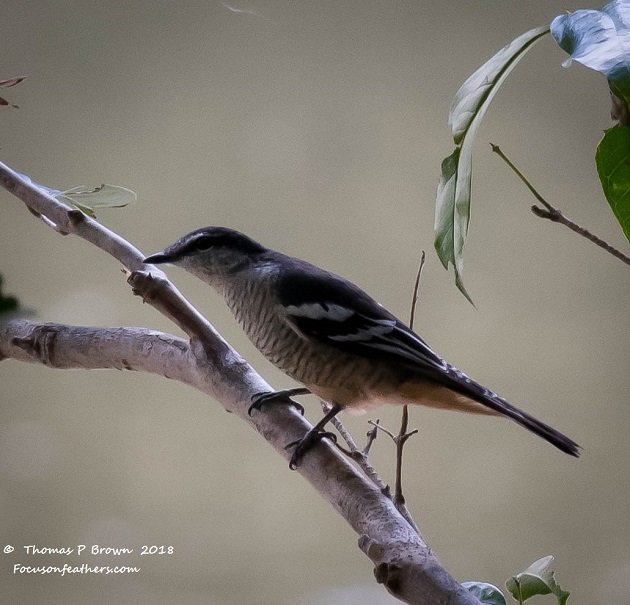 No matter what the local gardeners say, this seemed to me to a pretty cool bird. Unfortunately, the Brush Turkeys keep digging up the flower beds and gardens looking for something to eat.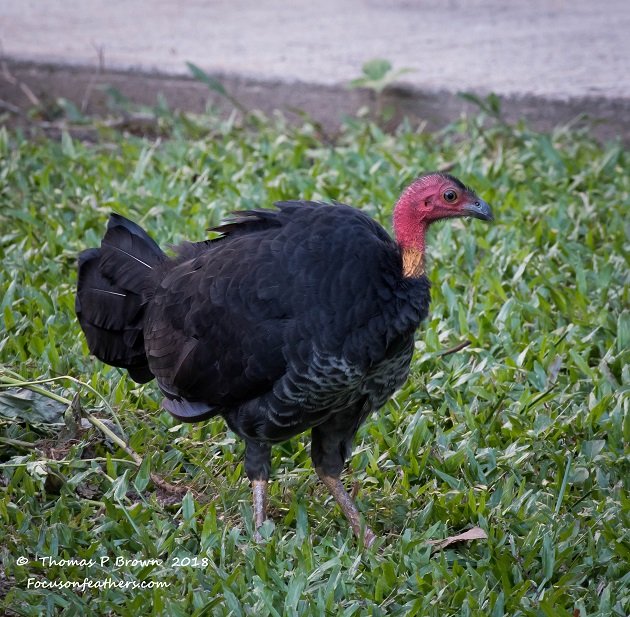 Our final day in Cairns, we booked a trip out to see the Great Barrier Reef. I mean if you come this far, and it is right there, it just seems like something you have to do. Not to mention the incredible Michaelmas Cay. As we approached this small, 300 meters, by 100 meters depending on tides, there was literally a cloud of birds on and around the island. It is estimated that on any given day there are 30,000 birds in residence on this tiny little spot of sand. And while the actual number of species that day I was there was not incredible, it is still an amazing thing to experience, being the only person, on the island with that many birds. Lesser Frigatebirds,  Common Noodys, Brown Boobys, Red-footed Boobys, Sooty Terns, and Crested Terns made up the inventory of species. I was hoping to find a few more waders, but it sounds like I was too late in the year. The top photo for this posting is just one very small area of the island.
Here a shot in the middle of 2000 Common Noodys.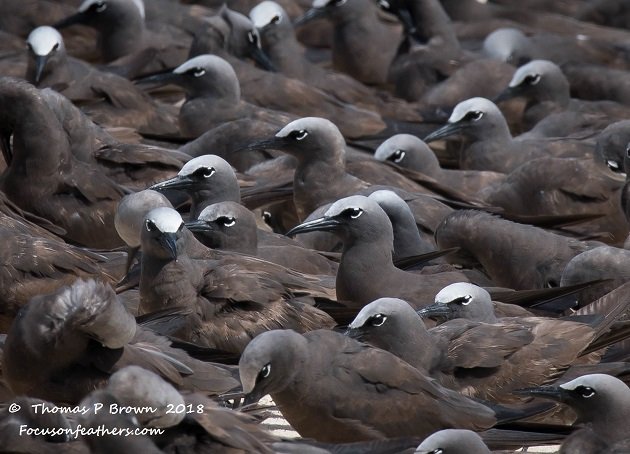 There were still a few young Crested Terns on the beach.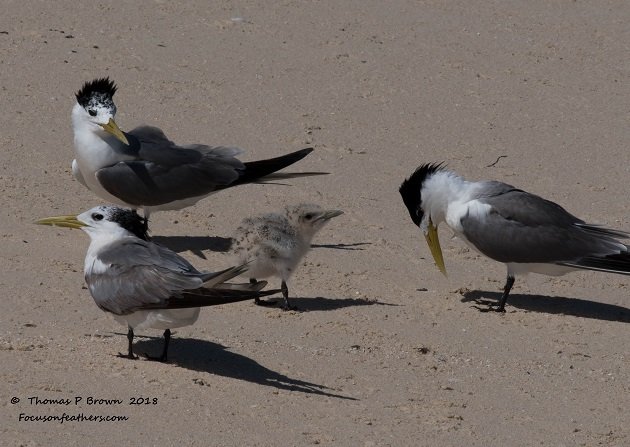 The parents were taking turns rushing out for more food, which seems pretty easy to find here in the reef.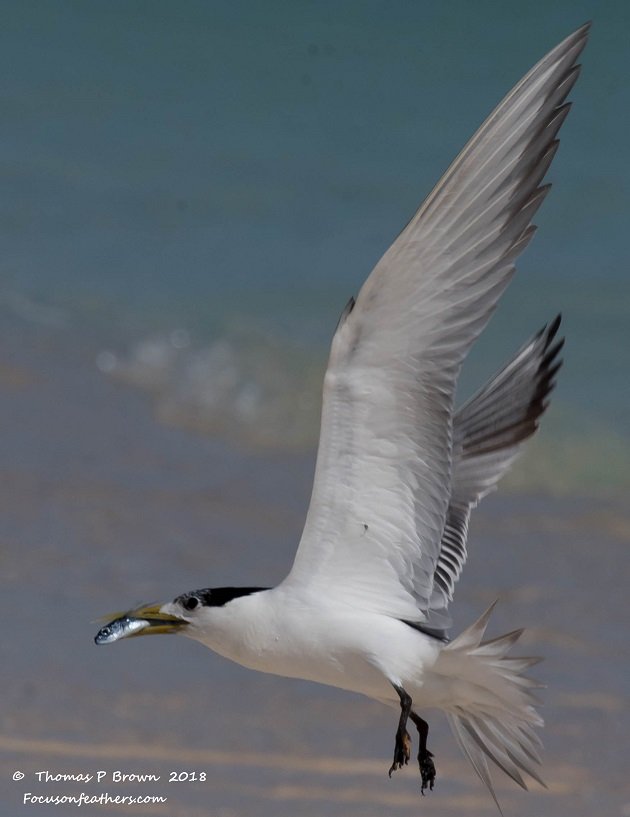 As I write this, we are just getting settled into our new RV In Darwin, and heading to Fogg Dam, and then to Kakadu!!
The Little Big Year stands at  437
The Australia count is now 169