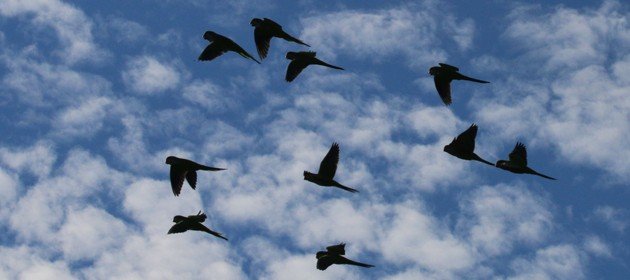 We Americans have it lucky this weekend with most of us enjoying a long four days off from work while we stuff ourselves with turkey and pie to celebrate Thanksgiving. It's a good thing that birds don't similarly overindulge or the Monk Parakeets above would never get off the ground!
Corey will be spending very little time this weekend birding as he has social plans, work plans, and writing-a-book plans. If he does get out it will be locally in Queens on Sunday morning. Mike is celebrating his holiday in Kentucky which means that he might see birds slightly different than what he would expect in Rochester. He will definitely see less snow! How about you? Where will you be this weekend and will you be birding? Share your plans in the comments below.
Whatever your plans this weekend, make time to enjoy SkyWatch Friday. Also be sure to come back Monday to share your best bird of the weekend!