After our successful search for Sandhill Cranes and various shorebirds at Montezuma National Wildlife Refuge, Will, Zack and I headed east, hoping to find the reported Whimbrel that had been hanging around the recently revealed mudflats at the drawn-down Delta Lake. All that we could remember was that it had been reported on the east side of the lake so we figured it would be no problem to find…and were we ever wrong!
As we approached the entrance to Delta Lake State Park we could see a large peninsula with lots of birds on it sticking out into the east side of the lake north of the swimming area. We figured that had to be the spot to search. So we entered the park (for free thanks to my Empire State Passport) and started walking north along the lake, figuring it wouldn't take too long to get to the peninsula. But then, along the shore, we came upon an inlet that we, lacking a boat, were forced to walk around. Then another, bigger inlet. At this point, Will, who wasn't feeling well to begin with, decided to stop and sit in a shady spot while Zack and I continued on our Whimbrel quest.
When we reached the peninsula it quickly became apparent that the bird we sought was not there, and it also became apparent that the actual eastern part of the lake had been hidden from view by the very peninsula at which we were looking and we were not at all where we should have been. Despite the lack of a Whimbrel we did like seeing 23 Great Blue Herons, many Mallards (manky and not), two American Black Ducks, a Wood Duck, Lesser Yellowlegs, Spotted and Solitary Sandpipers, a couple Caspian Terns, a Bonaparte's Gull and Lesser Yellowlegs. And if you ever were unsure of your ability to tell Lesser Yellowlegs and Solitary Sandpipers apart I took this picture to aid you:

In case you couldn't tell, the Solitary Sandpiper is on the left.
After the long walk back to the car through the blazing sun we continued around the lake on Route 46, stopping to look when we came upon another mudflat. Many shorebirds were here, most of them Lesser Yellowlegs but Zack thought one of them looked a little odd and Will concurred, so we slogged further and further through the mud trying to make what turned out to be a Greater Yellowlegs into a Reeve. Oh well, you can't win them all. There were also many Canada Geese and 34 Great Blue Herons.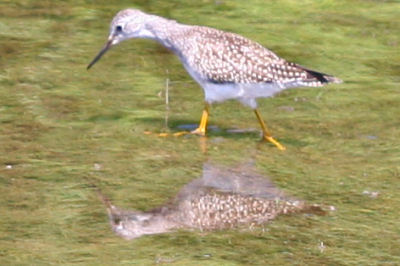 Lesser Yellowlegs
Back in the car again we turned left onto Main Street, of what town I don't know, and stopped at the next vantage point from which we could see mudflats. All that we could see were some fishermen so we decided to give it up and head home.
I dropped Will off and Zack and I drove back to my apartment complex where he had left his car. As he was pulling out of the lot my phone rang. It was Will. He had just checked online and discovered that the Whimbrel had been seen that very day, at pretty much the same time we were there, ONE FREAKING STOP UP FROM WHERE WE GAVE UP!!! Upon hearing this I smashed my binoculars on the ground and vowed never to go birding again. The end.
Okay, that last part was a lie but if I end the year with 299 species in New York and no Whimbrels I am going to be very, very, very upset. And remember to read Will's account of our day's adventures.